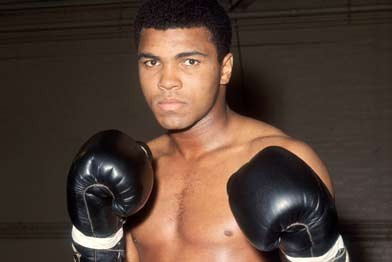 Former World heavyweight champion Lennox Lewis has paid homage to boxing legend Muhammad Ali ahead of his 70th birthday on 17 January.
Lewis said his childhood hero was "still the greatest" at a charity party held in the three-time World Heavyweight Champion's honour this weekend in his Kentucky hometown of Louisville.
Leading the tributes, Lewis praised Ali for not only his achievements in the ring but also for his humanitarian efforts since retiring from boxing.
Lewis said: "I feel so proud and honoured that we're able to show our feelings and show our support for him.
"What he's done outside the ring - just the bravery, the poise, the feeling, the sacrifice. He's truly a great man."
The private bash, which was attended by 350 guests including Ali's trainer Angelo Dundee and three American hikers who were imprisoned in Iran, kicks off a week of festivities to mark him reaching the astonishing milestone.
The event, headlined by Rocker John Mellencamp, also doubled up as a fundraiser for the Ali Center, a cultural attraction and international education centre intended to be a legacy to his social activism.
During his boxing career which spanned 20-years Ali won 56 fights and scored 37 knock-outs.
In light of his struggle with Parkinson's disease for the last three decades, Ali remains one of the world's most recognizable figures in the world.