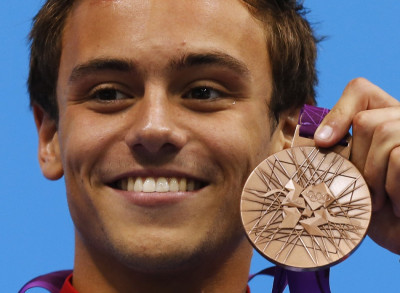 British diving hero and Olympic bronze medal winner Tom Daley is among the 335,000 teenagers across England, Wales and Northern Ireland celebrating their results after he announced a near-perfect set of grades.
"I got an A in Spanish! Overall I have A* photography (A2), A Spanish (A2) and A maths (AS), thanks to Plymouth College," he tweeted.
The overall proportion of A and A* grades dropped, however, breaking the "grade inflation" trend which has characterised the last two decades.
According to figures published by the Joint Council for Qualifications, 26.6 percent of students achieved the top two grades - down 0.4 percent on last year.
On the other hand, the general pass rate at all grades rose for the 30th successive year, up to 98 percent.
Schools Minister Nick Gibb said: "I am delighted that so many young people have secured good A-level results today".
Girls have maintained their supremacy over boys, achieving a higher overall number of A-level qualifications.
However boys outperformed girls in terms of quality, achievingly a marginally higher number of A* grades (8 percent against 7.9 percent).
Falling demand
The overall demand for university places has slumped, following an increase in tuition fees which allows universities to charge up to £9,000 per year from 2012-13 onwards.
Admissions service Ucas reports that 357,915 sutdents have so far been accepted on to university courses this year, down 7 percent on 2011.
However, universities minister David Willetts said he believes the number of university applications will continue to increase.
"There is a long-term trend for more and more people to aspire to go to university, and for more and more employers to look to employ people with higher education qualifications. I personally don't think, taking the long view, that trend has suddenly stopped."