A new space for financial technology start-ups and accelerator programs will be opening on the 39th floor of One Canada Square at the beginning of next year.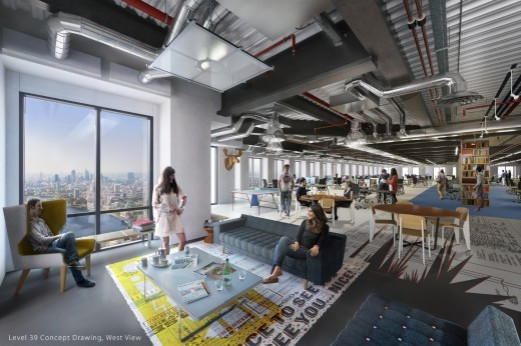 Level39 is the result of the Canary Wharf Group\'s efforts to penetrate the start-up industry; and is set to become what Eric Van Der Kleij, special adviser for the project and Tech City Investment Organisation\'s former chief executive, promises to be the largest FinTech (financial technology) accelerator space in Europe.
Level39 will be taking up the whole 29,000 square feet of the 39th floor of One Canada Square, the tallest building in Canary Wharf. The design for the space was developed by Gensler, the architects involved in designing offices for Google and Facebook.
The space will have an open plan design and feature four \"sandbox\" offices; an open plan kitchen to help companies interact with one another; an event space and a business club lounge.
Start-ups will be able to rent out space and so will accelerators, which are 12 week programs that help start-ups grow and get funding. Van Der Kleij hopes to shed light on Canary Wharf globally. \"We are very international and will aim to bring accelerators from other countries.\"
Start-ups will be able to rent out desks or office space, and the rent will be heavily subsidised by the Canary Wharf Group who is very committed to making it as attractive as possible to young companies.
The space aims to be particularly appealing to FinTech companies due to the close proximity to big financial firms. The business club lounge aims to help bring together these established companies and their senior executives to talk about the market and give mentorship to the start-ups, and to provide an attractive space to do so.
Van Der Kleij explained that building the right community is crucial for the project to work well. \"One thing I learnt from working at Tech City is how the right community helps start-ups be successful.\"
While some have positioned Level39 as a competitor to Tech City, Van Der Kleij doesn\'t agree. \"If you look at the Tech City map, you will see we are part of it. We do not want to work against Tech City, instead aiming to be a complement, working alongside the existing organisation.\"
Level39 is set to open in two phases, with phase one at the start of January, opening the office space and the open plan kitchen. \"Phase two will be some time at the end of February, but we would rather not commit to a particular date.\"
With all of the construction details already in order, Level39 will start approaching different accelerator programs to gage their interest in in basing themselves in Canary Wharf, but so far no names have been officially released.