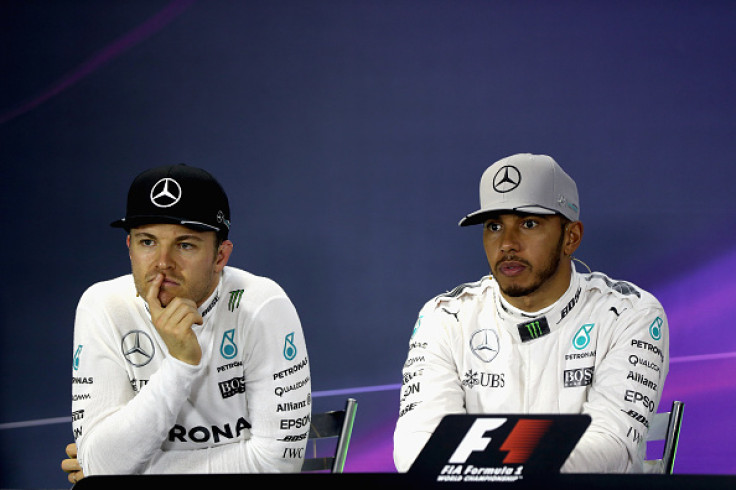 Lewis Hamilton is expecting a clean battle with Nico Rosberg as the two go head-to-head for the 2016 Formula One Drivers' Championship title at the Yas Marina Circuit in Abu Dhabi on Sunday (27 November).
The reigning world champion has won the last three races and closed the gap to Rosberg to 12-points going into the final race of the season, but the German has to just finish on the podium to take his maiden F1 crown even if Hamilton wins his fourth consecutive race.
The duo have clashed twice already this season, once on the opening lap at the Spanish Grand Prix when both cars failed to finish the race, and then on the final lap of the Austrian Grand Prix when Rosberg collided with the Briton when the latter challenged for the race lead. Both Mercedes F1 cars finished the race, but Hamilton took the win while his teammate had to settle for fourth after suffering front wing damage during the altercation.
"I don't go into the race expecting anything less than a fair fight," Hamilton said, as quoted on Autosport.com
"I mean, of course you can look at history and you can look at what some drivers have done in the past. But I like to think higher of him and that wouldn't be something he would do.
"I just need to make sure I'm ahead," the 3-time world champion added.
Toto Wolff is hoping the drivers race in a fair manner when they take to the track on Sunday and maintains that the teams values haven't changed with regards to allowing both the drivers to race each other without any team orders. Mercedes' philosophy has sometimes backfired but for most of the way it has provided some entertaining racing between the two teammates.
"We know what our philosophy was in racing. We've done the past four years in racing with some minor hiccups in between," Wolff added
"They didn't let the team down. This is an exceptional situation now. Our values, and the objectives haven't changed. It's in their hands to race in a sportsman-like way."