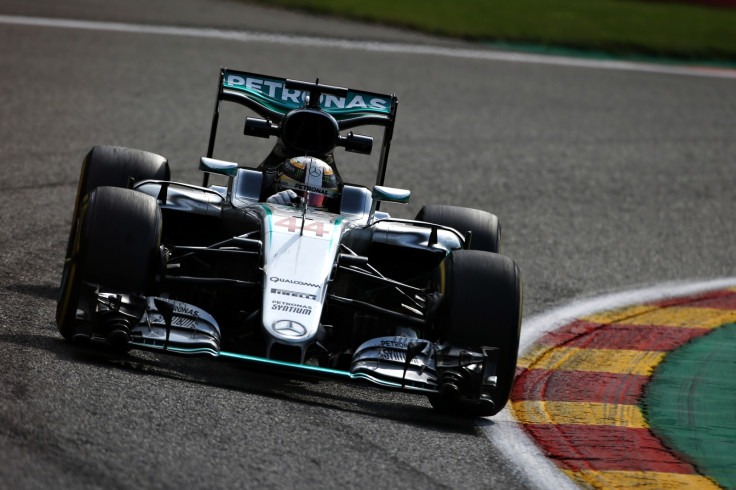 A difficult test lies in store for Lewis Hamilton at the 2016 Belgian Grand Prix after confirmation that he will face a daunting 30-place grid penalty. The three-time world champion currently leads Nico Rosberg by 19 points atop of the Formula One Driver Standings after reeling in and then impressively overhauling his Mercedes teammate's substantial early advantage by winning six of the last seven races.
The latest F1 campaign returns this weekend after its customary one-month break, but Hamilton's chances of recording a second successive victory at the famous Circuit de Spa-Francorchamps had already been dealt a blow by a 15-place demotion handed down after the introduction of a sixth MGU-H energy recovery system and turbocharger before Friday's (26 August) first practice session. Drivers are only permitted to use five of those parts in a single season before punishment is incurred.
As if that was not quite bad enough, Mercedes later revealed that the 31-year-old would receive a further 15-place penalty ahead of FP2 after the introduction of an entirely new power unit.
In addition to taking a seventh MGU-H and turbocharger between sessions, his F1 W07 Hybrid was also fitted with a fifth internal combustion engine (ICE) and motor generator unit-kinetic (MGU-K).
Hamilton was dogged by persistent reliability trouble earlier in the season and was always likely to accept penalties on a single weekend at Spa or the upcoming Italian Grand Prix at Monza, where has has the best chance of making up the deficit. Already guaranteed to start on the back row, Mercedes could opt to make further engine changes in the build-up to Sunday's race.
Accompanying the Briton at the rear of the grid will be former adversary Fernando Alonso of McLaren-Honda, who has been hit with a 35-place penalty. Sauber's Marcus Ericsson will drop back 10 places after receiving his sixth turbocharger of the year so far. He ICE count is also now up to five.