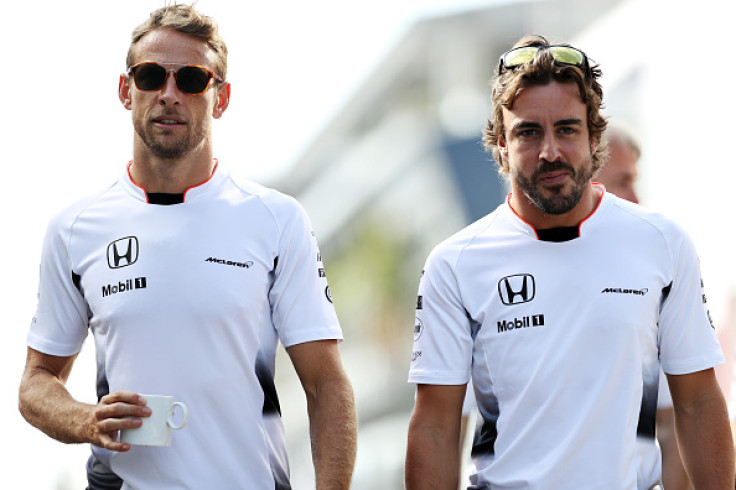 Williams F1 team have made it clear that they are not going to wait for Jenson Button to make a decision before deciding their driver line-up for the 2017 season. Felipe Massa is expected to depart the Grove-based team at the end of the season and despite confirming their interest in the 2009 F1 world champion, they are looking at other alternatives as well.
The British driver, who currently drives for McLaren-Honda, will be out of contract at the end of the season and the Woking-based team are yet to confirm their lineup as they fluctuate between Stoffel Vandoorne and Button to partner Fernando Alonso. The Spaniard has already been signed up for another year.
Williams' deputy team principle Claire Williams is open to bringing Button back to the team where he started his career in 2000, but wants a decision sooner. They are keen to bring in an experienced driver to partner Valtteri Bottas, but are also looking for a driver, who can help them on the commercial front as they are a privately owned team and do not have big budgets like Ferrari and Mercedes.
"We will own our driver line-up decision, and I am not sat here waiting for [McLaren chairman] Ron Dennis to make his decision or for Jenson to make his decision. It it is not about what other people are doing. I am not going to be waiting around because that is just not the right mentality for a team like ours to have," Williams said, as quoted on ESPN F1.
"It would be a great story, but he has to make the right choice for him, and we have to make the right choice for the team."
"He started his career here, but more importantly Jenson is a great driver, and he has still got a lot of fight left in him. He is a great talent in the car, but also outside of the car and we need a driver like him. That is not to say our focus is purely on Jenson."
"When I talk about the criteria that we are looking at, it is the talent in the cockpit, the intelligence to feed back to the engineers, and for us, as an independent team, the commercial factors are going to play a part in the decision-making process too. You can't have an unknown driver in your car. It is just not going to work," she added.
Apart from the 2009 world champion they are also looking at Force India driver Sergio Perez, who has impressed yet again this season getting two podiums thus far, with one of them coming on the famed streets of Monaco. The Mexican suits Williams' criteria in terms of talent and commercial backing, but the Vijay Mallya-owned team will be reluctant to let him leave to direct rivals in the Constructors' championship.