Lewis Hamilton keeps title hopes alive by securing pole position for Abu Dhabi Grand Prix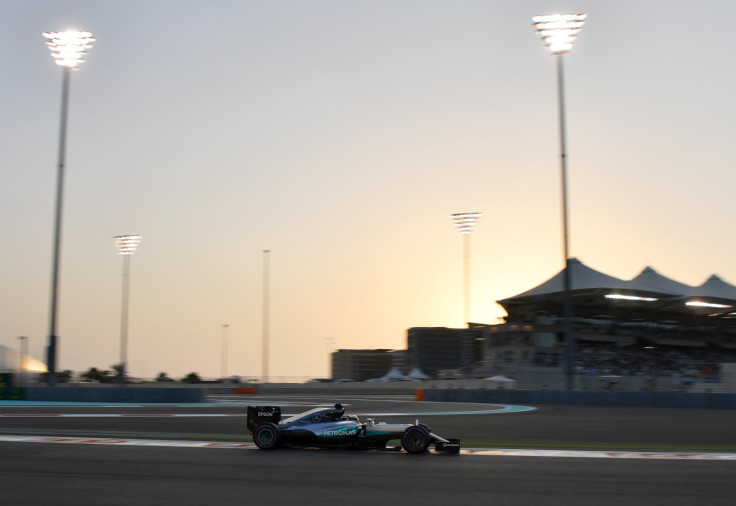 KEY POINTS
The Brit's Mercedes teammate Nico Rosberg will start the race in second position on the grid.
Hamilton needs to win the race with Rosberg finishing lower than third.
Lewis Hamilton has kept his hopes of an against-the-odds World Championship triumph alive after securing pole position for the Abu Dhabi Grand Prix on Sunday (27 November). The Brit finished one place ahead of his Mercedes-Benz teammate and title rival Nico Rosberg, who is chasing the first championship title of his career.
Hamilton, 31, needs to win the race with Rosberg finishing lower than third if he is to leapfrog the German in the drivers' championship. Hamilton currently trails Rosberg by 12 points in the standings, but has won each of the last three Grand Prixs to ensure the fight has gone to the last race of the season.
Hamilton — who is seeking his third consecutive world title with Mercedes — recorded a pole-clinching time of 1:38.755 to put the pressure on his teammate heading into Sunday's much-anticipated Grand Prix. It was, in fact, Hamilton's fourth consecutive pole, but it still may not be enough to ensure he retains his coveted Formula One crown.
"It was strange coming here this weekend as it was the last practices and qualifying with this car, it's been incredible. It's been such a privilege driving this car," Hamilton said after the tension-filled qualifying session, according to the BBC.
"I wouldn't have had the 61 poles I have now if it wasn't for everyone at the factory, so thanks to them. First sector, I knew I had pace so I didn't overcook into turn one and on the rest of the lap I had it under control."
Rosberg, meanwhile, insisted he will not adopt a safety-first approach to the race. "I have come here to try and be on pole and try and win the race tomorrow. I am not ecstatic by today, Lewis was just that bit quicker but there are still opportunities tomorrow and I'll go for the win," he shared.
"Adrenaline is always there in qualifying for sure. I was feeling good out there and had a good balance. As qualifying went on I was feeling better and better and got a good lap but in the end, not quite good enough."
Elsewhere, the front-six for the final race of the season was completed by Daniel Ricciardo, Kimi Raikkonen, Sebsatian Vettel and Max Verstappen respectively. But all eyes will be on the Mercedes duo in Abu Dhabi on Sunday, as one of the most dramatic title races in years comes down to a nail-biting finish in the United Arab Emirates.
© Copyright IBTimes 2023. All rights reserved.