LG may not have a phone which uses it yet, but the South Korean firm has just unveiled a 5in LCD panel which has a 1080p HD resolution and a pixel density of 440ppi, putting it ahead of Apple and Samsung.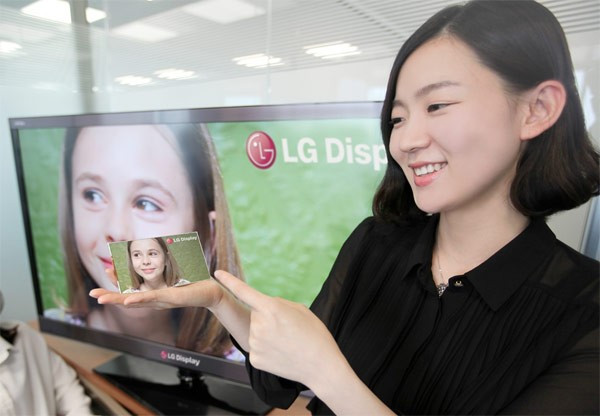 Apple has long been seen as having the best smartphone display with the Retina Display seen on the iPhone 4, iPhone 4S and the new iPad - and possibly on new MacBooks if rumours are to be believed.
However LG has now jumped ahead of Apple and other rivals like compatriot Samsung, by unveiling a 5in panel with a resolution of 1,920 x 1,080, making it the highest resolution mobile panel to date. While Toshiba did show off a screen last year with a higher resolution of 2,560 x 1,000 giving it a pixel density of almost 500ppi, that 6.1in panel is aimed at the tablet market.
The new 5in LG panel will be making its way to very large smartphones, similar to the Samsung Galaxy Note and LG's own Optimus Vu, both of which have 5.3in screens.
The resolution gives the panel a pixel density of 440 pixels per inch (ppi) which is a lot higher than the 326ppi pixel density of Apple's 3.5in Retina Display found on the iPhone. It will mean that the naked eye will be unable to see any pixels on the new screen.
The panel uses a variant of IPS technology known as Advanced High Performance In-Plane Switching (AP-IPS) which LG claims will mean better viewing angles, lower power consumption, brighter screens and excellent colour reproduction.
LG said that the new panel would give smartphone users a Full HDTV experience on a smartphone. "As smartphones become increasingly valued for how well they do multimedia and with the rapid growth of LTE enabling faster large file transfers, our new 5" Full HD LCD panel is certain to prove a significant asset to the mobile market," said Sang-Deok Yeo, CTO and Executive Vice President of LG Display. "With the world's highest resolution smartphone display, LG Display continues to remain a step ahead in developing the most innovative in display technology products."
LG is set to make the 5in panel available to smartphone manufacturers in the second part of 2012, with the first phones using it likely to surface at the beginning of next year.