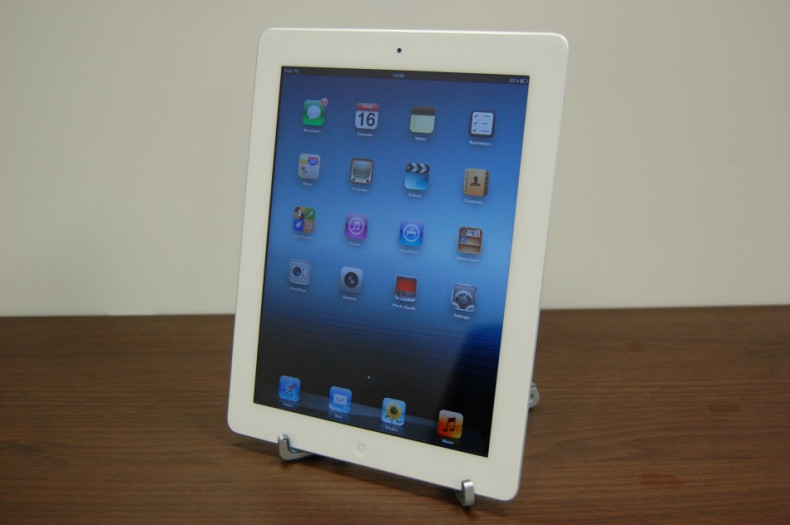 Overall Score 9/10
Key Features:
9.7in Retina Display (1536 x 2048 pixels)
A5X processor with quad-core GPU
5 megapixel camera
iOS 5.1
11,500mAh battery
Price as reviewed: £399 (16GB, Wi-Fi)
Introduction
When Apple announced the new iPad in early March, all eyes were drawn to the tablet's new Retina Display, which packs a resolution greater than that of your high definition TVs, making images sharper and more crisp than the iPad 2. Aside from this there was an updated A5X processor which offers quad-core graphical power, a much-improved 5 megapixel camera that can record HD video and a larger battery.
However, it looked almost identical to the iPad 2, so the big question on everyone's lips was, should I upgrade? Let's find out: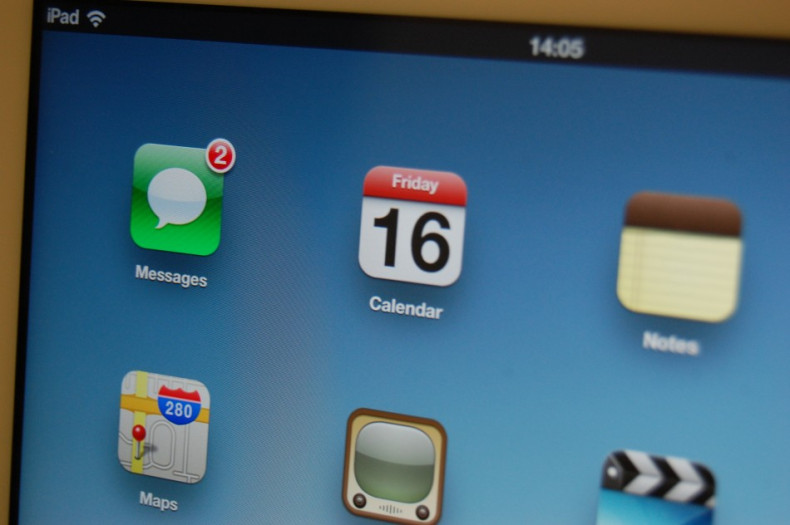 Apple iPad: Design and Feel
iPad 2 owners will notice immediately that the new iPad weighs slightly more than the older model. The new iPad tiops the scales at 652g, which is 52g more than the iPad 2 and it is certainly noticable when you hold it in one hand and the iPad 2 on the other. But, unless you are holding the new iPad for an extended period in one hand, we don't think you will notice the difference, and for us it's not a major complaint.
Some of the extra weight comes from an increase in thickness, up to 9.4mm from 8.8mm, but these fractions of a millimetre are barely noticeable when you hold it in your hand. Another reason for the added weight is the larger battery which is needed to power that impressive display.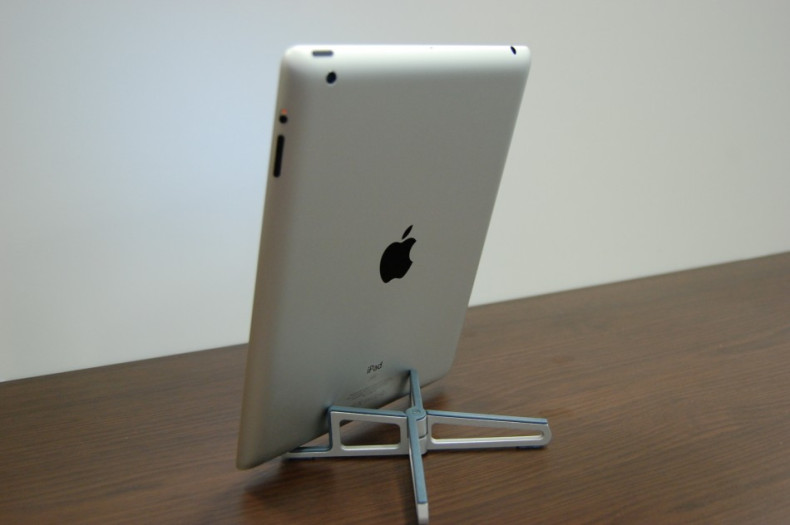 Beyond this, the new iPad is as sturdy and well-built as ever, with absolutely no flex at all when held by one corner. The design is identical to that of the iPad 2, with the glass front and aluminium back providing the premium feel that Apple products are known for.
Update: After using the new iPad extensively for a week we've found the extra weight becomes annoying. It's not that it is heavy as such, but it is heavier than it looks and weighs more than you would expect it to. Reading on the train, for example, can become tiresome and a little uncomfortable if you're holding the iPad upright in one hand. It's a complaint, but stilla minor one.
Apple iPad: Retina screen and camera
The biggest feature of the new iPad is, of course, the Retina Display. With a resolution of 2048 x 1536 pixels, the screen is sharper and more vivid than all high definition televisions. While it was immediately obvious we were dealing with a superb screen, the quality of the In-Plane Switching (IPS) technology came into sharp focus when we held it up againt the iPad 2, which until now has been thought of as excellent. But the new iPad screen has set taken on the mantel as the best-in-class and is the standard for all others to follow.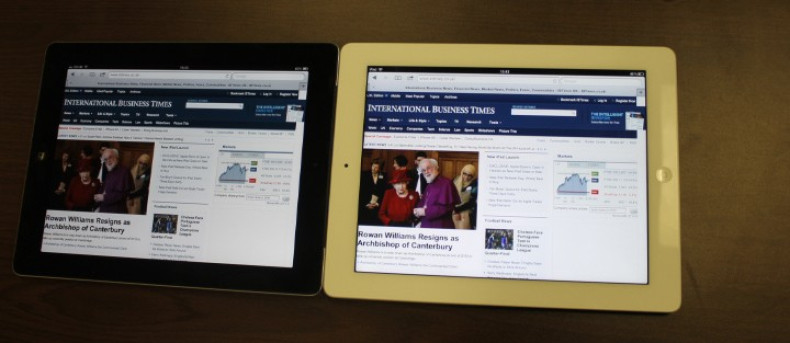 As with the iPhone 4 and 4S, the Retina Display's party trick is to make it impossible for individual pixels to be seen by the naked eye becasue they are just so small (unless you enjoy cramming your eye up against the screen that is). At 264 pixels per inch (ppi), the iPad's display does not quite match the iPhone in terms of pixel density (326ppi if you're wondering), but in reality there is nothing between them considering you will be holding the iPad further away from your eyes anyway. In practical terms, the high resolution means that images are much sharper and text is clearer, making it easier to read.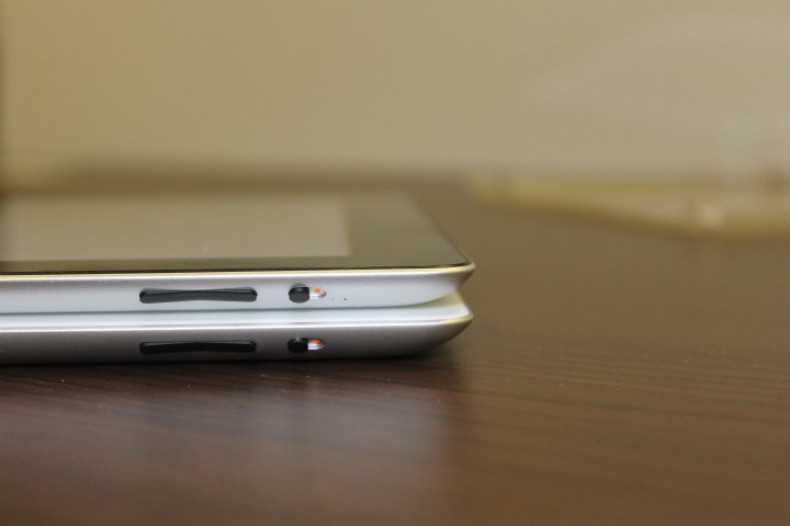 Browsing the web and reading ebooks in particular benefit from this huge pixel density, and Apple has succeeded in cramming in a huge amount of pixels (3.1million to be exact) while avoiding the issue of creating more noise, crosstalk or other visual artefacts. Colours are bright but natural, avoiding the colour saturation you get with OLED panels. Movies are also sharp and crystal clear, though the 4:3 aspect ratio is not ideal for watching movies in our opinion.
There are currently over 200,000 iPad specific apps in the AppStore though it is worth noting, however, that the vast majority have yet been upgraded to fully take advantage of the new screen, so some apps look a little fuzzy when examined in close detail - as they have been designed for the 768,000 pixels found on the previous two iPads.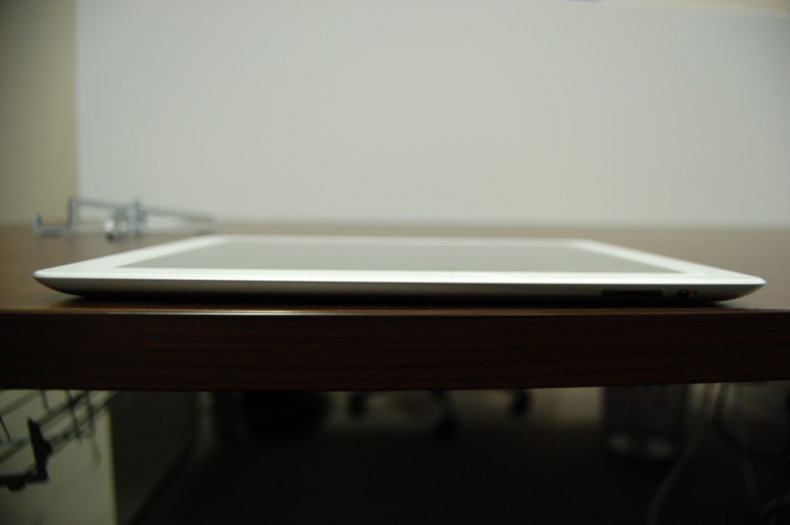 So far, Twitter, Facebook, Kindle and many others - including, of course Apple's own range like the iWorks Suite - have been updated, and all others will very soon, once developers get around to doubling the resolution of their apps. These applications are expected to increase in size when upgraded to Retina-friendly graphics, so expect your storage to fill up quicker than before - meaning it might be worth investing in 32GB or 64GB versions, as we'd expect 16GB to fill up very quickly.
Turning to the camera, and while we are not convinced that many people really use the rear camera on their tablets, it's good to see that Apple has finally put a decent camera on its iPad. The new camera has a 5 megapixel sensor, a five element lens and it can record in Full HD 1080p video - compared to just 720p on the iPad 2. It also now features auto-focus, touch-to-focus and facial recognition. Below is a photograph we took with the new iPad in our office which is certainly an improvement over the grainy results you got from the iPad 2 with the touch-focus and auto-focus working well if not very fast.
Apple iPad: Hardware and Performance
Update: While we have found the new iPad to get noticably warm in the lower right corner of the rear case - where the A5X chip is located - but we would not call it a problem, as other users have. Powerful processors produce more heat, and although the new iPad does get warm, in our testing we never found the tablet to get hot or uncomfortable. It is worth mentioning that, as with all iOS devices, if the new iPad becomes dangerously hot the operating system shuts down and displays a message saying it will work again once it cools down - we have yet to see this message on our new iPad.
While not packing the quad-core processor many were expecting, the new iPad does get a performance boost over its predecessor in the form of the A5X chip. Apple is always hesitant to reveal the speed of its mobile processors, but it has been benchmarked running at the same 1GHz clock speed of the A5 chip and is also still dual-core. The performance boost comes in the form of a new quad-core GPU, which Apple claims will outperform the 12-core GPU on the Tegra 3 chip from Nvidia, which is currently seen in a number of high-end Android tablets.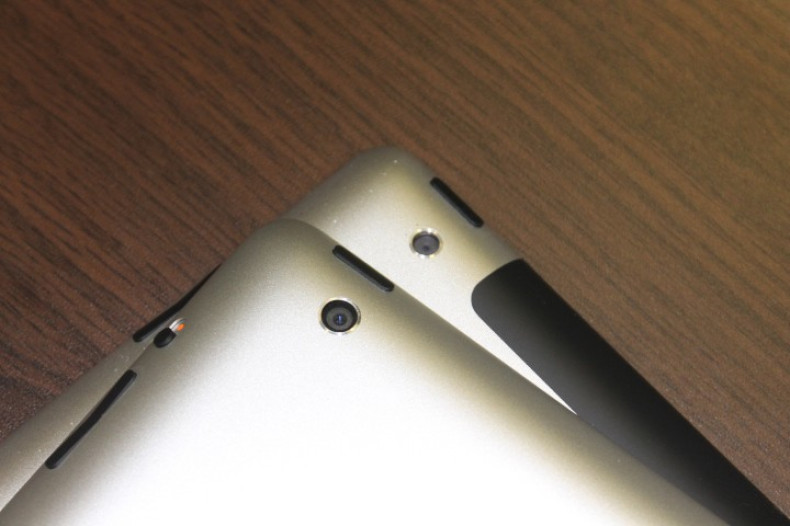 As well as making sure the screen looks good, the new GPU should see 3D games become even smoother and faster than they already are. To help this, Apple has boosted the RAM on its new iPad to 1GB, up from 512MB, which makes the new tablet seem incredibly responsive.
Although the specifications may not technically be on a par with quad-core rivals from the likes of Acer and Huawei, thanks to the tight integration of hardware and software, the new iPad performs exceptionally; switching between multiple applications is incredibly quick and the entire user interface is as slick and responsive as we have come to expect from iOS.
Update: Some users have complained of poor Wi-Fi reception, and while we have noticed signal strength sometimes drop from three to two bars, we haven't noticed any performance drop from this.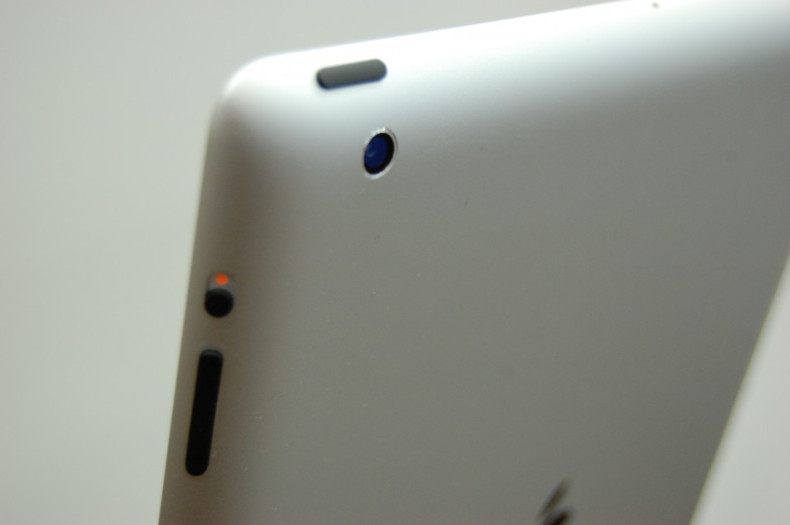 Apple iPad: Battery life
We've only had our iPad for a day, so it's hard to say how good the battery is, but from our brief testing, it seems just as good as the iPad 2. Apple quotes 10hrs and it is normally pretty accurate with its estimates regarding battery life. We've had the new iPad on constantly since 9am and some six hours later it is at around 47 percent.
While many will be wondering why they have not extended the battery life, the fact that the new iPad still has 10hrs battery life despite the new super high resolution screen and the new quad-core GPU, is a huge achievement. We will be testing the battery fully in the coming days and will be updating the review once we have a definitive answer.
Update: Our Wi-Fi model easily lasts a full working day, with power left to keep us amused on the train home, too. That new Retina screen is a battery-hogger, and for that reason Apple has installed a significantly larger battery than the one from the iPad 2. In fact, the new iPad's battery is around 70 percent bigger to offer the same ten hours of life.
The increased battery size does mean, however, that charging now takes around twice as long as before, which is a shame. In testing we charged our new iPad most nights, so it is difficult to give an exact recharge time, but we'd say a daily charge overnight is the way to go.
Apple iPad: Value
The new iPad retains the same pricing structure as the iPad 2, with prices starting at £399 for the 16GB Wi-Fi model, rising to £559 for the 64GB version with all versions available in black or white. Adding 3G (4G is only available in America at launch) connectivity adds £100 to each model.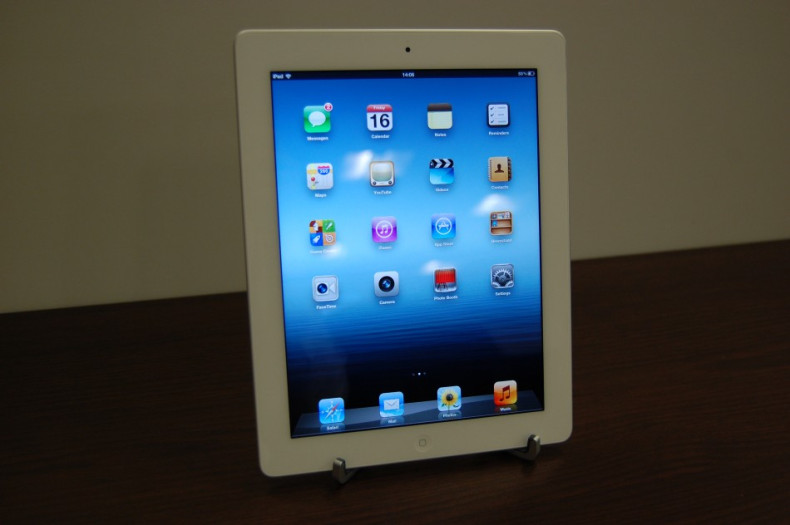 It is worth noting that the 16GB iPad 2 is still for sale at a reduced price; £329 for the Wi-Fi model and £379 for the Wi-Fi + 3G.
Apple iPad: Verdict
While the new screen is certainly revolutionary, overall the new iPad is more of an evolution of the iPad line. The Retina Display is clearly the selling point and the main reason for any iPad owner to want to upgrade. A substantial resolution boost and improvements to graphical power mean that developers will no doubt produce some stunning games and apps over the coming months.
But the big question remains: should an iPad 2 owner upgrade to the new model? While the screen is beautiful and the increased battery and upgraded camera are welcome, the fact that the new iPad isn't a major leap forward underlines just how good the iPad 2 still is.
We can say with some confidence that Apple still rules the tablet market, and the new iPad will carry that crown for another year, until the Android eco-system gets itself sorted out. While tablets like the quard-core Huawei MediaPad 10, and the stylus-toting Samsung Galaxy Note 10.1 promise somehting more, these are not even available yet, leaving the new iPad with the market all to itself. The new iPad isn't a ground-breaking product, but instead is a solid upgrade to an already very capable tablet, keeping Apple ahead of the competition.
Bottom Line: If you're upgrading from an original iPad or one of its competitors, or entering the tablet market for the first time, then the new iPad is exactly what you want.
Scores:
Display 10/10
Processor 8/10
Price 7/10
Software 9/10
Camera 7/10
The Good:
Amazingly clear and sharp Retina Display
Unrivalled build quality
iOS and AppStore eco-system
Great battery life
The Bad:
Increase in weight and thickness
No storage increase over iPad 2
No expandable storage
No 4G yet in the UK