Somebody's Watching You: LG TVs 'Spy on Customers'
A UK computer enthusiast has discovered that LG's Smart TVs are silently logging users' viewing habits and sending the data to the company's headquarters in South Korea.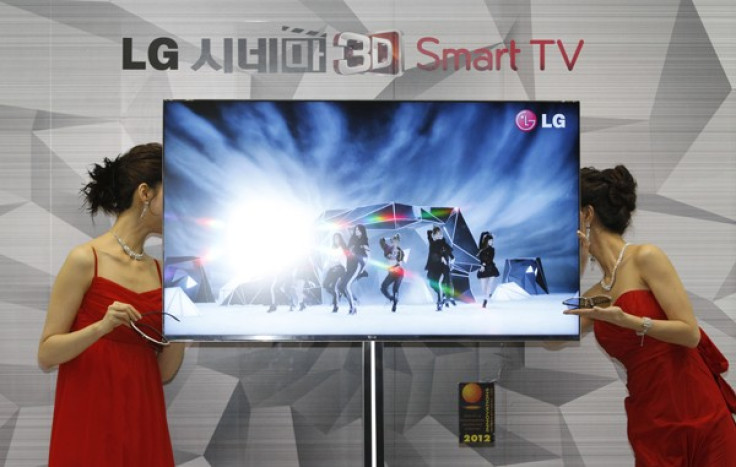 Some of LG's Smart TVs are silently logging what channels users are watching, when they switch channels, and sending that information all the way back to the manufacturer's servers in South Korea.
The vulnerability is thought to affect all of LG's 2013 Smart TV range.
In the systems settings of the TV, UK blogger DoctorBeet discovered a setting called "Collection of watching info" which is switched to the "On" position by default.
However, even after turning the setting off, analysis of network traffic showed that the TV was still reporting information about his viewing habits. The TV also read all the file names of media he accessed from USB memory sticks connected to the TV and was sending that data back to South Korea too.
IBTimes UK contacted LG who said: "Customer privacy is a top priority at LG Electronics and as such, we take this issue very seriously. We are looking into reports that certain viewing information on LG Smart TVs was shared without consent."
LG said it expects to have more information for customers shortly and appreciates users' "patience and understanding" as the company looks into the matter.
Targeted advertising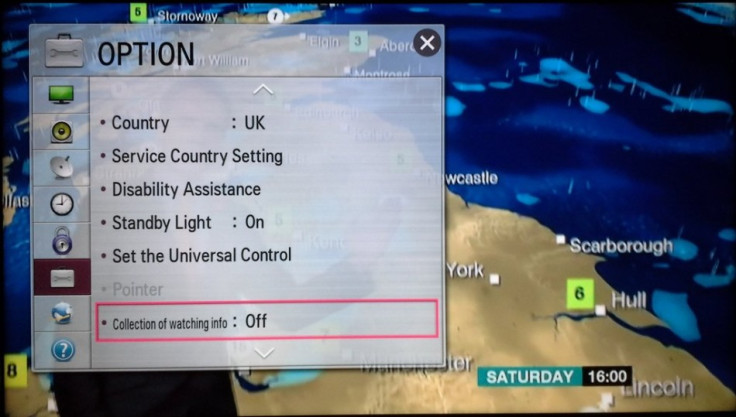 The information is seemingly used by the manufacturer to target users with advertisements on the Smart TV landing screen. In September, the Register reported that Cognitive Networks had signed a deal with LG to provide its content recognition solution on smart TVs.
The solution is a thin client that is installed in the TV and grabs tiny fragments of content from small regions on the TV screen, which it then sends into the cloud to identify the content.
The TV can then decide to advertise similar programming, place a targeted advertisement or alert the user to a HD version of the same programme on another channel, for example.
"Clearly LG is very keen to monetise the millions of TVs it has out there with targeted advertising. But if consumers are not clearly warned of the feature, and given a method of turning it off, the most sensible choice may be to choose a different manufacturer for your TV viewing," said security analyst Graham Cluley.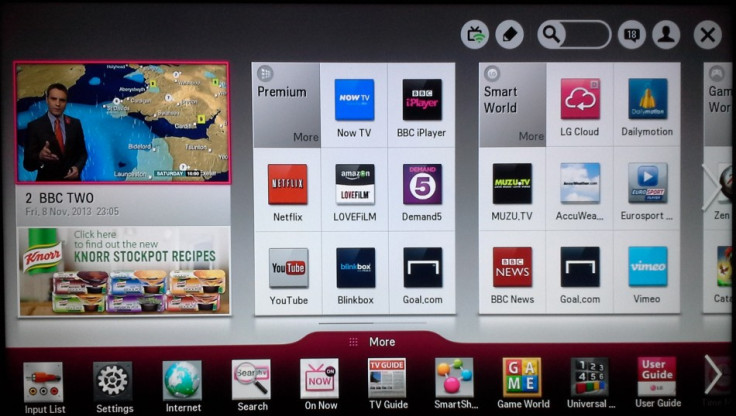 After contacting the helpdesk at LG Electronics UK and not receiving any help with resolving the problem, DoctorBeet has compiled a list of internet domains that fellow LG Smart TV users can block at their routers to prevent LG from communicating with their TVs.
The list of web servers are:
© Copyright IBTimes 2023. All rights reserved.