LG has demonstrated a concept technology at Mobile World Congress which allows users to stream games and content from their mobile devices to an Ultra High Defintion 4K television.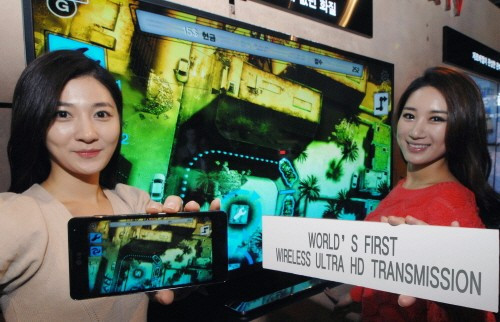 Using the wireless peer-to-peer screencast platform Miracast, the demonstration created by LG shows Android games being controlled on a smartphone but appearing in 1080p on a HDTV screen.
Though not currently planned for a consumer release, according to Pocket-Lint, the set-up on show at MWC drains very little of the smartphone's battery power and runs with "very low latency" allowing for a smooth image from the phone to television screen and responsive mobile controls.
The technology will also be used for video transmission, allowing users to view movies captured on their smartphones in 1080p or 4K resolution on the UHD screen.
"Thanks to our innovative Wireless Ultra HD Transmission technology, users can now enjoy their favorite mobile content on today's most advanced Ultra HD TVs," said Dr. Jong-seok Park, President and CEO of the LG Electronics Mobile Communications Company.
"With the development of this cutting-edge technology, LG again confirms its industry leadership in the area of display and mobile convergence for a truly enjoyable viewing experience," Park added.
When introduced to the consumer living room, LG's 4K wireless game streaming could compete with the emerging microconsoles such as Nvidia's Project Shield, Razer's Edge gaming tablet, the Android Ouya and Xi3's Piston, which all offer alternatives to the traditional home consoles built by Microsoft, Sony and Nintendo.
The Ouya and Project Shield are especially similar to the tech being shown by LG, in that they both offer to run cheap Android games via a larger screen (in Shield's case, a 5in screen attached to the control pad, in Ouya's a living room TV) using improved controls and better quality visuals.
The Ouya will begin shipping next month, arriving first with people who backed the console's development on Kickstarter. A retail launch is planned for the US in June. Though Nvidia has boasted that Project Shield will be able to stream even extremely high-end PC games like Crysis, no release date has been set for the console as of yet.