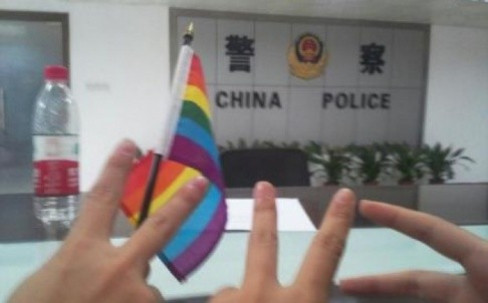 Lesbian, gay, bisexual and transgender activists in two Chinese cities were detained by police while celebrating International Day Against Homophobia, Biphobia and Transphobia (IDAHOBIT) on Friday 17 May.
Yang Dai, an activist in Guangzhou, told the South China Post that police approached two dozen volunteers who were handing out pamphlets about IDAHOBIT in the town.
They were taken away for questioning and released about an hour later, said Yang. She added that police seemed concerned that fliers were being handed out with information about the celebrations on 17 May, dubbed 'gay day'.
More than 100 countries around the world commemorated the International Day Against Homophobia on 17 May with marches, workshops, performances and other events.
In the southern city of Changsha, capital city of Hunan province, a "pride parade" during the day drew over 100 participants from all over China, aged 16-54.
The gathering remained peaceful until local police arrived at a hotel where activists were staying on Saturday morning. Four parade participants were taken away, said Qiang, a Guangzhou-based activist and organiser of the Changsha parade.
By Saturday afternoon, three had been released but one was still being held.
In the southwestern city of Chengdu, volunteers from "Les Chengdu" and "Tongle Chengdu", two prominent local LGBT groups, surprised citizens in the Sichuan capital by turning themselves into a "flash mob" at a downtown plaza.
They danced enthusiastically to Kelly Clarkson's hit song Stronger, much to the bemusement of local residents.
There are signs that homophobia is being taken seriously as the Communist Party's official mouthpiece China Central Television (CCTV) published a Weibo post on Friday morning advocating respect for the LGBT community.
However, the post was deleted soon afterwards, causing protests and anger on social media platforms. Hours later, CCTV republished the old post with a revised title: "Homosexuality is not a mental disease".
In Turkey, there were protests amid reports that the country would not be showing the Eurovision Song Contest 2013 over fears there will be a lesbian kiss.
Finland's entry, Krista Siegfrids, is expected to kiss one of her female dancers on stage during her performance at the semi-finals in Malmo, Sweden.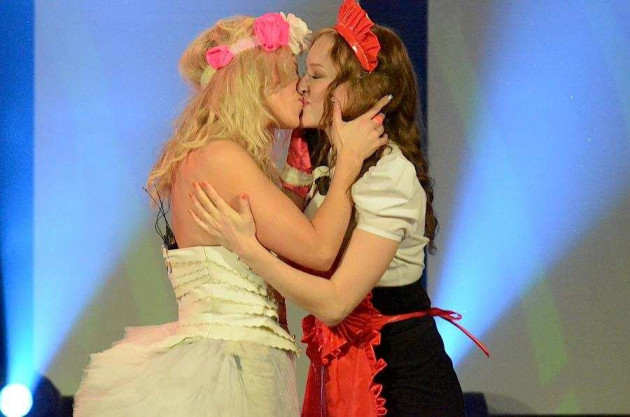 If Europe votes Finland through to the Grand Final on Saturday 18 May, she will perform the same routine in what is expected to be the first lesbian kiss seen by more than 60 million people.
When she spoke to Gay Star News, she said kissing a woman on stage is a statement in support of marriage equality in Finland and across the world.