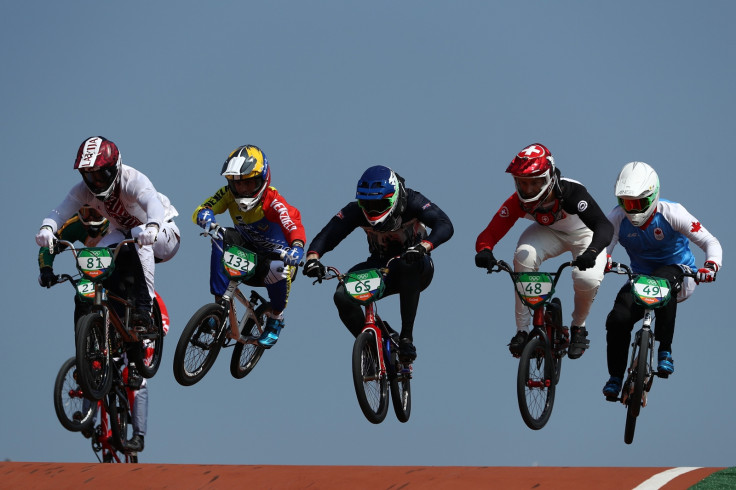 Team GB's Liam Phillips has seen his hopes of securing a medal in the unforgiving and often brutal BMX event at Rio 2016 cruelly dashed. The Burnham-on-Sea racer was involved in a heavy crash during the first run of his three-race quarter-final heat on Thursday afternoon (18 August) and has now sadly been forced to withdraw from the competition.
Phillips, who claimed the UCI BMX World Championship in 2013 and last year became the first man to win consecutive Supercross World Cup titles, looked to be leading off the ramp and through the first set of jumps. He went high around the opening bend before then clashing with Switzerland's David Graf, who seemed to lose control of his bike in the air.
That initial hefty collision already knocked him down and the 27-year-old was then sent spiralling from the track entirely by two-time Olympic champion Maris Strombergs, who was unable to avoid the smash. He thankfully walked away, albeit gingerly, after receiving medical attention, but will play no further part in Brazil.
"Sad to confirm that Liam Phillips has been forced to withdraw from Cycling BMX at Rio 2016 after that crash," British Cycling later confirmed via their Twitter account.
Phillips, 10th fastest in yesterday's time trial to determine seedings, first competed at the 2008 Olympics in Beijing aged 19, where he was eliminated at the last-eight stage. He entered his home Games four years ago just 10 weeks after surgery on a broken collarbone and made the final before crashing out and finishing eighth after coming unclipped from his pedals.
Fellow British rider Kyle Evans has also been knocked out of the quarter-finals in Rio after coming seventh in the final heat. Strombergs, meanwhile, will not compete for a third consecutive gold.