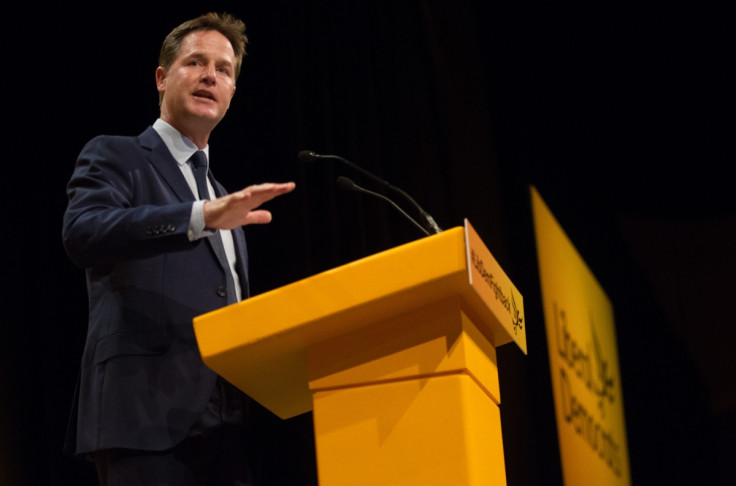 Nick Clegg said his party could be the "comeback kids" the British politics following their disastrous 2015 general elections results. The former leader of the Liberal Democrats, who was one of just eight Lib Dem MPs who managed to keep their seats following May's general election, believes the party could once again be considered a major force as their competitors have a "problem with the 21st century".
Speaking at the Lib Dem party conference in Bournemouth, Clegg, who resigned as leader soon after the election, said the party could also take advantage of Labour drifting further to the left, following Jeremy Corbyn's election as leader, by occupying the centre ground the party threatens to leave behind.
Clegg, who rejected a chance to return to the Lib Dem frontbenches after turning down an offer from new leader Tim Fallon, told the party conference: "I firmly believe that under Tim's leadership we can be the comeback kids of British politics – starting at next May's elections. It won't be easy, it won't be instant and it won't come without setbacks along the way. But we will bounce back. Because there is a place in British politics for tolerance, reason and compassion.
"There is a place in British politics for an open-minded, outward-looking, optimistic party. Because – as dawn follows the darkest hour – there is now space in British politics for a great fightback by the most resilient political party of our times, the Liberal Democrats."
'Turn back the clock'
Discussing his rival parties, Clegg added: "We've got Ukip wanting to turn the clock back to the 1950s. Jeremy Corbyn turning the clock back to the 1970s, Osborne and Cameron turning the clock back to the 1980s and the SNP who want to take us back to the 1600s."
Elsewhere, Clegg said he believed the UK must remain part of the European Union (EU) and stop the country becoming "a Little England, drifting friendlessly somewhere in the mid Atlantic" ahead of the forthcoming in/out referendum".
He said: "I have no doubt that David Cameron's referendum will be contested on the issue of jobs, economic security, the terms of any renegotiation and so on. But there's a big, enduring question which hangs over all of this: what kind of country do we want to be, what is our role, in this globalised world of ours? Open or closed? Leading in our own European backyard or isolated from our nearest neighbours?
"Because let's be clear: for all the huffing and puffing we're going to hear from those who want to leave the EU, they have no answer to that fundamental strategic question. Is America, Uncle Sam, going to help us out when we've cut ourselves off from our own European backyard? Of course not – we may share history and language, but the Americans have been unsentimentally clear that we are of less relevance to them if we are less important in Brussels, Berlin or Paris.
"Whether we remain in or out of Europe is an existential question for Britain – if we leave we face an uncertain and isolated future; if we stay in we can lead as a strong European power. That is why we must strain every sinew to fight – and win – the referendum."