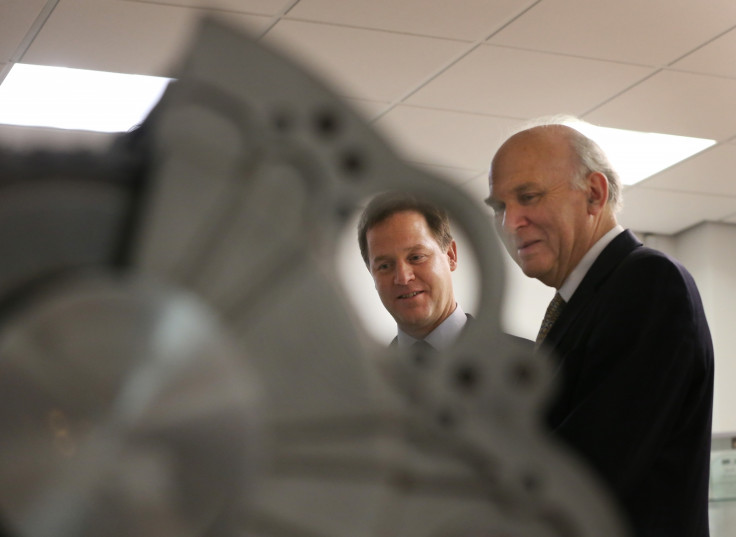 The Liberal Democrats plan to win over the British business community ahead of the election by promising to make the UK the largest economy in Europe.
Nick Clegg said he wants Britain to take over the European economic powerhouse of Germany and sustain growth of an average of more than 1% higher per year than the country until 2035.
The Liberal Democrat leader was joined by the business secretary Vince Cable to set out the party's five point plan that builds on the "foundations of strong public finances and investment".
"The Liberal Democrats have rescued the economy and led the recovery. Now is the time to be ambitious about our future," Clegg claimed.
"We believe that by building a strong, modern, open economy we can become the powerhouse of Europe.
"We can grow faster than both France and Germany, overtaking them as the largest economy in Europe in 20 years' time.
"That is hugely ambitious, but absolutely possible. To do it we need two things: to secure the recovery; and to put in place an ambitious long-term plan that harnesses and encourages the skills and dynamism of British workers and British businesses."
Clegg explained that his party would concentrate on long termism, finance for growth, skills, innovation and openness.
"The Liberal Democrats are on the side of business in creating an economy that is open to international students and the global skills pool our country needs to grow," Cable said.
The announcement comes with 58 days to go before the general election and after a poll from Populus put the party on 9%.
The data means Clegg's party is well behind its 23% share of the vote it garnered in 2010.
The Liberal Democrats also face strong opposition from the SNP in Scotland, where the party holds 11 out of 59 seats.
A poll from Tory peer Lord Ashcroft found that former Liberal Democrat leader Charles Kennedy faces losing his Ross, Skye and Lochaber seat to Nicola Sturgeon's party in May on a swing of more than 20%.