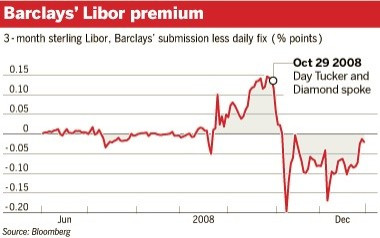 Regulators in Europe and the United States are said to be mulling significant changes to interest-rate markets as the Libor scandal spreads from London to financial capitals all around the world.
The Financial Times reported Monday that European Commissioner in charge of financial market regulation, Michel Barnier, is planning to bring forward changes to existing rules on "market abuse" that would include criminal sanctions against those found guilty of manipulating markets for Libor and Euribor, it's single-currency linked equivalent.
The plans come as German magazine Der Spiegel reported the suspension of two Deutsche Bank employees in connection with an attempt to manipulate Libor after external auditors were brought in to investigate claims of bid rigging. Last week, Reuters reported that the German markets regulator, Bafin, had launched a special probe into Libor rigging.
The Swiss weekly Der Sonntag reported Sunday that domestic markets regulator Finma was questioning banking giants UBS and Credit Suisse for any potential ties to the scandal. The Swiss Federal Competition Commission, or COMCO, is currently investigating 12 US, European and Japanese banks suspected of interest rate market manipulation after receiving information on possible collusion charges back in February. The findings, COMCO says, may take another two years to uncover.
In the United States, Representative Barney Frank, the highest ranking Democrat on the House Financial Services Committee, told the Financial Times that he hoped to see hearings in both the House and the Senate" that would address "the whole structure of Libor".
Regulators in Japan, as well as their opposite numbers in Europe, have been investigating alleged manipulation in the Tokyo interbank lending benchmark, Tibor, for several months. Last December, Japan's main financial markets watchdog, the Securities and Exchange Surveillance Commission, suspended derivatives trades linked to Tibor made at divisions of UBS and Citigroup after it said both banks had made attempts to manipulate the benchmark.
In March, European authorities amped-up their probe into rate-rigging when EU Competition Commissioner Joaquin Almunia included potential Tibor-related activities to his department's investigations.
"One of (the Commission's investigations) concerns products linked to the Euro Interbank Offered Rate or Euribor. Others focus on products tied to other benchmark rates for specific currencies, such as Libor and Tibor, the Tokyo benchmark rate," he said. "We have concerns that the companies may have violated the rules that prohibit cartels and restrictive business practices in the trading of the financial derivatives based on those benchmarks
Criminal charges may still loom for those convicted of rate-rigging, as well, with on-going probes by the US Department of Justice and the recently announced investigation by the UK's Serious Fraud Office.
Late Friday evening a US-based law firm filed a class action suit against Barclays, JPMorgan Chase and Citigroup, HSBC and UBS alleging that the manipulation of Libor and Euribor "cost investors millions of dollars in a practice that began as early as 2005."
The suit, brought by New York based Hagens Berman Sobol Shapiro, seeks damages on behalf of "all US-based investors who purchased or sold Euribor-related financial instruments from January 1, 2005 through December 31, 2009".
Meanwhile a senior lawyer at the Australia-based practice of Slater & Gordon told the Wall Street Journal Monday that his firmed had been approached by "several" companies and investors who had purchased Libor referenced instruments and were considering taking legal action against Barclays.