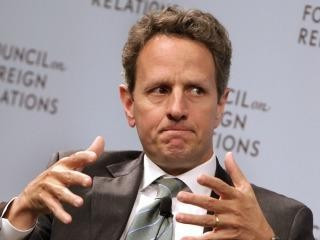 Two US Senate Republicans have hit out at Treasury Secretary Timothy Geithner for his inaction and lack of disclosure over the banks he suspected of manipulating Libor, which has resulted in a "deluge" of lawsuits that has cost the US taxpayers a significant amount of money.
Senator Chuck Grassley of Iowa and Senator Mark Kirk of Illinois slammed Geithner in a letter, saying his failure to inform the public of a rigged benchmark interest rate, which is linked to trillions of dollars' worth of financial products, has resulted in a number of lawsuits which will take a significant amount of time and money to investigate.
"Taxpayers need to know there's a cop on the beat at the Treasury Department, making sure the interest rates they pay on everything from home loans to retirement investments aren't rigged," says Grassley. "If the attitude of the Treasury Secretary is that it isn't his responsibility to take action or to tell the public, that's going to harm confidence in our financial system and create a lack of certainty."
Kirk, a member of the Senate Committee on Banking, Housing and Urban Affairs, adds "we need the Treasury Department to take swift action to inform consumers, homeowners, students and other borrowers about potential impacts of faulty interest rates. We cannot expect confidence in our financial system to last without this crucial information, and the Treasury should consider alternative solutions to boost confidence in the marketplace."
In addition to this criticism, the senators say that Geithner did very little to "to diminish use of this flawed index in US financial markets," despite his testimony before Congress stating that when he was president of the Federal Reserve Bank of New York, he became aware of concerns that the Libor rate was being rigged, and deferred to the British central bankers to fix the problem.
"To the contrary, [the] Treasury's use of Libor has increased. In the wake of this scandal, we believe that it is essential to undertake steps to consider the creation of an American-based interest rate index. If US investors and borrowers have suffered financial harm from our dependence on an index set in London, they have the right to expect the country's leaders to support better alternatives. Complacency in the wake of losses and lawsuits will diminish both investor and borrower confidence regarding debt securities issued in U.S. financial markets," they say.
Libor Investigations Continue
US, EU, UK and Asian regulators are investigating a large number of banks that are involved with the setting of Libor, after Barclays became the first bank to settle with three regulators for a record fine of £290m.
While Barclays has settled with the US' Commodity Futures Trading Commission (CFTC), US Department of Justice (DoJ) and the UK's Financial Services Authority (FSA), it is still under investigation by a number of other US regulators, as well as others from different jurisdictions.
Florida attorney general Pam Bondi's office is "actively reviewing the Libor matter" and has subpoenaed a total of 14 banks.
In a separate investigation, New York Attorney General Eric Schneiderman and Connecticut Attorney General George Jepsen have also subpoenaed at least 7 banks, including Barclays.
Meanwhile, the UK's Serious Fraud Office (SFO) revealed it launched a criminal probe into institutions and individuals related to Libor manipulation and rigging collusion.
EU authorities, including Switzerland and the Netherlands, are also actively investigating banks that are responsible for setting Libor and Asian authorities have already found evidence of wrongdoing, leading to some banks being banned from setting the rate again.