Libor Fixing Scandal: Barclays' Agius 'There was a Failure of Escalation'
Agius defends Barclays and senior officials standing during the Libor fixing scandal case
MP John Mann says "Mr. Diamond has been misleading the committee"
Bank of England's Deputy Governor Paul Tucker said infamous October 2008 call with Diamond was not about Libor and memo gives the "wrong impression"
Tucker's comments contradicts Diamond's testimony
1238 BST: The TSC committee hearing ends. Thank you to all who have followed IBTimes UK in our live blogging event.
Don't forget to check out the latest analysis and updates in our IBTimes UK Economy section for more stories on this subject.
1237 BST: TSC Chairman "you have put in place a grass roots approach at looking at what went wrong at Barclays and you have made a good start today by replying to us with a great deal of candour and details."
1236 BST: Agius: "The whole western economy is suffering from the financial collapse and effects many people in many different ways. Some are suffering from the financial situation and they are often unhappy with banking consequences."
1233 BST: MP John Thurso says that suggests that investment bankers are not customer centric by trying to say retail banking and investment banking objectives are fundamentally different. Agius strongly disagrees that investment banking was not customer centric.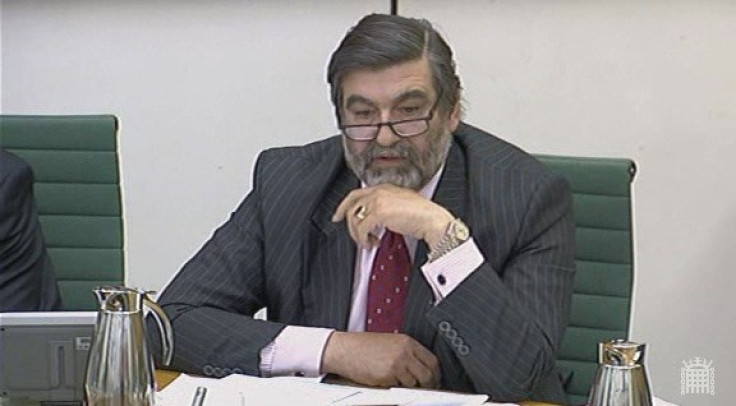 1232 BST: Agius wheels out the PR speak.
"Barclays honest, customer centric and competitive."
Weirdly, brings in Roger Federer into his speech.
"Roger Federer has competitive speech."
1231 BST: Agius: "We are moving heaven and earth to make things right. What I don't want is to think the [riggers] are systemic of Barclays' culture."
1230 BST: TSC Chairman thanks Agius for "details from these conversations" that should have been made aware "when Diamond was testifying".
1229 BST: Agius: "The existence of the criminality was made aware very late in the day."
1226 BST: Agius: the failure was the lack of escalation from compliance officers over Libor submissions.
1225 BST: Agius on risk systems and controls:
"Control over Libor submissions and process was slight because the risk to the area was slight."
1224 BST: Agius: "The FSA did not raise any issue over Jerry Del Missier's behaviour"
1221 BST: Agius says he didn't know about the criminal Libor fixing until early 2011.
He also says he believes that Diamond did not know about it until a month ago (as per Diamond's testimony) because he was a potential witness and was excluded from talks.
1218 BST: Diamond's experience in retail banking
MPs refocus on Diamond's "lack of experience" in retail banking and about how it was a "concern."
Agius says that while it was an "concern" it wasn't a "major concern" and was being "monitored"
1216 BST: Barclays' shares trading at a stabilised level of over 2 percent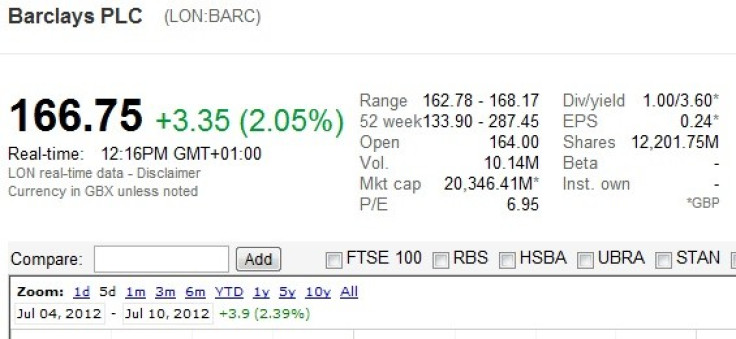 1213 BST: MP Leadsom takes a long winded way in asking whether Agius was suitable for the CEO role.
Agius: "One of the reasons we want to retain Diamond in a position is because of the extraordinary success he has had with the bank"
1211 BST: MP Leadsom "What impact has this had on retail banking workers?"
Agius: "The small amount of people rigging rates does not represent the wider culture of Barclays".
1210 BST: MP Leadsom decides to stick Agius with semantics and asks him what "culture" means. He replies it is "instinctive behaviour"
1209 BST: TSC Chairman: "Has the actions of Barclays infected other banks"
Agius: "I can't comment as to whether that is a fact."
1208 BST: MPs "Cancer has spread" in relation to Libor rigging scandal.
1204 BST: MPs asks Agius, again, about what the actions of the people found guilty of rigging Libor - says about Barclays' compliance
Agius emphasises this is an isolated incident.
1157 BST: MP Pearce says that in a letter to her, the British Banker's Association (BBA) "monitors Libor" and uses this to relate Agius' standing at the BBA at the time Barclays was under investigation.
However, this is directly conflicting with the following statement from the BBA on Libor governance: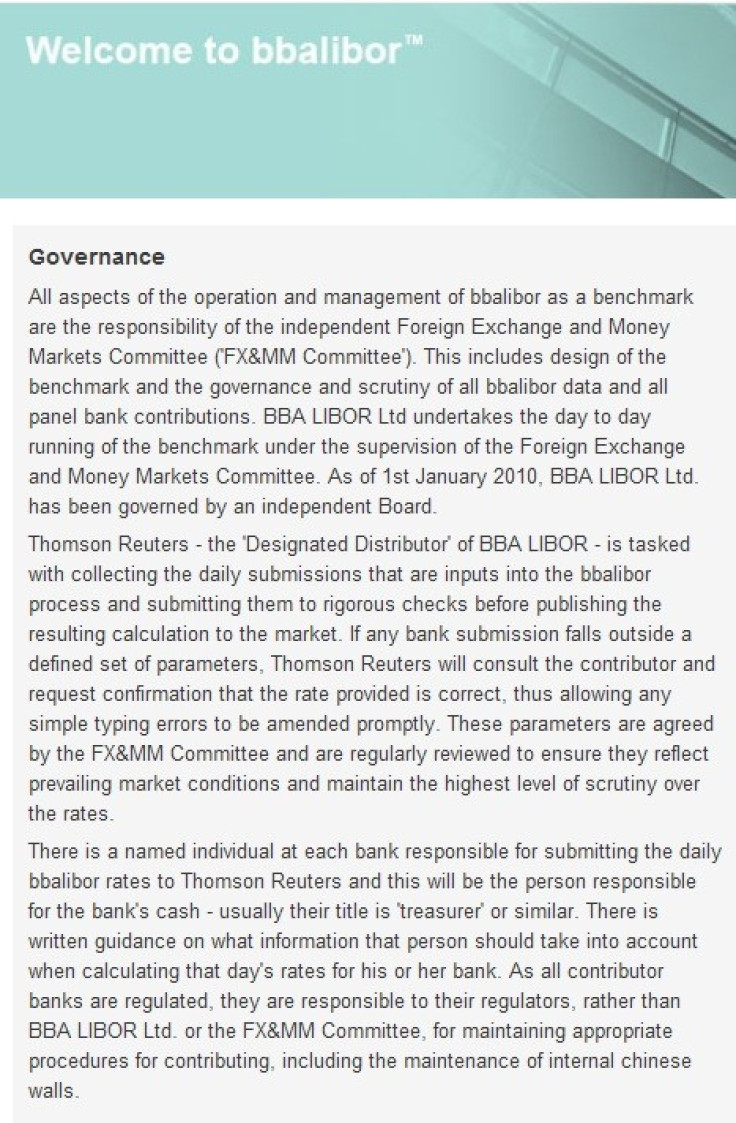 Furthermore, Pearce's assertions directly conflict with a recent interview with BBA Chief Angela Knight, that BBA is not ultimately responsible for the monitoring of Libor:
1154 BST: MP Pearce, predictably as with the other MPs focus in on Diamond's pay - again.
Despite the extraordinary situation, Pearce focuses on that Diamond will be getting a paid despite stepping down.
1151 BST: MP Teresa Pearce asks what a lot of what people have assumed that Agius "offered himself up" before Diamond. Agius denies this.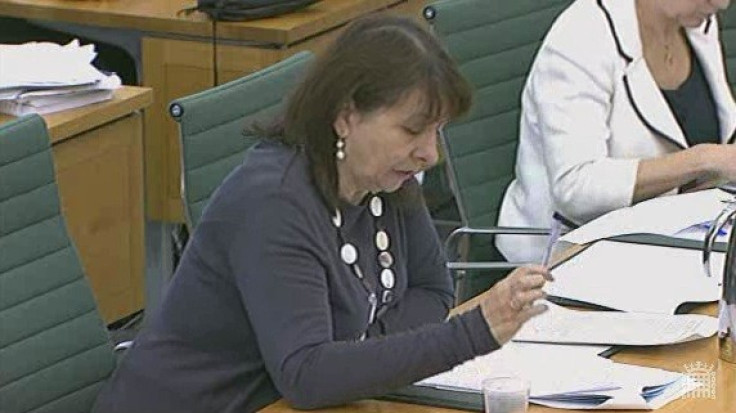 1149 BST: MPs ask Agius: "What does it say about your senior management team that an instruction to manipulate Libor wasn't questioned?"
"It does not reflect our procedures. it is as recorded. It is not behaviour [Barclays' culture] as normal course."
"Our compliance [tackling the situation] did not grow fast enough."
1145 BST: MP Michael Fallon asks is Diamond was "so concerned" and spoke to BoE's Tucker in a call. Why didn't Diamond speak to Agius about this?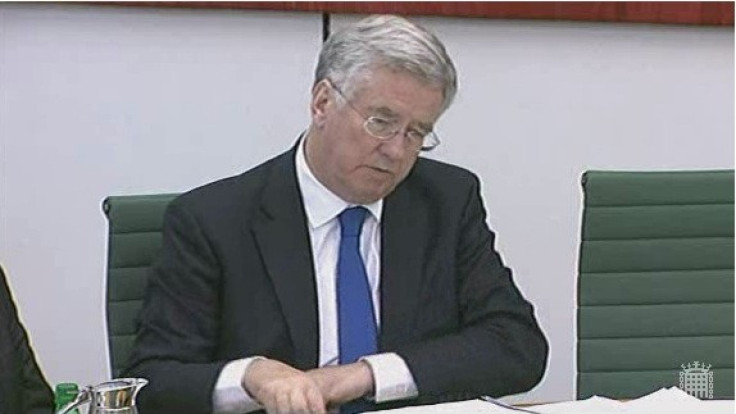 Agius refuses to talk about Diamond's testimony.
1144 BST: MP obsession over Diamond's pay carries on
Agius: "Diamond has never had a pension"
Agius: "He's had cash payments instead of a pension."
1143 BST: Tucker / Diamond October 2008:
"I was not aware of that call with Tucker until quite recently. Did I speak to perceptions over our funding. Yes I did."
1140 BST: Agius hits back on the Tucker / Diamond October 2008 call.
"The concern was not the manipulating the rates, that was not the point [of the call]. The market was malfunctioning for some reason, what the matter was, was that it left us looking like we [didn't have sufficient funding]."
1139 BST: Agius: "We were at a moment of existential risk"
1135 BST: MP Stewart Hosie asks Agius about his comments on possibly employing Diamond in the future in management of relations.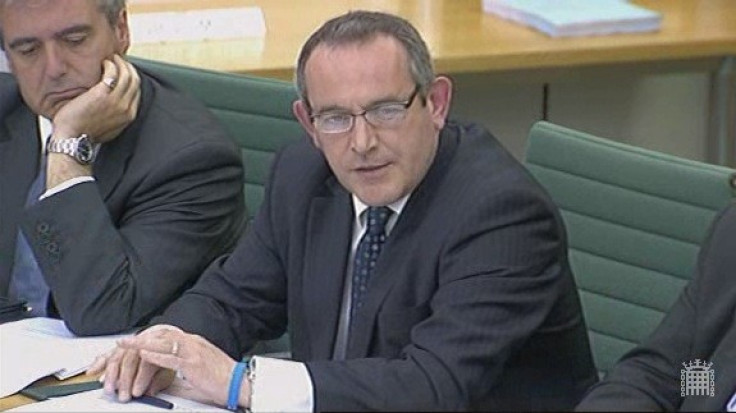 Hosie keeps saying Diamond is guilty for rigging Libor and Agius emphasises that it was an isolated situation within the bank - that regulators found them guilty of - not Diamond himself.
1133 BST: Agius says he "mis-spoke" on Diamond's payoff
He says that he will get full 12 months pay and cash in lieu of his pension of £2m
1132 BST: Agius: "The attitude of the regulators [to Barclays] changed from Wednesday to Monday"
1130 BST: Agius: "Public response [to the Libor fixing scandal] took us by surprise"
1128 BST: On Barclays' share price: price still up on the day and over 5 days.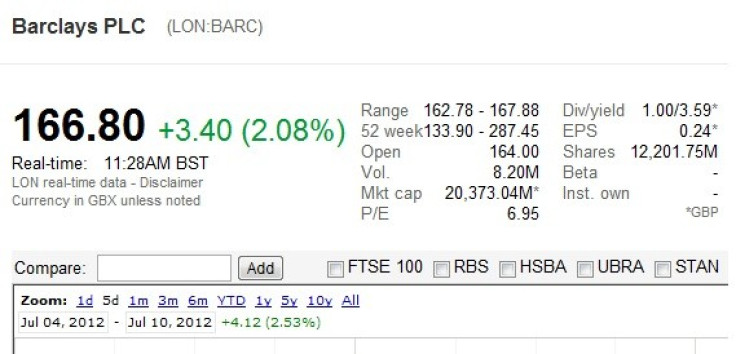 1125 BST: MPs ask: "Why did Diamond retain the confidence of the Board, despite the findings from the FSA" and then asks about moving Barclays' share price - which I assume is to say that Diamond's resignation was applauded.
Agius hits back saying that the share price went up, more due to the fact, that Barclays' would not suffer further litigation [and therefore fines]
1124 BST: Agius "we were watching the funding markets like a hawk"
1121 BST: Agius "for many years, the activities of the Libor markets has been termed as low risk, as there is little movement."
Agius then says that "the behaviour of Libor departed from historical patterns and this was an opportunity [for the riggers] and this allowed what happened, to happen. We were behind the curve in changing our compliance patterns."
1116 BST: MP Andrew Love: "When did you first become aware of Libor fixing scandal"?
Agius: "First aware of the investigation in April 2010"
This is a very different time and account than Diamond who said he was only aware earlier this month [July 2012] .....
1115 BST: Agius then said within 12 hours of receiving declaration [of lack of regulator support on Diamond being CEO] we decided to forfeit Diamond's resignation.
1111 BST: TSC Chairman takes the hearing back to Diamond's resignation
Agius thought it was "polite and appropriate that the BoE and FSA before an announcement was made about my resignation."
"The governor of the BoE requested to see me, notifying on the Monday."
"The BoE governor told us our situation in absolute terms that the regulators do not support us. This shocked us and the FSA did not say anything about the unsuitably of Diamond as CEO previously."
... leading to the resignation of Diamond.
"The public outcry was much greater than we anticipated."
1109 BST: MPs: "Has Diamond mis-led the committee?" to Agius
MPs: "We have two sets of statements on record that are conflicting. One of them is wrong. Did Diamond mislead this committee"
Agius refuses to comment on Diamond's testimony - repeatedly.
1108 BST: Agius "I responded to the letter in an appropriate manner"
1107 BST: When FSA sent the "Dear Marcus" April 10th letter to Agius:
"I can't remember what day that was [speaking to Diamond about this] but i remember discussing it with him. I certainly would have given a copy of this letter to him. I can't remember."
1104 BST: Barclays shares still firmly in positive territory

1103 BST: MPs remind about Letter on 10th April Lord Turner Letter:
"I want to bring about concerns over the pattern of behaviour over the last few years."
"Barclays was not fully transparent with us about risk weighted positions"
1101 BST: MP Mann quotes Agius in the April Turner letter: "it was clear that the tone from the top from the FSA is a concern"
Agius keeps emphasising that this was a "forward looking statement"
1059 BST: MPs quote Institute of Director's Simon Walker's statement about very high remuneration measures at Barclays over the years.
"I don't think it is a matter of culture but managing an extraordinarily difficult situation. We have had to try and strike a balance. If we reduced salaries too fast, people would leave."
"We have a long way to go, we are very sympathetic to shareholders."
"It's too simplistic to just reduce salaries to solve all problems."
1056 BST: MPs keep asking how much Diamond's payoff will be after rejecting bonus.
Agius confirms that the "remainder of his salary of £1.35m" will be his leaving package.
1054 BST: Uh oh. MPs seem to put Agius into a quandry over "tone from the top"
After Agius repeatedly said, during today's testimony, that the "tone from the top" wasn't a concern from the FSA. However, MPs quote a letter written by Agius himself that "the tone from the top is a concern [for the FSA]
1051 BST: MPs needle Agius on Diamond's testimony again
MPs increasingly focus in on differences between Diamond's testimony and the evidence through reviews and letters from the FSA.
MPs ask Agius repeatedly to answer why and whether Diamond has "deliberately mis-led the parliamentary committee" by saying he did not know about any issues from the FSA over his appointment or concerns over his role at the bank overall.
1050 BST: Agius on Diamond as CEO and his conversations with the FSA
"As the process was nearing its completion, I thought it was prudent to have a conversation for Hector Sants. His response was "it will not cause any issues and if it did I would not be happy with his present role.'"
1049 BST: Agius seemingly slightly more flustered and corrected MPs on the mis-pronounciation of his surname
1048 BST: Agius: Diamond will get the rest of his salary
"We agreed that it was his decision to reject his package that would have been worth up to £20m and to take his salary."
"There was no dissent on our remuneration committee on this decision"
1045 BST: MP Mann needles Agius on Lord Turner's letter and how Diamond said "deliberately mis-led this parliamentary committee, after saying he cannot remember this letter"
Agius refuses to comment on Diamond's testimony.
1043 BST: Agius on Turner's letter and Annual Review
"Like any other review, we look at where we need to improve or progress"
"Turner's letter was different"
1041 BST: MP Mann says "Mr. Diamond has been misleading this committee."
1038 BST: MP Mann asks Agius about the criticisms in FSA's Letter and Annual review
Agius: "You are confusing the two things. The annual review and the letter from Turner is separate."
Mann: "I am not confusing anything."
Agius: "Every year when the FSA comes to see us, they don't say to you that everything you are doing is perfect. You discuss the finer details later"
1037 BST: MP John Mann highlights the fact that Agius is making word-for-word statements in his testimony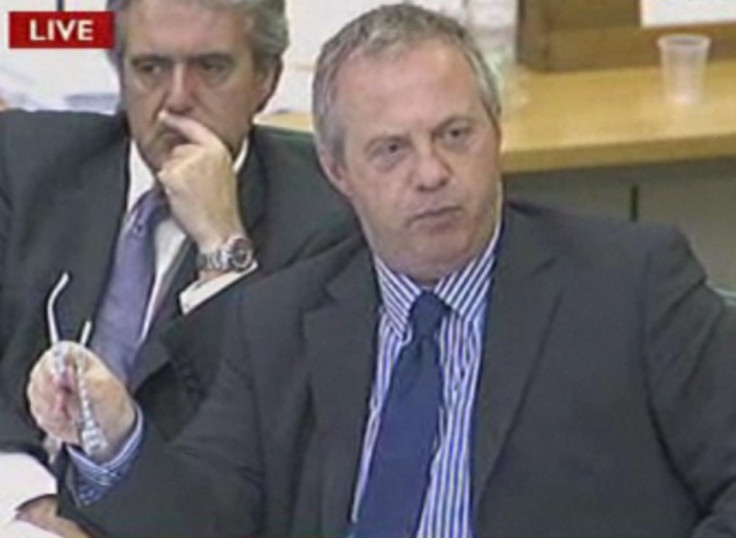 1036 BST: Agius says a conversation with an FSA official in an elevator that "she said we were best in class".
1034 BST: Agius emphasises that he resigned because he felt "ultimately responsible for the bank's reputation."
1032 BST: Agius on Diamond following Libor fixing scandal revelation.
"Public clamour was extraordinarily great. The message we received in strong terms that the one outcome was the removal of Bob Diamond as they thought he was a very effective chief executive. The board also believed he was an effective chief executive."
1029 BST: MP's try to ask Agius what he thinks about whether Diamond's "cavalier attitude, in effect, led to his departure."
Agius says Diamond left for "other reasons", not because of his "cavalier attitude"
1028 BST: Proper and correct conduct?
Agius says "Our job is to operate right and proper within regulations. we operate in an extraordinarily competitive industry and our job is to the best we can."
"We would say 'strained' is the word [to represent relationship with the FSA"
1026 BST: Agius defends FSA statements that it's Libor rates and actions were "mis-leading"
"This was occasion by the hectic period when there was a focus on Barclays and other banks capital ratios, the end of year picture to make more sense all round - we had to have some accelerated interchanges with the regulators and I think the pressure showed on both sides."
1024 BST: Agius defends Barclays' relationship with FSA
"As I said before, we invariably seek to achieve the best regulatoy outcome with the regulators in order to manage the process. We usually say fine and change our actions and sometimes they say OK - we see your point"
1022 BST: Adair Turner Letter - Agius' response
"When any bank deals with its regulator, it deals with very complex actors, it's not like Speedcop trying to catch you at a certain limit. The matters are complex. We have historically debated with regulators in order to discuss whether it was appropriate."
"What I took from Lord Turner's interview and any subsequent interviews is that 'you do this too much and its not helping your relationship with the regulator.'"
1020 BST: TSC Chairman asks if the TSC was misled by Diamond's testimony
Agius says that the successor of Hector Sants: "said we are satisfied with the tone at the top, especially in Bob Diamond and Chris Lucas."
1019 BST: Agius on banking culture and Diamond
"The problem for the subject of the enquiry, 2005, 2006 and this was all before Diamond was appointed CEO."
"The FSA was obviously satisfied with Diamond's appointment after these events."
1018 BST: Agius defends Jerry Del Missier's actions following the Tucker / Diamond call
1016 BST: MP Michael Fallon asks about why Agius redacts two letters from the FSA and what ...
Fallon: "The purpose of the redactions"
Agius:
"commercially sensitive and not relevant to this enquiry."
"These are commercial operations and sensitive"
"we discussed these with the FSA and they agreed"
1012 BST: Agius kicks off with announcing that Diamond has foregone any defered or immediate bonus payments
Agius kicks off with addressing Diamond's severance package:
"I want to tell the committee about Diamond's severance package. it is a matter of public interest. Shortly before we came here, instead of a press announcement, I would like to show respect by showing you here.

"Diamond has defered any consideration or bonuses."
"There is no exact amount but he rejected the maximum amount is £20m"
1011 BST: Agius TSC hearing begins
1001 BST: Barclays shares up more than 2 percent

0956 BST: In case you missed it from 0330 BST this morning: Mitsubishi UFJ suspends two London traders on Libor probe:
"Mitsubishi UFJ Financial Group has suspended two London-based traders amid a growing investigation into the suspected manipulation of the Libor interbank lending rate.

BTMU, a core commercial banking unit of Mitsubishi UFJ, Japan's largest lender, said the suspension was not related to work done for the Japanese bank.
Both of the traders worked at Dutch lender Rabobank before joining Bank of Tokyo-Mitsubishi UFJ, said a source, who was not authorized to discuss the matter publicly."
This echoes the actions of RBS, which apparently sacked several traders that it has linked to Libor rigging.
0948 BST: Bob Diamond agrees on £2m -ish payoff
According to Mark Kleinman, City Editor at Sky:
"Bob Diamond, the former Barclays chief executive, has reached agreement with the bank over a payoff that directors will argue is the minimum possible.
I have learned that Barclays will announce this morning that it is to pay Mr Diamond somewhere in the region of £2m following his departure from the bank last week.
The severance deal is expected to be announced during the Treasury Select Committee hearing of Marcus Agius, Barclays' chairman, which takes place at 10am today.
The figure has yet to be confirmed by Barclays, but if the £1.5m-£2.5m range is accurate, it will represent one year's basic salary and pension contribution for Mr Diamond. It would mean that he has sacrificed as much as £18m in deferred share bonuses and long-term share awards awarded during recent years. Part of that is likely to have been voluntary on Mr Diamond's part although some of these bonuses will have been subject to clawback and so-called malus clauses by Barclays' board.
I should caution that the talks over the severance deal have been ongoing throughout the last 24 hours and it's possible that the final number could yet change.
Barclays declined to comment."
0944 BST: Barclays homepage has now been restored
0935 BST: Barclays axes consumer advertising too
As well as having a website that appears to be down, Barclays has decided to axe all:
"advertising in the wake of the interest-rate-fixing scandal that led to the departure of chief executive Bob Diamond last week. The bank has temporarily pulled all ads for its personal-finance products as it comes to terms with a PR disaster. It was fined a record £290m for trying to fix Libor, which calculates the interbank lending rate " - according to Brand Republic.
In the same week that Barclays was found guilty of Libor rigging, it - and a number of other UK banks - were:
"selling interest rate hedging products to small-to-medium enterprises (SME) after regulator Financial Services Authority (FSA) found them guilty of mis-selling derivatives products."
The IBTimes UK reported that:
"The FSA has found serious failings in the sale of interest rate hedging products to some SMEs," said an official statement. "We believe that this has resulted in a severe impact on a large number of these businesses. In order to provide as swift a solution to this problem as possible we have today confirmed that we have reached agreement with Barclays, HSBC, Lloyds and RBS to provide appropriate redress where mis-selling has occurred."
In a settlement with the FSA, the four banks agreed to stop marketing interest rate structured "collars" to retail customers, which have included fish-and-chip shops and family-owned electrical goods stores."
However, the during the period 2001 to date, banks sold around 28,000 interest rate protection products to customers."
0927 BST: Barclays homepage down
This past month has certainly been trying for Barclays.
The frontpage for Barclays.co.uk is not working.
We are putting in a call to Barclays right now to see if it is merely a server error or something more systemic. Although when you click through to "Log in," all actions seem to work.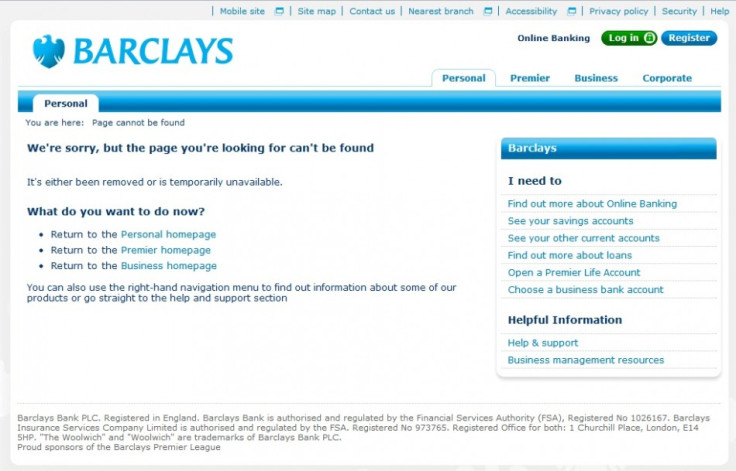 0921 BST: Will Vickers' Report a la retail / investment bank ring fencing make a difference?
Yesterday Tucker made it clear that he thought regulation needs to change.
"Self-certification is plainly open to abuse"
"The split between retail banking and commercial banking needs to proceed."
This so-called "splitting" is in fact the proposals for ring-fencing retail and investment banking operations by 2019, stemming from the Vickers' Report, that the current UK government is planning to put into action.
However, an interesting comment in today's Financial Times says that this will do little to stop similar events occuring:
"For all the good intentions and hard work of its members, the commission protects neither good nor bad banks. Nor does it protect the public from the failure of opaque, leveraged banking. What the commission protects are the bankers, who, apparently, are too big to cross." - Laurence Kotlikoff, economics professor at Boston University
0856 BST: Barclays shares in positive territory
One hour ahead of the Barclays' Chairman Marcus Agius TSC hearing

0847 BST: Sky sources say Bob Diamond severance package reached
Sky's city editor has revealed on Twitter than Barclay's newly resigned CEO Bob Diamond has thrashed out a severance package deal with the bank and lawyers.
However, no other media outlets have reported on these details and Barclays has not posted an offical public statement on this yet.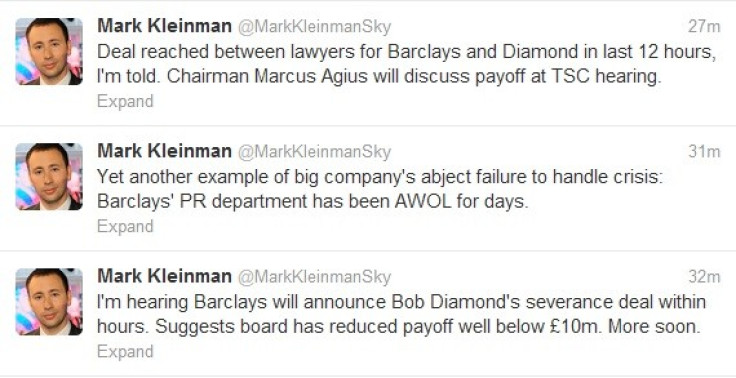 0835 BST: UK's Chancellor George Osborne is being urged to apologise to the opposition's Ed Balls
MPs are urging Osborne to apologise to Labour's Ed Balls after saying that Balls "had questions to answer" over the Libor fixing scandal.
To be fair, its not a bad call to make, considering Balls was the MP who designed the system of regulation that was in place at the time of systematic Libor rigging scandal that took place over a number of years.
Granted, the actual process of Libor submissions, through bank self-certification out-date any of the current politicians' careers, but Osborne believes that the system Balls created failed and "he should account for his record".
Conservatives MP Andrea Leadsom, who is on the Treasury Select Committee, said: Mr Osborne "made a mistake" and "he should apologise".
Labour's Chris Leslie, shadow financial secretary to the Treasury, called on Osborne to "publicly withdraw these false allegations and apologise".
However a Treasury spokesman dismissed calls to apologise to the shadow chancellor.
0826 BST: That phonecall, that memo
No wonder Barclays' decided to remove the memo from its website, shortly after the press picked it up.
That memo that details a call Diamond had with Tucker on 29 October 2008 is now one of the centrepieces to the unravelling of the Libor fixing scandal.
If you haven't seen it already, which I am sure you all have, this is a visual depiction of what happened after the call took place: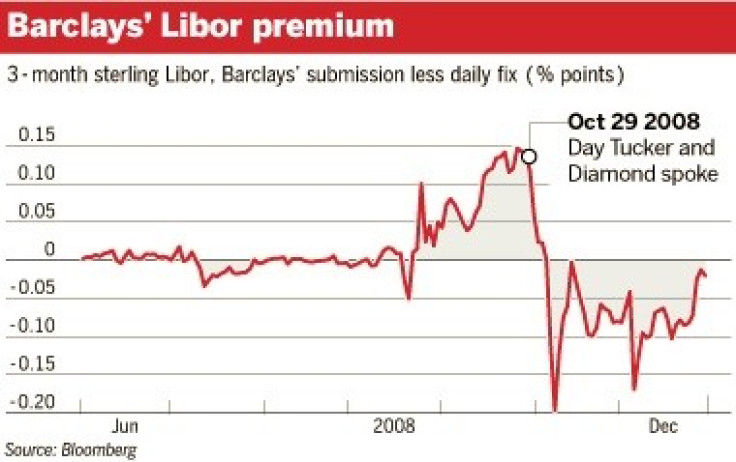 However, Diamond reminded everyone in his testimony that he thinks that the chart showing 3-month Sterling Libor plummetting after the Tucker phone call is not accurate in showing Barclays' Libor position, relative to all the other banks that submit their rates.
He may have a point.
it is worth reminding ourselves that the highest Libor and lowest Libor submissions are always scrapped from the Libor calculation process, so it would mean that other banks would have had to had significantly lower rates too, in order for this drop off to be made effective.
Furthermore, it is still interesting viewing this chart, considering Tucker said THAT phonecall was not about Libor.
0815 BST: Sarbanes Oxley Effect
Interestingly, an opinion piece in the New York Times outlined how Diamond was shocked at how he was ceremoniously pushed out of a job following the Libor rate fixing scandal, because he thought he would be brushed with the American justice stance for financial elites:
"One of the most revealing exchanges in the Barclays documents came when a bank official tried to describe why Barclays's improper postings were not as problematic as those of other banks. "We're clean but we're dirty-clean, rather than clean-clean," an executive said in a phone conversation. Talk about defining deviancy down.
"Dirty clean" versus "clean clean" pretty much sums up Wall Street's view of cheating. If everybody does it, nobody should be held accountable if caught. Alas, many United States regulators and prosecutors seem to have bought into this argument. . . .
MR. DIAMOND seemed shocked to be pushed out. An American by birth, he probably thought he'd be subject to American rules of engagement when confronted with evidence of wrongdoing at his bank. You know how it works on this side of the Atlantic: faced with a scandal, most chief executives jettison low-level employees, maybe give up a bonus or two - and then ride out the storm. Regulators, if they act, just extract fines from the shareholders."
However, I have to disagree.
In the US, the Sarbanes Oxley Act 2002 punishes CEOs and CFOs very severely for failure of corporate officers to certify financial reports.
Under it, Diamond and other executives could face a personal fine of up to $1m and/or imprisonment of up to 10 years. The act was ratified in the aftermath of the collapse of Enron and WorldCom.
In the UK, the Financial Services Authority (FSA) has tough fines as well:
"With civil proceedings, there is the prospect of the regulators imposing an unlimited fine and banning individuals from the industry. This is potentially a very severe penalty and removes the possibility of that person offending again, which is a desirable regulatory outcome." - says Owen Watkins, corporate barrister at Lewis
0747 BST: Highlights from Tucker's testimony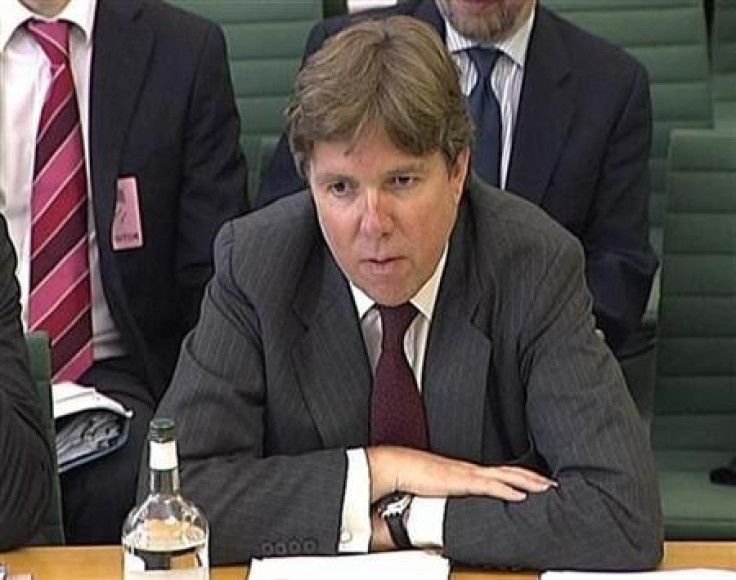 0747 BST: Highlights from Tucker's testimony: Libor Scandal is a "cesspit"
It will be interesting to see how questioning may develop in Agius' testimony, after Tucker, more or less, threw Diamond under a bus.
Yesterday, Tucker used his hearing to systematically dispute pretty much most of Diamond's reasoning for the 29 October 2008 call.
He said that Diamond's memo "gives the wrong impression" and that although the call did take place, it was not about Libor.
He reasoned that the call was more to do with warnings that Barclays looked desperate for funding in the money-markets.
"This isn't about Libor. It's about the conduct of their Treasury desk in the money markets apparently paying higher rates of interest. Money markets desks can send out distress flags."
To make matters worse, MPs gave Tucker room to defend Diamond over possible misinterpretation but he was unshakeable in his defence:
"I think it was... I don't think Bob Diamond did misunderstand. It was not remotely in my mind during this conversation that I could be misinterpreted by Bob Diamond or anybody else. I'm not here to defend Mr Diamond's record."
However Tucker, like Diamond, hammered home that the Libor rigging scandal overall, was something that surprised him:
"[We were in] deep shock. Such collusion would never have occurred to me until the revelations of the last few weeks. We didn't see ourselves as being responsible for its effectiveness whatsoever."
"We used it as an indicator of the things that I have described. We didn't take any responsibility for Libor, we were not a regulatory body. I can't be confident of anything after hearing about this cesspit."
0740 BST: Marcus Agius faces parliamentary grilling at 1000 BST
Barclays' Chairman, well at least for interim while they find a new CEO, will be facing the UK's TSC in a bid to get to the bottom of how much and for how long senior official at the bank knew about the Libor fixing scandal.
Yesterday, Bank of England's Deputy Governor Paul Tucker delivered a nasty blow to Barclays' newly resigned CEO Bob Diamond's testimony by saying:
"This was a cesspit. We [BoE] were not aware of it, other than what is starting to come out in these investigations. We didn't have any knowledge, I didn't have any knowledge."
And that the now infamous 29 October 2008 call with Diamond, detailed in a memo that was released on Barclays' website ahead of his testimony, was not about Libor - which is pretty much the opposite of what Diamond said in his testimony:
"I was worried that if the government thought that our Libor was set too high then it would then think we had inadequate funding."
No doubt, MPs will ask Agius about his knowledge of the call and how senior officials responded to the contents of a subsequent email that was sent by Diamond following the event.
0730 BST: Welcome to the Live Blog
Good morning and welcome to a special live Barclays in Crisis blog.
Lianna Brinded, senior business reporter at IBTimes UK, will be blogging in the run-up to the UK's Treasury select committee grilling Marcus Agius over the Libor fixing scandal.
© Copyright IBTimes 2023. All rights reserved.