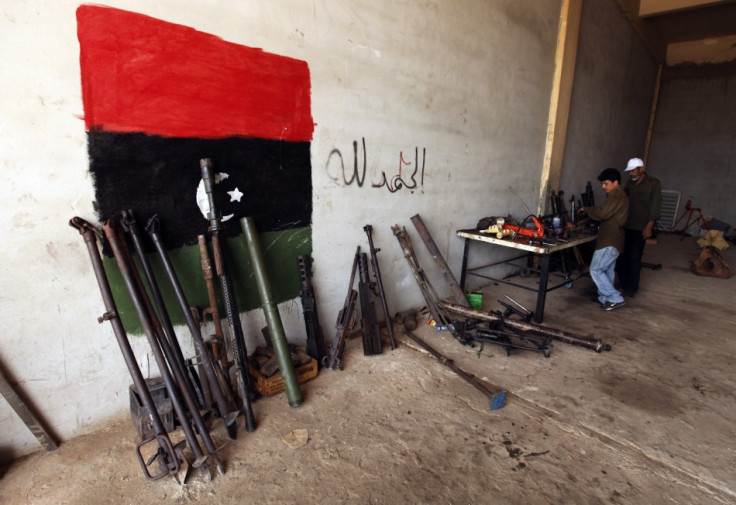 Mr Brian Johnson-Thomas, a former arms trafficking expert for the UN Security Council incriminatory comments were made on the TV channel Russia Today and came after the Libyan army said it had intercepted 100 Belgian-made FN assault rifles, as well as thousands of rounds of ammunition of the same calibre used in the guns, allegedly coming from Qatar.
The Libyan forces said that several of the ammunition boxes were marked in English as coming from the armed forces of the country.
Last week, France also confirmed that it had air-dropped arms to rebels in Libya's Western Mountains, and became the first NATO country to acknowledge openly arming the insurgency against Gaddafi's 41-year rule.
However following growing criticism the country today insisted it will now stop arming Libya's rebels.
France defence secretary Gerard Longuet said on Tuesday, that Libya's opposition was becoming more organized and did not require French assistance in arranging arms, AFP reported.
"There is emerging a political order distinct from that of Tripoli," Longuet said. "The [rebel] territories are organizing their autonomy ... That is why the parachute drops are no longer necessary."
He said, "This autonomy allows them to establish relations with outside partners, including when it comes to self-defence."
Longuet added, "But that is not the business of the coalition and it is not the business of resolution 1973," one of the UN Security Council resolutions under which France and Nato allies launched strikes on Muammar Khadafy's military sites.
The French moves angered right activists but also the governments that were trying to work out a political solution to the five months old conflict.
Russia accused France of a "brazen violation" of its UN mandate, but it was the African Union that first raised fears surrounding the proliferation of weapons and the possible armament of Al-Qaeda, as a result of the Nato-led operation.
"What worries us is not who is giving what," AU Commission chairman Juan Ping Ping said last week.
"It is simply that these weapons are being given by all parties to all the other parties. These weapons are already reaching Al-Qaeda, drug dealers and traffickers. They will be used to destabilise African states and to kidnap tourists for whom you pay ransom."
"If these arms are found in the desert it is a problem for everybody, for you (Westerners) as well. The people who are being kidnapped (by terrorists) are Westerners," said Ping.