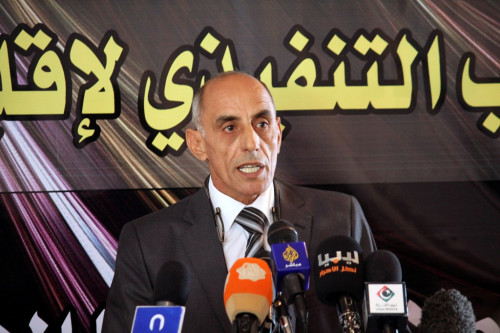 Armed groups demanding regional autonomy for eastern Libya, and a lion's share of Libya's oil income, have invited foreign companies to purchase oil from ports they now control.
In an announcement on 7 January, the groups promised to protect tankers loading crude, even after the Libyan defence ministry said it would destroy ships using ports in the east, seized by protesters led by tribal leader and 2011 civil war hero Ibrahim Jathran.
Workers at the seized ports had returned to work, said Abd-Rabbo al-Barassi, prime minister of Jathran's self-declared government in the eastern Cyrenaica region, reported Reuters.
A new oil company called Libya Oil and Gas would transact with potential buyers. A new army and coast guard, comprising Jathran's fighters, would secure the ports.
Barassi also invited Tripoli to send a team to help supervise oil sales.
"We welcome global oil companies ... The oil security guards will guarantee the safety of tankers," Barassi said.
"We assure all Libyans that the sale of oil will be according to the law," he added.
El Sharara Back On Stream
Elsewhere in the country, output at the government-controlled El Sharara oilfield in the south rose further on 7 January, while a pipeline carrying very light crude to a western port reopened.
Production climbed to 277,000 barrels per day (bpd) and was expected to hit the full capacity of 340,000 bpd by 8 January.
Output in the pipeline carrying condensates from the Wafa oilfield to the Mellitah port, jointly operated by Italy's ENI, hovered at around 30,000 bpd.
Protestors at El Sharara had demanded the creation of a local council and the granting of national identity cards for tribesmen from the Tuareg minority.
Eastern Standoff
On 6 January, the Libyan navy said it fired warning shots at a tanker trying to reach the eastern port of Es-Sider.
Libya's authorities had earlier warned potential buyers against docking at rebel ports.
Libya Crisis
Jathran's group is fighting for a federal state sharing power and oil income between Cyrenaica, Tripolitania in the west, and Fezzan, as was the arrangement in the kingdom that preceded Muammar Gaddafi's rule.
The Es-Sider oil terminal was seized with two other terminals by the group in August 2013. Together, they accounted for 600,000 barrels of oil a day.
Libya's oil output exceeded one-million bpd in July, ahead of the strikes. The conflict has hit oil revenues, which fund the OPEC member's government and the import of wheat and other staple foods. The government has said it would be unable to pay salaries if the situation went unresolved.
Libya accounts for over 1.5% of global oil output. Around 85% of the nation's oil is exported to Europe and its biggest customer in the region is Italy.