In the latest push to drive out Islamic State (Isis) militants from the coastal city of Sirte, Libyan forces have captured the city's main mosque and a prison held by the terror group.
Advancing in their three-month campaign against the militants, the forces loyal to the UN-backed government said on Sunday (21 August) they were close to seizing the whole of Sirte.
The forces were mainly brigades from the neighbouring city of Misrata and have confined the militants to smaller areas in the city centre.
The fighters have been backed by US air strikes since 1 August and as of 18 August, the US had launched 65 strikes over Sirte. The forces are also using heavy artillery and tanks. While making advances, they seized a building that the jihadists were using for moral policing, Reuters quoted spokesman Rida Issa as saying.
The clashes on Sunday claimed the lives of at least nine brigade fighters and injured 85 others, Misrata hospital spokesman Akram Gliwan said.
According to the government troops' press office, the fighters took over the city's biggest Ribat mosque after heavy fighting. It added that the fighters found "dozens" of the militants' bodies in the newly captured areas but did not reveal the specific numbers as the forces were not sure when the extremists were killed.
The mosque was reportedly being used for discourses and preaching by some senior Isis members, including a leading ideologue of the group, Turki Ben Ali.
In the recent clashes with the US-backed Libyan forces, the militants are said to be losing vast swathes of territory in their last bastion in the country. The terror group is reported to have often hit back with suicide attacks.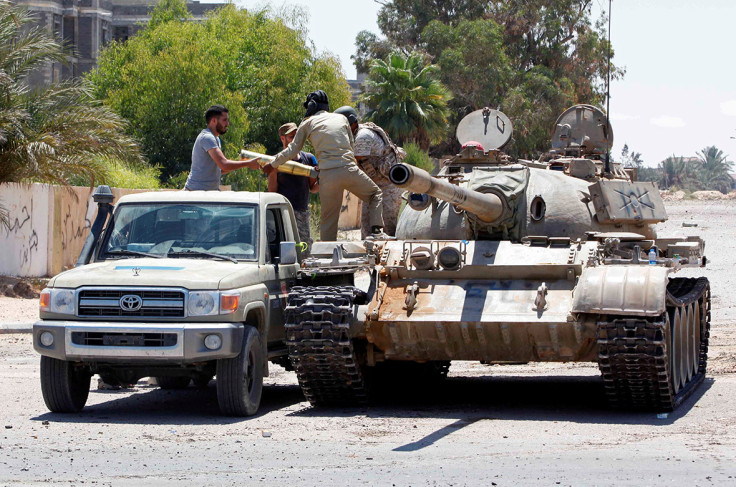 Libya descended into turmoil after the killing of long-time dictator Muammar Gadhaffi in 2011. The rival parliaments and governments have since remained divided in the capital Tripoli and the eastern part of the country.
Libyan forces began their offensive for Sirte in May but their advances had to be slowed down due to major casualties caused by IS landmines and snipers. Losing Sirte will be a major blow to the militants who took control of the city last year, although those who escaped the battle in the city, or are located elsewhere in the country are reportedly likely to take advantage of the chaos.