Singer Lily Allen is making a comeback. The Smile singer debuted a brand new song at a Mark Ronson concert in London and admitted she was "nervous" to perform on-stage after a lengthy absence.
Uptown Funk producer Ronson headlined a small gig at The Savoy Hotel on 24 October as part of Mastercard's Priceless Surprises, an intimate concert series for competition winners. Allen, 30, joined Ronson, 41, as a special guest and performed a medley of the pair's most notable collaborations.
Allen did not reveal the song's title but lyrics include: "Baby, please, you play me like a cold toy, I use you like a football," and, "I don't know why you do this, always trying to sabotage/ Now you just feel stupid."
The Hard Out Here singer told the audience that she and Ronson had written the song less than a month ago and recorded it three weeks prior.
After revealing that she and Ronson have been in the studio working on additional music for her next album, Allen admitted: "Sorry, I haven't played anything for about a year, so I'm nervous."
Nerves got the better of Allen at one point as she asked two members of the audience in the front row to hold up large sheets of paper with the lyrics to her 2007 track Oh My God. In the middle of her surprise set, Allen even picked up one of the sheets herself and sang directly from the paper.
The Brit Award-winner has a close relationship with Ronson, who described Allen as his "little sister" and credited her for giving him his "big break" by allowing him to produce her debut album Alright, Still, released in 2006.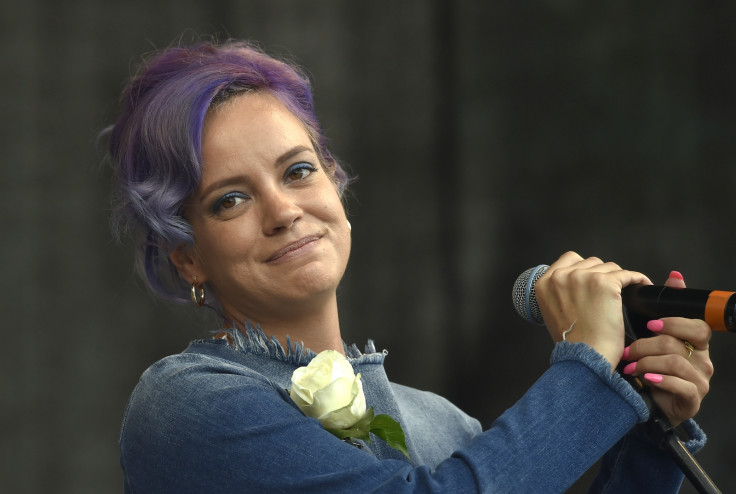 Allen appears to be making a gradual return to the music scene as she also attended Dizzee Rascal's Boy In Da Corner gig at the Copper Box Arena on 22 October. She released her third album, Sheezus, in 2014 and earned her second number one on the UK charts. The LP featured the singles Hard Out Here, Air Balloon and her chart-topping cover of Keane's ballad Somewhere Only We Know.
At the time of the album's release, Allen revealed that her attitude to songwriting has changed since she became a mother to two daughters. The singer told NRJ Radio: "When I write music now I'm conscious that I have two children and they're going to hear it. I can't be too sexy or gross or rude because that would be embarrassing for them. It's a different kind of me, but there are still the same elements."