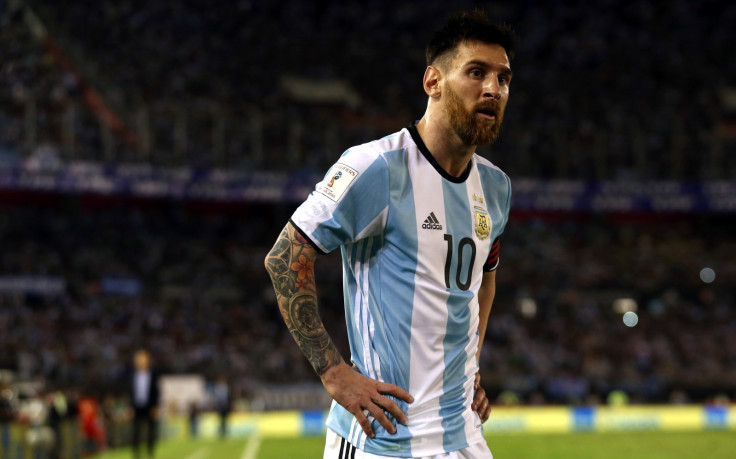 Lionel Messi has been given a four-match ban and fined 10,000 CHF (£8,111) by Fifa after being found guilty of abusing linesman Marcelo Van Gasse during Argentina's 1-0 win over Chile on Thursday 23 March. The Barcelona ace will accordingly miss the crucial World Cup qualifier against Bolivia on Tuesday night (28 March), as he has to serve the suspension with immediate effect.
Messi, 29, insulted Van Gasse during his team's victory over Chile, following a decision against Argentina. Referee Sandro Ricci did not include anything in his match report but Fifa decided to investigate the issue retroactively after the Barcelona star was caught on camera.
Armando Perez, the president of the Argentinian Football Association Normalisation Committee, said earlier on Monday that he expected the Barcelona star to be cleared to play against Bolivia as they had the chance to present evidence against the charge.
However, Fifa has now announced its final decision only hours before Argentina's encounter with Bolivia.
A statement from Fifa read: "The Fifa Disciplinary Committee – in application of articles 77 a) and 108 of the Fifa Disciplinary Code (FDC) – has reached a decision in relation to the case of Lionel Messi following an incident that occurred during the match between Argentina and Chile on 23 March 2017 as part of the qualifying competition for the 2018 Fifa World Cup Russia.
"Footballer Lionel Messi has been found guilty of violating art. 57 of the FDC for having directed insulting words at an assistant referee.
"As a result, Lionel Messi will be suspended for four official matches and sanctioned with a fine of CHF 10,000. The first match for which the sanction will apply is the next fixture in the preliminary competition of the 2018 Fifa World Cup Russia between Bolivia and Argentina, which will be played today, 28 March. The remainder of the sanction will be served over Argentina's subsequent Fifa World Cup qualifying matches."
The news is a major blow for Argentina in their hopes of qualifying for the World Cup as Messi will also miss games against Uruguay, Venezuela and Peru. The Barcelona star will be back for the final qualifier against Ecuador in October.
Edgardo Bauza's side currently sit in third place, eight points behind Brazil and one away from Uruguay.