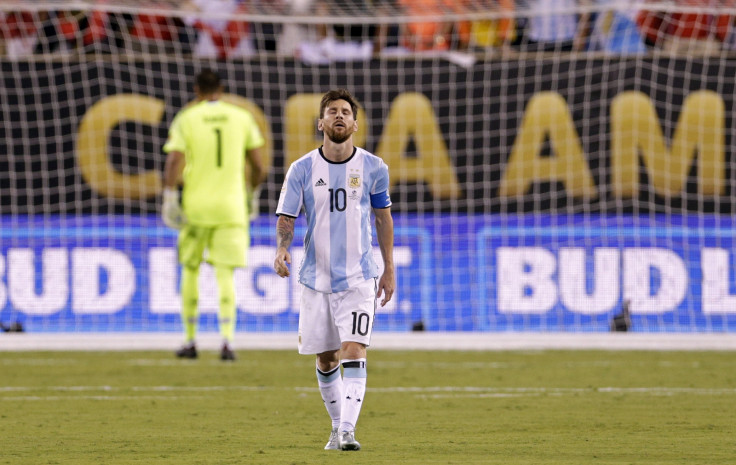 Lionel Messi could miss Argentina's World Cup qualifier against Bolivia on Tuesday night (28 March) after Fifa opened a disciplinary procedure to investigate his behaviour towards a match official during the recent 1-0 win over Chile. Marca and other Argentina media are reporting that the Barcelona star could face a four-match suspension but other sources suggests that he will only be punished with a fine.
The Barcelona star allegedly abused linesman Marcelo Van Gasse during the game after a referee's decision against Argentina.
Referee Sandro Ricci didn't mention anything in his match report but Fifa decided to investigate the issue retrospectively. Argentinan publications are showing a letter sent by the Disciplinary Commission to the Argentinian Football Association (Afa) in which they remind them that they have jurisdiction to sanction a player if the referee did not notice the verbal aggression.
Afa now has the option to present evidence against the charge. Armando Perez, the president of the AFA Normalization Committee, is convinced that the Barcelona star will be cleared to play against Bolivia.
"I think Messi is going to play, I do not see a lot of arguments to get him sanctioned, it's all very strange," Perez said to TyC Sports.
However, Marca says that Messi could be banned for between two and four international matches if he is found guilty of using "offensive, rude and obscene" language towards the match official.
The potential suspension of the Barcelona ace would be a big blow for Argentina in their run in the to the World Cup 2018 as Edgardo Bauza's side currently sit in third place in the rankings behind Brazil and Uruguay.
Argentinian publication Ole says that sources at Afa are confident that Messi won't be banned and will be given the green light to play against Bolivia. They suggest that he could be punished with a fine instead.