Listen to Ed Sheeran's two 'beautiful' new songs Castle On The Hill and Shape Of You
Sheeran, 25, also promises a tour later in 2017 and release of his anticipated third album Divide.
Ed Sheeran has delivered a double-whammy for fans premiering two new singles. Castle On The Hill and Shape Of You will appear on Sheeran's forthcoming third album Divide, which is expected for release later in 2017.
After enjoying a year-long hiatus, the Thinking Out Loud singer finally premiered his brand new music on 6 January. Castle On The Hill is a reflective ode to his hometown of Framlingham, Suffolk and boasts songwriting and production credits from duo Ed and Benny Blanco. Led by drums, Sheeran reflects on where his old friends are now – married with children – and credits them for raising him, clearly not forgetting his humble beginnings despite the superstardom.
Discussing the personal track, Sheeran, 25, said while co-hosting BBC Radio 1's Breakfast Show with Nick Grimshaw: "It's a love song for Suffolk because I don't think anyone's done that. That's the second song I have completed on the album. I wrote that mid-2015, so almost two years [ago]. I shot the music video in Suffolk, and they cast all my friends from school. It's all putting Suffolk on the map."
Shape Of You could not be more different with its edgier vibe reminiscent of Sing while embodying the dancehall trend dominating the charts. After listening to the track, which was written by Sheeran, Snow Patrol's Johnny McDaid and Steve Mac, it is no surprise that it was actually penned for Bajan songstress Rihanna.
Revealing the origins of the track, Sheeran explained: "This is actually a really random one, I went in to write songs with other people and we were there writing the song thinking, 'This would work for Rihanna', then we decided halfway through we would make it for me. This was the last song that was finished, and I didn't put two and two together and didn't put it on the album and kept it from my label."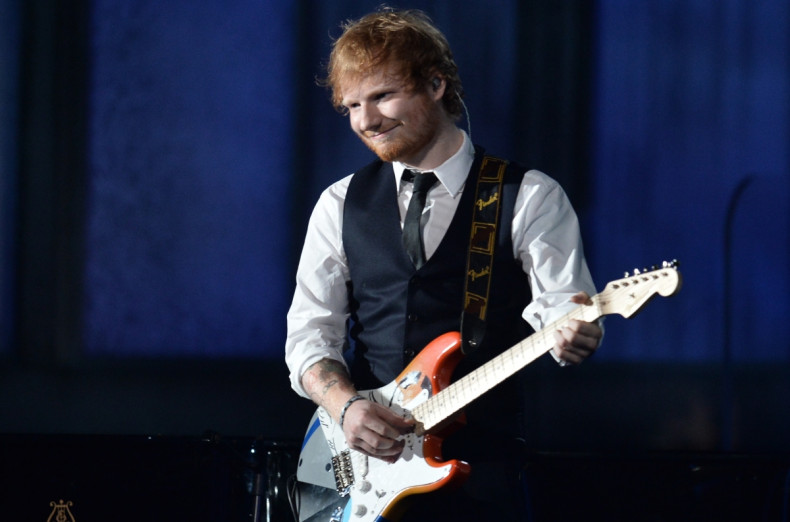 Fans have heaped praise on Sheeran's new material, commenting on Twitter: "#EdSheeran has done it once again, never changes and gives us the most beautiful songs, thank you @edsheeran for sharing your talent," while another said: "I'm in love with your new single 'shape of you' it's really beautiful." One other predicted: "This album is going to be hugeeee @edsheeran."
Listen to Ed Sheeran's Castle On The Hill:
During his Radio 1 appearance, Sheeran confirmed that he would announce details of his next tour soon and has already rehearsed for the live shows. The jaunt will support Sheeran's anticipated third album Divide, which will follow on from his 2011 debut + and the critically-acclaimed, bestselling x. Released in 2014, x (multiply) features the hit singles Thinking Out Loud, Sing, Don't and Photograph, has sold 13 million copies worldwide, spent an entire year on the UK's top 10 chart and has amassed 3.4 billion streams to date.
Revealing how he is experiencing life back in the spotlight again, the I See Fire hitmaker said on the Breakfast Show: "It's the first radio interview I've done in two years. I was just saying I've forgotten how to do it. Don't came on and I can't remember the words. I've relearnt everything. I've spent a day relearning everything. So I think the next time I take a break will be two weeks and not a year." Shape Of You and Castle On The Hill are both available to buy and stream on Spotify, Apple Music and iTunes.
Listen to Ed Sheeran's Shape Of You: