Lithuania is the largest economy out of the three Baltic states and is set to become the 19th country in the European Union to adopt the euro.
Earlier this month, EU Economic and Monetary Affairs Commissioner Olli Rehn said at a press conference that "Lithuania's readiness to adopt the euro reflects its long-standing pursuit of prudent fiscal policies and serious economic reforms."
"This reform momentum, driven partly by Lithuania's EU accession 10 years ago, has led, in fact, to a striking increase in the prosperity of Lithuanians."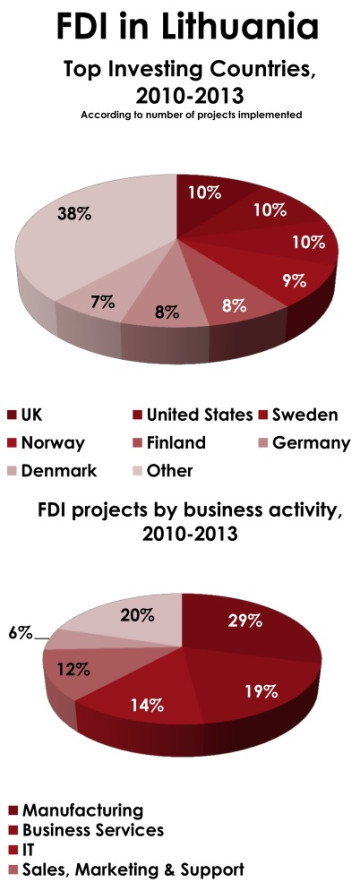 Furthermore, on 20 June, the European Commission signed an agreement with the country to invest €6.82bn (£5.4bn, $9.3bn) in total Cohesion Policy funding over 2014-2020, which is aimed at creating growth and jobs, tackling climate change and energy dependence, and reducing poverty and social exclusion.
The EC will also invest €1.61bn for rural development and €63m to provide funding for the development of the maritime sector and implementation of the Common Fisheries Policy.
Lithuania was the first occupied Soviet republic to break free from the Soviet Union and restore its sovereignty via the declaration of independence on 11 March 1990.
According to the 2014 Index of Economic Freedom, calculated by The Heritage Foundation, "Lithuania's score has advanced by 20 points over the 19 years, on notable improvements in business freedom and the management of public finance outweighing a deterioration in labour freedom."
"Lithuania is ranked 11th out of 43 countries in the Europe region, and its overall score is well above the world and regional averages," said analysts from the IEF.
Overall, the Economist Intelligence Unit predicts that Lithuania's economy will strengthen slightly to 3.5% in 2014 and the economy to expand at a similar rate each year until 2018.
"Tight fiscal policy will hold inflation at 1.5% in 2014," analysts added.
Focus on Tech
Meanwhile, Arvydas Arnasius, Acting Director General at Invest Lithuania told IBTimes TV that the country is primed to draw in more business from abroad and is an optimal place for more foreign direct investment (FDI).
He adds that companies that decide to build their business in the country would benefit from a six year break from corporation tax, which is at 15% currently, in a bid to bring in more firms to set up shop.
While many manufacturers, such as ThermoFisher Scientific and CIE Automotive, have established a big presence in Lithuania already, Arnasius said that the country isn't looking for groups to "take advantage of cheap labour" but to focus on the highly educated workforce it can offer.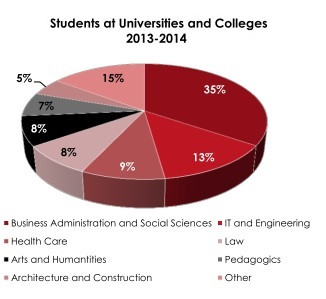 Over the year, several companies have started produce sophisticated biotech products like pharmaceutical substances, components for molecular diagnostics and laser equipment in the country.
According to Invest Lithuania, 92% of the population speaks a foreign language and 52% speaks at least two foreign languages.
On top of this, Lithuania is ranked as number one in the EU for having the bloc's most educated labour pool as over half of the population has a university degree.
The World Bank also ranked the country for having a near 50 / 50 gender split in the workforce.
Lithuania already has a raft of major groups that have housed their technology units in the country.
For example, Barclays has a 1,240-strong team for technical support in the capital city of Vilnius while Western Union houses over 1,000 employees in its shared services centre in the same area for its customer care, accounting and anti-money laundering capabilities.