11:00: Champions League Draw - Manchester City v Barcelona - Olympiakos v Manchester United - Galatasaray v Chelsea - Bayern Munich v Arsenal

12:00: Europa League Draw - FC Dnipro/Tottenham Hotspur v PAOK FC/Benfica - FC Porto/Eintracht Frankfurt v Swansea City/Napoli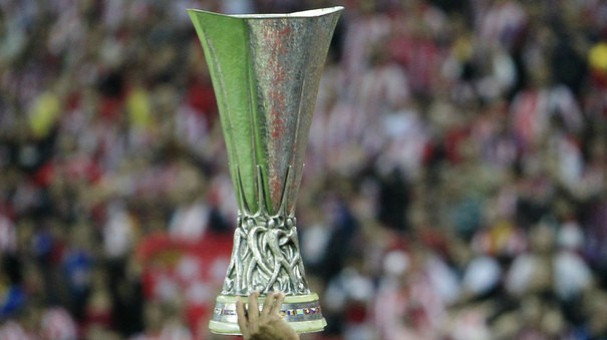 12:42: Plenty of teams there and you'd be forgiven for getting lost mid-way through that one. The headlines are that currently managerless Tottenham will face FC Dnipro in the last 32 and could face either PAOK or last year runners up Benfica.
For Swansea, they face a tough test to reach the last eight. Paired with Champions League group stage drop-outs Napoli in the first knock-out round and then either FC Porto or Eintracht Frankfurt if they get through. Some more showcase fixtures for Michael Laudrup's side there.
12:39: Juventus/Trabzonspor v Esbjerg/Fiorentina

12:38: Maccabi Tel-Aviv/FC Basel v Ajax/Salzburg

12:38: FC Dnipro/Tottenham Hotspur v PAOK FC/Benfica
12:36: NK Maribor/Sevilla v Real Betis/Rubin Kazan
12:35: FC Chornomerets/Lyon v Viktoria Plzen/Shakhtar Donetsk

12:34: FC Porto/Eintracht Frankfurt vSwansea City/Napoli
12:33: Lazio/Ludogorets v Dynamo Kiev/Valencia

12:32: Slovan Liberec/AZ v FC Anzhi/Genk

12:30: So that is the first part of the draw. We're now onto the last 16. Gets your brakets ready.
12:29: Slovan Liberec v AZ
12:29: PAOK FC v Benfica
12:28: Dynamo Kiev v Valencia
12:27: FC Anzhi v Genk
12:26: FC Porto v Eintracht Frankfurt
12:25: Maccabi Tel-Aviv v FC Basel
12:24: Ajax v Salzburg
12:23: Esbjerg v Fiorentina
12:23: Lazio v Ludogorets
12:21: FC Chornomerets v Lyon
12:20: Viktoria Plzen v Shakhtar Donetsk
12:19: NK Maribor v Sevilla
12:18: Juventus v Trabzonspor
12:16: Swansea City v Napoli
12:16: Real Betis Rubin Kazan
12:14: FC Dnipro v Tottenham Hotspur
12:14: Once again the permatations are being explained. We've been told to get comfortable. Oh good.
12:07: Same rules apply for the Europa League draw as they did for the Champions League. No team from the same country can draw each other and there is athe add variable of the eight Champions League sides who finished third in the group phase dropping into each pot. Highlights packages aplenty being used before we get to the draw.
12:02: Infantino is back. The Europa League draw is on the way....
11:45: Didier Drogba and Wesley Sneijer will be reunited with Jose Mourinho when Galatasaray take on Chelsea. Drogba won two league titles with Chelsea under Mourinho and won the Champions League for the club with his final kick in a blue shirt. Sneijder won the only Italian treble under Mourinho during his days at Inter Milan. Very intriging fixture.
11:37: Txiki Begiristain: "It will be hard but in the end it's a wonderful dra,. The two teams have a lot of history. Both teams can win the trophy. It's a great match. We're showing we can score in most match. We are ready."
11:35: The first legs of those ties will take place on 18/19 and 25/26 February with the return games on 11/12 and 18/19 March.
For the full story on Andre Villas-Boas departure from Tottenham, go here. For all the reaction to the draw and a look ahead to the Europa League where managerless Tottenham discover their fate, stay with us.
11:23: What a draw in Nyon! Where to look. Well Didier Drogba will go head to head with Jose Mourinho's Chelsea. Holders Bayern Munich take on Arsenal at the last 16 stage for the second year in a row while Barcelona take on Manchester City.
Manchester United will be delighted with a tie against Olympiakos. Elsewhere, Zenit take on 2013 runners-up Borussia Dortmund, Schalke face nine-time winners Real Madrid, Bayer Leverkusen face Paris Saint Germain and AC Milan face Atletico Madrid.
11:19: Bayern Munich v Arsenal
11:19: Zenit v Borussia Dortmund
11:18: Schalke v Real Madrid
11:18: Galatasaray v Chelsea
11:17: Bayer Leverkusen v Paris Saint Germain
11:16: AC Milan v Atletico Madrid
11:15: Olympiakos v Manchester United
11:14: Manchester City v Barcelona
11:13: Well that announcement was, umm, nicely choreographed. back to Nyon while we get more information on Villas-Boas' departure from Tottenham. We're underway......
Breaking: Tottenham Hotspur sack Andre Villas-Boas. More as we get it.
11:04: We're underway in Nyon, Gianni Infantino is once again our master of ceremonies. He congratulates all the teams for qualifying, especially Manchester City, who reach the knock-out side for the first time. Cue the highlights package......
10:58: Teams from the same country are kept apart at the last 16 stage, as are teams that are were in the same group. Arsenal and Manchester City face Europe's giants while Chelsea and Manchester United can look forward to a encouraging draw.
10:55: First up in Nyon is the draw for the last 16 of the Champions League and against all the odds we have all four Premier League sides remaining in the competition. Below is each pot.
Group winners: Manchester United , Real Madrid, Paris Saint-Germain, Bayern Munich, Chelsea, Borussia Dortmund, Atlético de Madrid, FC Barcelona
Group runners-up: Bayer 04 Leverkusen, Galatasaray, Olympiacos, Manchester City, FC Schalke 04, Arsenal, FC Zenit, AC Milan
I won't dress it up for Arsenal fans, it doesn't look good.
10:45: The World Cup, the FA Cup the National Lottery. Fancy another draw? Why the hell not.