Group E
Full time: Bayern Munich 1-0 Manchester City - Full time: Roma 5-1 CSKA Moscow
Group F
Full time: Ajax 1-1 Paris Saint Germain - Full time: Barcelona 1-0 APOEL
Group G
Full time: Chelsea 1-1 Schalke 04 - Latest: NK Maribor 1-1 Sporting Lisbon
Group H
Full time: Athletic Bilbao 0-0 Shakhtar Donetsk - Full time: FC Porto 6-0 Bate Borisov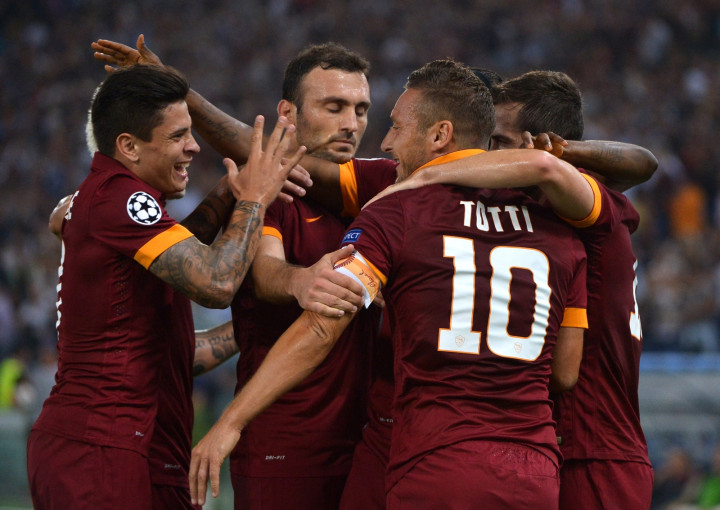 21:45: How was that then? Bayern Munich strike late to beat City as Chelsea are held by Schalke. The troubles for the English clubs in Europe continues in the Champions League. Elsewhere, there were big wins for Roma and FC Porto, victory for Barcelona while NK Maribor got their first ever Champions League point and goal against Sporting Lisbon.
Well that's all we've got time for on this Champions League live text. we'll be back with the Premier League this weekend, but until then goodbye.

Goal: NK Maribor 1-1 Sporting Lisbon (Zahovic)

21:36: Manchester City's reistance finally broken and Bayern grab a late winner. City fail to clear from an up and uner in their area and the ball drops for Boateng who takes aim and his shot hits Mario Gotze on the back and flies beyond a despairing Hart. Horrid way to lose.

Goal: Bayern Munich 1-0 Manchester City (Mario Gotze)

21:34: Joe Hart imperious tonight as he makes another save this time from a Boateng effort from range. Chelsea meanwhile have an Ivanovic heads cleared off the line.

21:31: So are we heading for draws in Munich and London. Arjen Robeen tries to ensure we don't with an embaressing dive as City look to hold out for what would be a very credible point. Chelsea have the opposite motive however and with Diego Costa on are seeking a late winner.

21:28: Hazard should have once if not twice have given Chelsea the lead for the second time. The first comes as he lashes over a volley and then after getting a toe-end on Fabregas' chipped through ball.

Goal: Roma 5-1 CSKA Moscow (Ahmed Musa)

21:23: NK Maribor 0-1 Sporting Lisbon (Nani)

21:21: Loic Remy just on for Chelsea and he almost finds the net immediately. A free-kick from the left is flapped at by Fährmann and the Frenchman takes aim but Neustädter gets back and heads off the line.

Goal: FC Porto 6-0 Bate Borisov (Vincent Aboubakar)

Goal: Ajax 1-1 Paris Saint Germain (Lasse Schöne)

21:18: Joe Hart has kept City in it for much of the evening but he almost throws it away, litterally, as the England 'keeper fumbles a shot from range from Lham, before saving from an offside Muller from the rebound.
21:15: We need no introduction to Julian Draxler but he is putting on a show tonight. A lovely little flick to start a Schalke attack is followed by a wonderful on Nemanja Matic which ends with a shot which Courtois beats away. In Munich, Demichelis denies Lewandowski giving Bayern the lead with a crucial interception inside his own six yard box.

21:11: Bayern are begining to look a little desperate in Munich, with City holding firm and even looking a little dangerous on the break as David Silva heads wide. At Stamford Bridge, Oscar comes on for Ramires.

21:07: And will they be made to pay? Draxler pick-pockets Chelsea, breaks deep into the attacking third and feeds Huntelaar who cuts inside and drills through Gary Cahill's leg and beyond Courtois. Goodness.

Goal: Chelsea 1-1 Schalke 04 (Klaas-Jan Huntelaar)

21:05: Didier Drogba should really have his first goal of his second spell with Chelsea, going throgh on the right but taking a heavy first touch and sliding the ball wide. That would have sealed it for the Blues.

Goal: FC Porto 5-0 Bate Borisov (Adrian Lopez)

21:02: Not been a thrilling start in London or Munich to be honest. Chelsea getting through the first period after the break without really impressing, overplaying to be honest, while City are holding firm as Bayern fail to recapture their dominance from the first half. James Milnes has come on for Samir Nasri.

Goal: FC Porto 4-0 Bate Borisov (Vacine Brahimi)

Goal: Roma 5-0 CSKA Moscow (Sergi Ignashevich)

20:48: Under way in the second half across Europe. All the goals as they go in remember.

20:35: Half time across Europe. Chelsea are having things almost all their way with Cesc Fabregas' goal giving them the lead but their German opponents are possessing a threat. As for Manchester City they are living dangerously in Munich but are as yet keeping Pep Guardiola's men at bay through a combination of poor finishing and Joe Hart's brilliance.

20:32: Schalke have been an emerging force in this half and they should be level. Jualian Draxler runs from deep inside the Chelsea half all the way into the box but he only shoots wide. Big chance.

20:29: Another half-chance for City as a corner from the right is headed goalwards by Bacary Sagna but beaten away by Neuer. Edin Dzeko is down at the moment and he needs a stretcher. Looks like a back injury for the Bosnian. He walks from the field but Sergio Aguero is being prepared.

Goal: FC Porto 3-0 Bate Borisov (Jackson Martinez)

20:24: Bayern pass up another opportunity to take the lead. Muller threads a pass through for Robert Lewandowski, who rounds Hart but again only finds the side-netting. Chelsea meanwhile should be two up but Fabregas skys one over the bar from close range. A bad miss I am afraid.

20:22: Joe Hart continues to keep Manchester City in touch in Munich. Muller tees up Alaba and again the City stopper makes the crucial save low down to his right. At Stamford Bridge, Chelsea have allowed Schalke back into the game somewhat, but they yet to test Thibaut Courtois.

Goal: FC Porto 2-0 Bate Borisov (Vacine Brahimi)

Goal: Roma 4-0 CSKA Moscow (Gervinho)

Goal: Barcelona 1-0 APOEL (Gerard Pique)

20:16: City improving as the game goes on. Dzeko curls beyond Neuer but wide before Boateng is forced to intervene as Dzeko lies in wake following Navas' cross. Now Dzeko shoots wide when he could have found Silva. The visitors are stiring.

20:08: Oustanding save from Joe Hart to deny Bayern the lead. The cross from the left finds Muller, who escapes Clichy which is above the England who reacts and turns the ball over the bar.

Goal: Roma 3-0 CSKA Moscow (Maicon)

20:05: Chelsea threatening to vaporise Schalke in the early moments here. Hazard has been heavily invovled as his goal-bound shot is about to nestle in the bottom corner before being deflected from danger. In Munich, Bayern are keeping the pressure on and Lewandowski should hit the target but overuns the ball.

Goal: Ajax 0-1 Paris Saint Germain (Edinson Cavani)

19:59: Cesc Fabregas scores his first Chelsea goal in controversial circumstances at Stamford Bridge. Meyer brings the ball out for Schalke, but is caught very late as he overruns the ball by Fabregas. A foul isn't awarded and Eden Hazard goes on, players a reverse pass to Fabregas who passes in with ease. Schalke plead injustice but nothing doing from the officials.

Goal: Chelsea 1-0 Schalke 04 (Cesc Fabregas)

Goal: Roma 2-0 CSKA Moscow (Gervinho)

19:56: Chelsea as you might expect have begun on the front foot and should really be ahead after Drogba's cross goes beyond everyone but straight to Ramires who only scuffs his effort goalwards and Fährmann makes an early save.

Goal: Roma 1-0 CSKA Moscow (Juan Manuel Iturbe)

Goal: FC Porto 1-0 Bate Borisov (Vacine Brahimi)

19:50: Less than a minute gone in Munich and the home side should be ahead. Lewandowski's flicks comes through to Muller who escapes Fernandinho and rounds Joe Hart but can only find the side-netting. The German wants a penalty but the referee waves away his appeals. Big let off for City.

19:47: Under way across Europe.

19:44: So we're moments away from kick-off across Europe. Players out, anthem blaring across the continent. It's back!

19:33: So what else should you keep an eye on this evening? We have the return of Zlatan Ibrahimovic to Ajax as PSG travel to Holland, Barcelona taking on APOEL while the most open group at this stage, Group H, sees Athletic Bilbao return to the competition. We'll have all the goals as they go in across Europe.

19:23: What of Chelsea's opponents Schalke then? Despite finishing third in the Bundesliga last season the club are on its knees at the start of the new campaign, with a host of injury problems coupled with a failure to win any of their first three league games, which sees them occupy an early relegation place. having lost 3-0 in both of the pair's meetings last season, and with Chelsea having made a 100% start to the season the writing could be on the wall for the German side.

19:20: So what chance can we give Manchester City tonight as they travel to the Allianz Arena, where they won last season. Bayern have make an uncertain start to the season, with seven points from their first three games and are much changed without a host of established names. Pep Guardiola is yet to convince in Germany having crashed out to Real Madrid at the semi-final stage last season.

19:15: So let's have a look at the teams for the matches involving the English clubs.
Manchester City make four changes from the draw with Arsenal, with Bacary Sagna replaces the suspended Pablo Zabaleta while in attack it in Edin Dzeko rather than Sergio Aguero. Bayern are without Franck Ribery and Bastian Schweinsteiger while Arjen Robben only makes the bench.
Chelsea make three changes from the win over Swansea, with Didier Drogba making his first start since returning to the club and two years on from scoring the winning penalty in this competition for The Blues. Schalke are injury ravaged are are without eight front line players however Julian Draxler and Klaas-Jan Huntelaar do start despite only appearing from the bench against Borussia Monchengladbach.

19:05: Teams:

Bayern Munich v Manchester City

Bayern Munich: Neuer, Benatia, Rafinha, Bernat, Boateng, Alonso, Götze, Lahm, Müller, Alaba, Lewandowski

Manchester City: Hart, Sagna, Demichelis, Kompany, Clichy, Fernandinho, Yaya Toure, Navas, Silva, Nasri, Dzeko
Chelsea v Schalke 04
Chelsea: Courtois, Ivanović, Filipe Luís, Cahill, Terry, Fàbregas, Ramires, Hazard, Matić, Willian, Drogba

Schalke 04: Fährmann, Aogo, Fuchs, Meyer, Boateng, Draxler, Höger, Sam, Ayhan, Neustädter, Huntelaar
19:00: After Arsenal and Liverpool missed the starting gun on opening night in the Champions League, it's the turn of Chelsea and Manchester City to give the Premier league something to cheer as the first week of the return of Europe's premier club competition continues. Both sides face Bundesliga opponents in Schalke and Bayern Munich and will aim to fare slightly better than Arsenal did in Dortmund a mere 24 hours ago. As ever, we'll be across all eight matches tonight, with particular focus on the English duo so hold tight for a thrilling evening ahead.