17:35: FA Cup fifth round draw
Premier League top four Arsenal, Manchester City, Chelsea and Liverpool all included.

Ties to be played on weekend of 15-16 of February.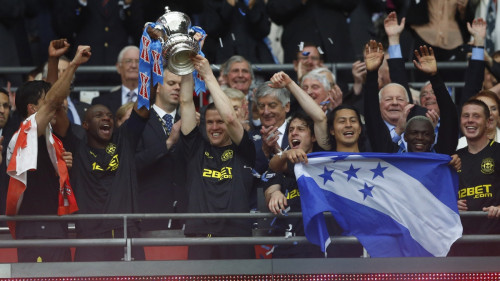 17:51: Well that's about all the time we've got time for. We'll of course have live coverage of the fifth round in the FA Cup, and some facinating fixtures are in store. Until next time, goodbye.
17:49: Lots to discuss after that draw not least whether The FA will assist both Manchester City and Arsenal with the timing of the fixture given they both have Champions League committments the following week. Jose Mourinho shrugs his shoulders when told that City are the club's opponents in the fifth round.
17:47:

17:46:

17:45:

17:40: After a dull fourth round weekend, there is no doubt the fifth round could be a cracker. Manchester City host Chelsea and Arsenal take on Liverpool. We'll lose two of the Premier League top four there. Two other all Premier League ties with Swansea travelling to Everton and Sunderland facing Southampton.
We're guarenteed a Championship side in round six as Sheffield Wednesday are paired with Charlton Athletic. Elsewhere, Brighton host Hull in a tasty tie while the two replays are drawn against each other.
Everton v Swansea City

Sunderland v Southampton

Sheffield Wednesday v Charlton Athletic

Cardiff City v Wigan Athletic

Brighton and Hove Albion v Hull City

Arsenal v Liverpool

Sheffield United or Fulham v Nottingham Forest or Preston North End

Manchester City v Chelsea

17:35: Over to Wembley we go then, the draw is almost underway.

17:31: As we wait for everyone to get sorted at Wembley, worth mentioning that to continue the family theme which has run through the draws this season, Andros Townsend and father Troy will pull the balls out this afternoon. The draw is five minutes away we're told.
17:25: Full time in the final tie of fourth round weekend and it's finishing Chelsea 1-0 Stoke City. Full report here. The draw for the fifth round is on its way.
17:23: The fourth round may have been devoid of genuine upsets but we're still left with a stellar cast ahead of the fifth round draw for the FA Cup. The top four in the Premier league Arsenal, Manchester City, Chelsea and Liverpool remain, as do holders Wigan Athletic. Here is a run down of the numbers for this afternoon's draw:

1 Sunderland
2 Cardiff City
3 Southampton
4 Charlton Athletic
5 Brighton & Hove Albion
6 Nottingham Forest or Preston North End
7 Hull City
8 Sheffield Wednesday
9 Arsenal
10 Everton
11 Wigan Athletic
12 Chelsea
13 Manchester City
14 Liverpool
15 Swansea City
16 Sheffield United or Fulham