15:30: FA Cup sixth round draw
Arsenal, Liverpool, Manchester City and holders Wigan Athletic in the hat
Ties to be played on the weekend of 8-9 March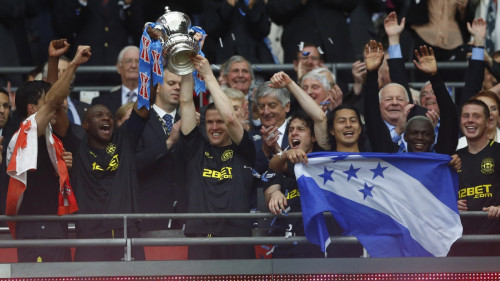 15:41: For all the reaction to the FA Cup draw, head back to the live blog as well live coverage of Arsenal v Liverpool.

15:40: Goodness me, what a draw in prospect. We could have the Merseyside derby, a Sheffield derby, a repeat of last season's FA Cup final and a grude match centered around Gus Poyet. Manchester City will be feeling very good about life. We're also guarenteed a non Premier League club in the last four.

Manchester City v Wigan Athletic

Sheffield United or Nottingham Forest v Sheffield Wednesday or Charlton Athletic

Brighton or Hull City v Sunderland

Arsenal or Liverpool v Everton

15:36: Robert and Olly Lee have been introduced. Here we go.....
15:35: We've gone across to Wembley and the draw awaits.
15:29: To continue the father and son theme in the FA Cup draws this season, Robert and Olly Lee will conduct the draw at Wembley this afternoon. We have some big names in there too. With the full time whistle having been blown at Goodison Park, we're moments away.

15:20: Sunderland, Wigan Athletic, Manchester City and Everton are just a game away from Wembley while eight teams are still fighting it out for a place in the FA Cup sixth round. We head to Wembley for the draw for the last eight with Arsenal, Liverpool and Manchester City among the big names still involved. Promises to be a cracker. The draw numbers are below.

1 Manchester City
2 Sheffield United or Nottingham Forest
3 Arsenal or Liverpool
4 Brighton & Hove Albion or Hull City
5 Wigan Athletic
6 Sheffield Wednesday or Charlton Athletic
7 Sunderland
8 Everton