Full time: Australia 2-3 Netherlands

Full time: Spain 0-2 Chile
Full time: Cameroon 0-4 Croatia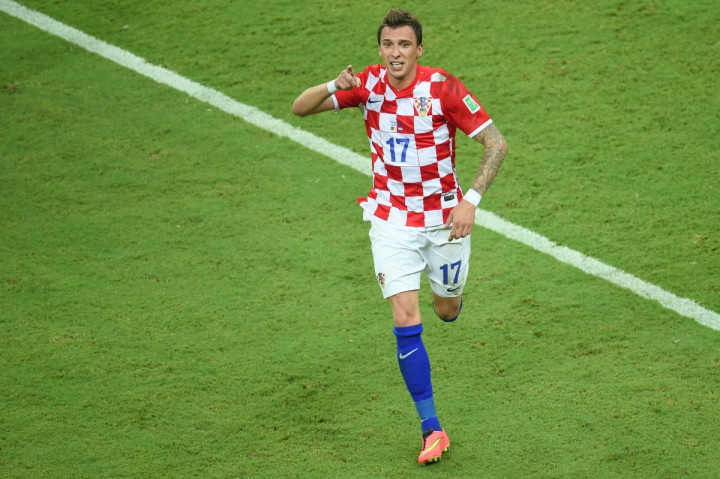 00:55: Cameroon become the third team to exit the World Cup after a 4-0 defeat to Croatia in Manaus. Goals from Ivica Olic, Ivan Perisic and two for Mario Mandzukic puts Croatia within a win against Mexico from the last 16. Alex Song's sending off with the score at 1-0 changed the game and had defined Cameroon's dismal effort at these finals. Those win bonuses won't be wasted on this lot.
That brings an end to our live text for another day. Three more games tomorrow including England's second group match against Uruguay from Sao Paulo. Until then, goodbye.
Full time: Cameroon 0-4 Croatia
00:48: Assou-Ekotto and Moukandjo come together as full time approaches. Not an ideal way to end a horrid evening all in all. Cameroon about to become the latest World Cup casualties.

00:46: Goodness knows how Croatia haven't scored again. Rebic squares for Rakitic, who only dinks the ball wide of Itandje. This last 40 minutes has been a bit of a farce in truth. Cameroon almost get a consolation as Webo is denied by a combination of Pletikosa and crossbar.

00:44: Rebic denied again as Itandje saves to his left. Cameroon's ordeal is almost over.

00:40: Charles Itandje has not done much right tonight but he's denied Croatia a fifth there with a smart header from outside his own box to deny substitute Rebic a goal after coming on. Now Srna has an effort blocked. Cameroon are serving up a buffet of chances for Croatia.

00:31: Too easy for Croatia as Cameroon fall to pieces. Eduardo shoots from the edge of the area and after Itandje parries the ball, Mandzukic taps into an unguarded net. After missing the opening game, the Bayern forward is making up for lost time.

Goal: Cameroon 0-4 Croatia (Mario Mandzukic)

00:27: Ivica Olic off and Eduardo on for Croatia. As things stand, Croatia need to beat Mexico in their final game, or get a draw and hope Brazil lose to Cameroon. Sounds like a straight shoot-out with the Mexicans to me.

00:21: This is slightly embaressing for Cameroon now, as they conceede a third with just over 28 minutes remaining. A corner from the left, after Modric's shot was deflected behind, finds Mandzukic unmarked in among seven Cameroon defenders and he heads hard and low beyond Itandje. This game has completely changed since Song's dismissal and at the moment Croatia are running riot.
Goal: Cameroon 0-3 Croatia (Mario Mandzukic)

00:15: Olic almost pokes in a third as Croatia look to increase their lead. The Cameroon legs, let alone minds, are gone here and it could be any number by the end of the evening.

00:08: And it should be three. Cruz Campos plays in Mandzukic who delays his shot before flicking wide. The Bayern forward looked a tad ring-rusty there.

00:07: Fantastic goal puts Croatia out of sight within two minutes of the restart. Itandje's kick is straight to Perisic wide on the left and the Croatian drives ahead of Mbia, continues his run into the penalty area and tucks beyond the Cameroon keeper. Terrific finish and Kovac's side have an insurance policy.

Goal: Cameroon 0-2 Croatia (Ivan Perisic)

00:02: Change for Cameroon at half time as Nounkeu comes on for Chedjou. Under way in the second half in Manaus.

23:50: Cameroon arrived at this World Cup late after talks over win bonus payments with their football association, but that delay seems to be almost irrelevant as they look set to exit the tournament with a whimper in the group stage. Croatia lead by an Ivica Olic goal and have a numerical supremacy after Alex Song's stupid sending off at the end of the half after elbowing Mario Mandzukic. Horrid half for the African nation, who require a second half turnaround to remain competitive in Brazil.
Half time: Cameroon 0-1 Croatia
23:42: Cameroon down to ten men after just 40 minutes in Manaus and their World Cup hopes look distant now. Croatia break down the left but the referee Pedro Proença pulls it back as Alex Song clearly elbows Mandzukic down the back. Clear red card and Cameroon face an uphill task now.

Red card: Alex Song (Cameroon)

23:37: Croatia are very comfortable with this lead. Not having to force the play and are feeding off errors from Cameroon, which at the moment are coming thick and fast. The latest mistake sees Itandje drop the ball behind from a corner from which Perisic heads of when well placed.

23:27: Cameroon are of course Africa's most successful country in World Cup history, with no team yet to beat their quarter-final, ahead of the time, performance at the 1990 tournament in Italy. They face an early exit here though and will become the third team to exit the tournament today alone, if unable to stay a comeback against Croatia here. So far, it's not been a vintage response since the opening goal.

23:16: Croatia are all over Cameroon now and Mbia has to head behind Srna's cross as Manduzukic lurked. The resulting corner sees Itandje somehow save from Perisic from four yards out.

23:12: The opening goal comes against the run of play in Manaus. Srna's cross is cleared only as far as Perisic, who disguises a perfect pass to Olic, who taps into a near empty net to give Croatia the lead inside 11 minutes.

Goal: Cameroon 0-1 Croatia (Ivica Olic)

23:07: Bit of early handbags as Mbia throws Mandzukic to the floor before a Camerooon free-kick. The referee gives both players a talking to before the set-piece is taken, which sees Assou-Ekotto fail to beat the first defender.

23:05: Good start from Cameroon, who have shown more attacking intent in the opening four minutes than they did in the entire defeat to Mexico. Aboubakar twists and turns in the box and forces a corner, from which he heads towards goal but a foul is given. Good start for the Italia '90 quarter finalists.

23:01: Given that both teams must avoid defeat to remain in the competition, but know anything less than a win needs them requiring a miracle on the final day of the group stage, how might this game pan out? Let's hope both teams leave nothing to chance and go for it.

22:57: Anthems done and we're under way in Manuas.

22:50: Just 10 minutes until kick-off in Manaus so lets assess both sides' chances in this game. Cameroon performed poorly in their opening game against Mexico, with the 1-0 defeat in the end flattering then in their opening game. They will not be helped by the loss of Eto'o, despite his listless display against the Mexicans.
Croatia manager Ivan Kovac was bemoaning an injustice which denied his side at least a point in their opening game against Brazil in Sao Paulo. The penalty awarded for a foul on Fred was hugely debatable and overshadowed a Croatia performance in which they impressed for long periods and of course took the lead in the first half. They are strong contenders to make it through this group but anything other than a win tonight will all but but end their chances.

22:28: Lets have a look at these two sides for the final game of the day. Cameroon are without inspirational striker and captain Samuel Eto'o, with Aboubakar starting in attack while Matip has replaced Djeugoue.
Croatia, who impressed for long periods for being defeated by hosts Brazil in the tournament's opening game, make three changes and welcome back Mario Mandzukic after his suspension. Pranjic and Cruz Campos also come into the starting eleven.

22:20: Teams:

Cameroon: Itandje, Assou Ekotto, Nkoulou, Chedjou, Mbia, Matip, Song, Enoh Eyong, Moukandjo, Aboubaker, Choupo-Moting

Croatia: Pletikosa, Srna, Pranjic, Rakitic, Corluka, Lovren, Perisic, Modric, Mandzukic, Cruz Campos, Olic

22:15: So, the world champions are out and Chile and Netherlands are our first two teams through to the last 16. Let's turn our attention back to Group A, where Cameroon and Croatia's survival instincts will be tested in the humidity of Manaus. Both lost their opening games against Mexico and Brazil respectively and after watching the pair draw on Tuesday, the pair are playing catch up. Team news on the way.

22:03: Chile will face Netherlands next week with the winner topping Group B and potentially avoiding Brazil in the last 16. Spain meanwhile are left to consider the end of an era for a team who have won two European Championships and the World Cup. A sad day in many ways.

21:58: Spain are out of the World Cup and their reign as world champions ends in Rio. Chile comfortable winners at the Maracana through first half goals from Vargas and Aranguiz. The Spaniard's become the fifth defending champions to crash out of the group stage and join Australia in being dumped out of the tournament on day seven.

Full time: Spain 0-2 Chile
21:52: Once again Spain are wondering what if as Ramos takes aim from 10 yards and again a Chile body gets in the way and the ball goes behind for a corner. They have had their chance have Spain.

21:50: Six added minutes in Rio. The final moments of Spain's reign as world champions.

21:49: Claudio Bravo with another smart save from a Cazorla free-kick as Spain continue to probe without success. We've seen some fight in this second half, but it's not been enough after they were swept aside in the first 45 minutes.

21:44: Andreas Iniesta curls one from range and Bravo makes a super save to keep him out. Nothing going Spain's way. Chile take off goal-scorer Vargas and replace him with Valdivia, who scored against Australia in the first game.

21:40: The Arsenal man has a belated shot for Spain, which is put behind by Bravo. The resulting set-piece is held by the Chile goalkeeper. All over this one.

21:36: Santi Cazorla on for Spain now but time is running out to give their World Cup hopes a valuable lifeline. Chile look more likely to score a third than Del Bosque's team do to stage a comeback here.

21:28: Chile should be three up. Vargas finds Mena with a cross from right to left asnd his miss-hit shot finds the onrushing Isla but he shys his shot on the stretch.

21:24: Fernando Torres on for Diego Costa for Spain. Not a move bathed in ambition that, particularly given the Chelsea striker's recent problems. Aranguiz comes off and is replaced by Gutierrez.

21:18: Charles Aranguiz leaves the field on a stretcher after a challenge with Koke. Sad way for his evening to end, having made the first and scored the second but you fancy Spain need more to go their way if they're to turn this around.

21:13: Another missed chance for Spain and they continue to spurn opportunities to get back into this match. Ramos' free-kick is punched out by Bravo and when Costa's overkick flies across goal, Sergio Busqusts somehow doesn't score from four yards out. Golden chance missed again.

21:09: Best chance of the game for Spain and it comes for Diego Costa. Iniests threads through a delightful pass and Costa controls but his shot is deflected behind. That chance was another indicator that the Atletico man is just short of that match sharpness.

21:05: Second half under way in Rio. Change for Spain, as Koke replaces Xabi Alonso. Be interesting to see if he can bring any change from club teammate Diego Costa, whose performances have been uneven at best this summer.

21:02: We must now accept that baring an unlikely second half comeback, this is the end of Spain's reign at the sharp end of world football. So many careers, the likes of Xavi, Iker Casillas, Sergio Ramos and Xabi Alonso could be ended by this early and emphatic exit in Brazil. Let the transition begin.

20:51: Reigning world champions Spain are 45 minutes away from exiting the World Cup after Chile score twice in the first half at the Maracana. Eduardo Vargas and Charles Aranguiz's goals have the South American side ahead and Vicente del Bosque's side need a second half turnaround to prevent becoming the first side eliminated from the World Cup. It would take something special at this stage.

Half time: Spain 0-2 Chile

20:46: The world champions are close to being embaressed, let alone heading out of the tournament here. Chile get a soft second goal as Casillas punches weakly at a Sanchez free-kick and the rebound is poked home by Aranguiz from 12 yards. The world champions are being dethroned in Rio.

Goal: Spain 0-2 Chile (Charles Aránguiz)

20:42: Xabi Alonso flies in on Mena and is fortunate to escape with only a yellow card for his troubles. Chile just keeping Spain at bay now as the first half comes to an end.

20:36: Spain are a bit ragged now since the goal, Pedro fouling Jara on the near touchline and the gamr slows down again. Tail of missed opportunities for the Spanish so far and Chile are taking full advantage.

20:28: Another opportunity for the world champions, who are losing grasp of their title. David Silva flicks on to Costa who directs a half-volley goalwards but it hits the side-netting.

20:24: Great chance for Spain to level. Iniesta plays a nice ball into Diego Costa, who holds the ball up and tees up Xabi Alonso who laches a half volley over the bar. Very poor finish from only 18 yards out and with very little pressure on the ball.

20:21: The world champions are on the brink as Chile open the scoring with an outstanding goal. Xabi Alonso gives the ball away and after Vidal and Sanchez exchange passes, the Barcelona man finds the Aranguiz and his pass across the face of goal finds Eduardo Vargas, who takes on touch and then powers past Casillas.

Goal: Spain 0-1 Chile (Eduardo Vargas)

20:17: How are Spain not ahead? Diego Costa runs at the Chile back four and delays his shot, eventually sending his effort across goal and when the ball comes back in, Bravo denies Alonso from close range. The Spaniards continue to win the ball high up the pitch and it is contributing to their early dominance. Chile not really in the game as yet.

20:14: David Silva almost threads a pass through to Diego Costa as Spain continue to exert their authority in the early stages. The Man City man is barged over and a free-kick is awarded, but Alonso's free-kick is over everyone in the Chile bos and out for a goalkick.

20:10: Facinating watching both teams adopt identical styles early on and so far it is Spain who have had more joy. A free-kick from the right almost finds Sergio Ramos at the back post but Bravo is able to beat the ball away.

20:03: A chance straight away for Chile. A crossfield ball is fed into the penalty area where Vidal causes havoc, before Xabi Alonso puts the ball behind. The corner comes out to Gonzalo Jara, who heads just wide. Great start for Chile, who are backed by a vocal support in Rio.

20:00: Anthems over and we're under way at the Maracana. Is Spain's downturn terminal? We're about to find out

19:55: Both teams are out at the Marcana. Chile signficantly outnumber their Spanish counterparts, who will have difficult memories of that last time they were in Rio, having lost 3-0 to Brazil in the Confederations Cup final a year ago.

19:48: So what of Chile? They began well against Australia but their performance dropped off particularly in the second half and the Soccerroos were unfortunate not to get a point. Spain will have been encouraged by that performance but in Alexis Sanchez and Eduardo Vargas, Chile have two players who can win a game in a flash.

19:40: Among the biggest selection dillemas which faced Vicente del Bosque in the lead up to this second group game surrouded goalkeeper Iker Casillas. The Real Madrid stopper made several individual errors in the defeat to Netherlands and his place has been placed under really pressure. David de Gea is injured but Pepe Reina was ready to step into his shoes for the game against Chile. He remains however, and here is a piece from IBTimes Sport's Gareth Platt on why that is the right decision.

19:34: So, following that incident, lets try and look ahead of the game at the Maracana tonight. After losing to Netherlands, Spain know defeat tonight will end their defence of the World Cup. Chile can booked their place in the last 16 with victory today while a draw will keep us all guessing. Victory for Spain means they will need to better Chile's result against Netherlands, when they themselves face Australia.

19:29: Here is an indication of the damage to the media centre. A partition has been sent tumbling.

And a video of the breach taking place. Security woefully thread-bare.

19:26: The breach will surely be followed by questions over security in Rio. Those Chile supporters remain in the media centre where security have belatedly regained control. More on that story as we get it.

19:24: News from the Maracana where reports are emerging from journalists on site that Chile fans have broken into the media centre in Rio. Supporters have damaged signficant parts of the media centre and they are currently staging a sit in. Unsure whether the game will begin on time at this rate.

19:22: So lets have a look at the two teams. Spain have made two changes from the defeat to Netherlands, with Xavi and Gerard Pique left out, with Pedro and Javi Martinez playing instead. Big calls from Vicente del Bosque.

Arturo Vidal comes through for Chile and starts in midfield and there is just one change in all, with Francisco Silva replacing Jorge Valdivia.
19:10: Teams:

Spain: Casillas, Azpilicueta, Ramos, Martinez, Alba, Alonso, Busquets, Iniesta, Pedro, Costa, Silva

Chile: Bravo, Mena, Isla, Silva, Sanchez, Vidal, Vargas, Medel, Jara, Aranguiz, Dias
19:03: Right well and nice and quiet start to World Cup day six eh? Netherlands are almost through and now it's the turn of Spain and Chile to fight it out for the other qualifying place. Victory for Chile will dump out the world champions, while a win for Vicente del Bosque's men reignites their attempts to reach the last 16. Team news on the way.

18:54: Netherlands on the brink of the last 16 after a thrilling win over Australia in Porto Alegre. Arjen Robben's goal was cancelled out by Tim Cahill's stunner before Mile Jedinak's penalty put the Aussies on course for a shock win. But Robin van Persie's cool finish and substitute Memphis Depay's long-range strike, helped by some poor goalkeeping from Mathew Ryan, gives the Dutch their second win of the group phase and puts them on the edge of qualifying for the knock-out phase.

Full time: Australia 2-3 Netherlands
18:48: Three minutes added on in Porto Alegre. Netherlands look likey to hold on.

18:44: Robin van Persie down injured after a coming together with Wilkinson and that disrupts Australia's attempts to grab an equaliser late on here. The United man is replaced by Jeremain Lens with three minutes left.
18:36: Matt Leckie is some player but he tries to win a penalty with an embaressing dive when toe to toe with Vlaar. Has really impressed me has the FC Ingolstadt new signing but there is no place for that.
18:32: Now Ryan saves from Nigel de Jong as Netherlands continue to press. Matter of when and not if surely for Van Gaal's men.

18:30: Tim Cahill off injured for Australia, and is likely the end of his World Cup career with Australia. Netherlands are well on top now and are threatening a fourth, with Wilkinson forced to block Sneijder's effort from the edge of the box.

18:27: Australia should be back in front but Leckie's cross to Cahill only means the New York Red Bulls forward can chest the ball goalwards, and Netherlands punish them instantly. Substitute Memphis Depay, who has only been on 20 minutes, lashes on goalwards from range and Ryan can only push the ball into he corner. A bad error and the Dutch are seemingly off the hook.

Goal: Australia 2-3 Netherlands (Memphis Depay)

18:20: Just under 30 minutes still remaining in Porto Alegre and the free-scoring Group B hae produced another cracker. Netherlands on the comeback trail but Australia are fighting for their World Cup lives. Facinating climax in prospect.

18:17: Australia ahead for just four minutes as Robin van Persie nets his third World Cup goal. The ball comes through to the Manchester United forward in the penalty area and he cooly puts it past Ryan. great game this and once again we have two goals in quick succession.

Goal: Australia 2-2 Netherlands (Robin van Persie)

18:13: Djamel Haimoudi awards a controvercial penalty as Blind is adjudged to have handled substitute Bozanic's cross. The Dutch are fuming but Jedinak is unperturbed, sending Cillessen the wrong way to give Australia the lead.

Goal: Australia 2-1 Netherlands (Mile Jedinak)

Penalty for Australia

18:09: Wesley Sneijder had a quiet first half but he's right into the action in the second period, forcing Ryan into turning his effort behind five minutes after the break. Change for Australia meanwhile, as Bresciano is replaced by Bozanic.

18:05: Australia have the ball in the net within a minute of the half begining but the play is brought back for a foul by Matt Leckie, who pushes Blind before going through to score. Booking for Robin van Persie meanwhile for an elbow, I think accidently, on Davidson and he is the latest player to be ruled out of his side's final group game.

18:02: Players out for the second half. Back under way in Porto Alegre.

17:50: A half of football illuminated by one of the great World Cup goals. Arjen Robben netted his third goal of the tournament with an easy finish but a minute later, Tim Cahill equalied with a stunning volley. Australia have been the better of the two sides while the Dutch have failed to make an impact and their situation has been accutuated by defender Bruno Martin Inid being stretchered off late on. In the same incident, Cahill was given a second booking of the tournament which means he misses the final group game against Spain.

Half time: Australia 1-1 Netherlands
17:46: Problem for Bruno Martins Indi and Tim Cahill here. The Dutchman goes to ground heeavily after a tackle from the Aussie forward and leaves the pitch heavily strapped to a stretcher. Cahill recieives a yellow card for his troubles, and will miss the final group game against Spain. Both players' World Cup appears essentially over after this game.

17:43: Approaching half time and we've seen no change out of Netherlands or Australia since the goals. The Socceroos, the lowest ranked team in the World Cup, are more than holding their own and are the more proactive in attack while the Dutch are struggling just to put two pases together at times. Anything but total football.

17:38: Can't say I am particularly surprised by this Australian performance. They were really impressive in defeat to Chile, who were flattered by the 3-1 win last week, and have caused this Netherlands side all sorts of problems. As case of after the Lord Mayor's Show for the Dutch? Not a bit of it, they've come up against a proper team in Porto Alegre.

17:31: Australia should be ahead. Leckie causes more problems down the right and his cross again picks out Bresciano who side-foots his effort over the bar. Big chance.

17:26: Goodness, gracious me. Tim Cahill has scored one of the great World Cup goals to haul Australia back into this game with as sweet-a-hit volley as you'll ever see. Netherlands's lead barely lasted two minutes and you have to say they deserve to be at least level having made a good start. Ron Vlaar almost restores the Dutch lead, but his header drifts wide from a corner.

17:24: Two goals in as many minutes in Porto Alegre. Arjen Robben scores as easy a goal as you'll see in this World Cup, as Wilkinson commits himself on the half-way line and Robben runs in and slides past Ryan. Netherlands though are level for just a minute as a crossfield pass finds Tim Cahill who hits a left-foot volley which thunders in off the crossbar. A truely stunning goal and we won't see a better one in this World Cup.

Goal: Australia 1-1 Netherlands (Tim Cahill)

Goal: Australia 0-1 Netherlands (Arjen Robben)

17:19: First we've seen of the Robben-Van Persie partnership which thrived against Spain. The Bayern Munich man swings in a softly awarded free-kick and Van Persie flicks on bu straight at Ryan.

17:17: This has been a good, intense start from Australia and they force the first chance after 16 minutes. Leckie gets away from Blind and drives towards the edge of the box and his pull back finds Bresciano, whose shot is deflected behind.

17:11: The Dutch haven't got going at all in this opening 10 minutes and it is giving the voal Australian fans much encouragement in the opening exchanges, even if their own threat in the attacking third has been rare.

17:06: First glimpse of Arjen Robben, who scored twice in the opening win over Spain. He latches onto a loose ball but his first touch is woeful and Australia survive.

17:03: The Dutch are back in their changed kit of blue while Australia are baring their traditional green and gold. Bruno Martins Indi down very early after being caught by Tim Cahill and Louis van Gaal is up and not very impressed by the challenge.

17:00: That's the anthems over with and we're ready to begin on day seven of the World Cup. Under way in Porto Alegre

16:52: Both sets of players are on their way in Porto Alegre ahead of kick-off in this vital Group B match. Another golden day in southern Brazil.

16:50: Bit of breaking injury news ahead of England's second group match against Uruguay tomorrow. Defender Diego Lugano has been ruled out of the game with a knee problem. Given his toils in the Premier League for West Bromwich Albion, and against Costa Rica on Saturday, not entirely sure that is a boost many might think it to be.

16:41: But as headers go, few will upstage Robin van Persie's effort against Spain which sparked his side into action and inspired a 5-1 rout against the world champions. Van Persie's relationship with incoming Manchester United manager Louis van Gaal has been heavily screwtined but for country at least it seems to be a fruitful partnership. If the skipper can reproduce his early United former in Brazil, the Dutch can go deep and it can only bode well ahead of the new season.

16:37: In Ron Vlaar and Bruno Martins Indi, Netherlands hardly have two of the more accomplished centre-backs in European football and it might be area which Tim Cahill will look to expose. Argubally one of the best headers of a ball in the game, Cahill showed again why he should be feared in the air with a storming header against Chile and the Dutch should fear his influence.

16:30: Defeat for Australia will all but end their foray in the 2014 World Cup and put Netherlands on the brink of the last 16. The Socceroos should enough against Chile to suggest however they can cause Louis van Gaal's side some problems this afternoon but the form Van Persie and Robben discovered against Spain means they will have to limit the pair to only rare glimpses of goal to stand a chance.

16:25: Two changes for Australia, both of which come at the back. Out go Ivan Franjic, who went off against Chile, and Mark Milligan, who has a hamstring problem and in come Ryan McGowan and Matt Mckay.

Netherlands are unchanged from the win over Spain but could look to match up Australia in midfield, with a 4-3-3, with Wesley Sneijder moving forward to support Robin van Persie and Arjen Robben.
16:16: Teams:

Australia: Ryan, Davidson, Cahill, Spiranovic, Leckie, Oar, Jedinak, McKay, McGowan, Wilkinson, Bresciano

Netherlands: Cillessen, Janmaat, Vlaar, De Vrij, Martins Indi, Blind, De Guzman, De Jong, Sneijder, Robben, Van Persie

16:00: Less than three weeks after King Juan Carlos abdicated the throne in Spain, Vicente del Bosque's team could themselves be dethroned of their supremacy in world football. Defeat for Spain against Chile today would all but signal the end of the World Cup defence in Brazil, having lost to Netherlands 5-1 last Friday. Vicente del Bosque's side are looking to avoid the worst record by a nation defending their title since France in 2002 but face an uphill task to keep their dreams alive of a second consecutive crown. Elsewhere in Group B, Netherlands look to all but book a place in the last 16 with victory over Australia while after Brazil and Mexico's draw on Tuesday, Cameroon and Croatia will be hoping to take full advantage in our late game.

Pedro Proença
Half time: Cameroon 0-1 Croatia