Full time: Belgium 2-1 Algeria
Full time: Brazil 0-0 Mexico
Full time: Russia 1-1 South Korea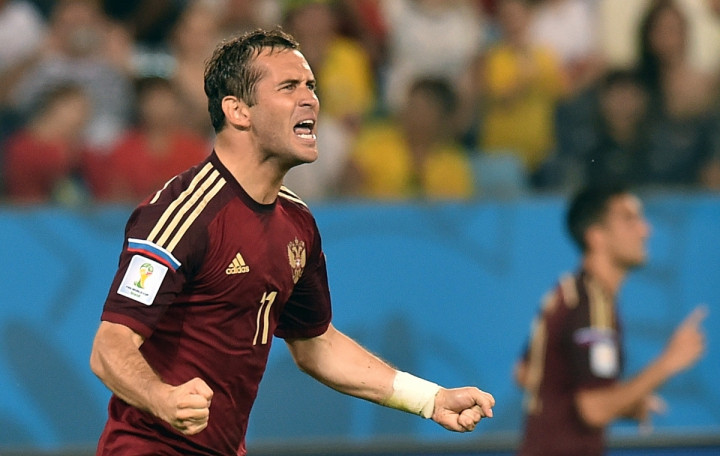 00:54: Not one to write home about. The final two teams to play their first round matches, Russia and South Korea, draw their opening game. Goalkeeping errors saw Lee-Keun-Ho and Alexander Kerzhakov score in an entertaining last 25 minutes but other than that, the game failed to excite.
Well that's all we've got time for on this World Cup live text. Another intriging day over and done with, but as ever we're back tomorrow with three more games, including World Cup holders Spain facing Chile. Until then, goodbye.

Full time: Russia 1-1 South Korea

00:50: That was the chance for Russia. Kokorin crosses and Samedov side-foots over. Poor finish ends a on the whole disappointing game.

00:46: Four added minutes in Cuiaba.

00:45: Chance for Russia. Kombarov's cross picks out Kokorin, who glances a header over the bar. Entering the last minute of normal time.

00:37: Proper game has broken out now with both Russia and South Korea going for a late winner. Worth the hour of laborious football to have the climax we now have. Could go either way.

00:32: Korea's lead lasts just six minutes as Russia equalise. Alexander Kerzahkov, who has been on the pitch barely three minutes, reacts first as Jung only parries Dzagoev's cross-come-shot. Like buses, two goals some at once in Cuiaba. Will we have winner?

Goal: Russia 1-1 South Korea (Alexander Kerzhakov)

00:29: Fabio Capello's first World Cup fixtures with England was overshadowed by a goalkeeping error from Robert Green against USA, and the Italian has suffered more heartache as Igor Akinfeev looks set to hand South Korea victory in Cuiaba. Still 17 minutes remaining however.

00:27: For those that have opted to stay up have been rewarded with one of the great World Cup bloopers. Substitute Lee Keun-Ho shoots from range and Akinfeev, who has been threatening a handling error all evening, fails to parry the ball sufficiently and the ball goes over him and into the net. The South Koreans are delirious while Akinfeev is disconsolate.

Goal: Russia 0-1 South Korea (Lee Keun-Ho)

00:19: A goalkeeping error waiting to happen in this game you feel as Jung Sung-ryong spills a shot from range from Glushakov.

00:16: Allan Dzagoev on for Russia. Could go one of two ways this for Russia, given the turbulent last two years since we saw the attacking midfielder last in a major tournament.

00:14: Akinfeev is having more problems with his handling and he drops KIm Young-gwon's free-kick and is fortunate to get away with it with Korea players looking to pounce on the re-bound.

00:09: Better from South Korea too as Akinfeev makes a hash of two long-range shots, the second coming from Koo. Corner now for the Koreans but Lee's header is high and over.

00:03: Russia onto the front foot immediately and Faizulin's shot is turned over by Jung. The resulting corner see Berezoutski head into the side-netting. Much better already from Capello's men.

00:01: Second half under way in Cuiaba. Stay with me.

23:49: If the officials have any sense they'll send both sets of players and all the supporters home at half time. It's been a shocker from both Russia and South Korea. Ignashevitch's free-kick from 35 yards and two efforts from Son Heung-min which have flown over have been the moments which have illuminated an otherwise horrid game in which both teams really need to win. Could do better, is my sweeping analysis.

Half time: Russia 0-0 South Korea
23:39: Korea finally go long and amid some Russian surprise they almost force the opening. Park knocks it down to Son, but he lashes the ball over the bar. Horrible effort from 18 yards but the cloest we've come in truth.

23:34: Game has come to life all of a sudden and Korea go within inches of taking the lead as Koo's shot is defelcted agonisingly behind for a corner. Akinfeev had no idea where the ball was heading.

23:32: Closest we've come to a goal. Ignashevitch lines up an ambitions looking free-kick from 35 yards and he drills is firm and low, forcing Jung to push the ball away. Fortunate the rebound didn't fall Kokorin's way is the South Korea goalkeeper.

23:21: Forgive the lack of updates from Cuiaba, it's not exactly an incident-shrewn opening to the game. Russia are playing the ball around the Korea box without offering any end product, while Korea's own build up play is nervy and poderous; they look better on the break in fairness.

23:11: It's been all about Son Heung-min in these opening minutes for South Korea and the Leverkusen man almost gives his side the lead. He is fed the ball from a lovely Park lay-off and runs towards the heart of the Russia defence. The back parts and Son takes aim, but shoots hoplessly over.

23:09: Little to report from the opening 10 minutes. Already apparant how intent Korea will be to play the ball on the floor, refusing to toss the ball forward over knee height. Ki is already pulled the the strings, while Lee almost plays in Park but the ball goes behind.

23:03: The Russian FA says 20,000 supporters have travelled to Brazil to watch their team. Not sure how many of them have turned out for this game however and we'll likely have to wait for a moment in the final third to learn of their vocal capacity if nothing else. What sort of game can we expect here then? Well with Belgium expected to sweep aside all comers, this might be a nervy sort of match with the onus on patient build-up and steel in midfield. Has a drawn written all over.

23:00: Under way in Cuiaba.

22:55: Teams are out and the anthems are blaring in Cuiaba. Kick off just moments away.
22:48: The vastly experienced Fabio Capello knows all about slaloming a World Cup group, but you fancy the pressure isn't quite the same compared with what was presented when he was manager of England in 2010. After impressing in qualifying, Capello's men floudered in South Africa, winning just one of their four games and then falling to a shocking 4-1 defeat to Germany. Naturally, Russia are preparing for the 2018 World Cup but with an ageing squad he faces an uphill task to rebuild his reputation at international level this time around.

22:40: How might both teams set up in Cuiaba? Russia like to leave Glushakov as the holding player and flood the attacking third, with Zhirkov, Shatov and Samedov supporting leading forward Kokorin, whohas been preared to Kerzhakov tonight. The Koreans meanwhile will go with a more trendy 4-2-3-1, with Lee Chuny-yong and Son Heung-min flanking former Arsenal forward Park Chu-young.

22:33: South Korea limped through qualifying and finished below Iran in their group. Their first team is littered with English-based players and they play an attractive passing game however a genuine presence up front means their ambitions must again be low. They are looking tio progress to the last 16 for the third time in four final's appearances, so they clearly have pedigree while manager Hong Myung-bo was the captain of the Korea team which finished fourth on home soil in 2002.

22:27: With many of the squad that reach the Euro 2008 semi-finals under Guss Hiddink having either aged signficantly or moved on, the experienced coach Fabio Capello is the greatest asset to the side in the World Cup. Many of the Russians' star turns are in the tender years of their career and they lack a genuine individual threat. Granted, they qualified impressively, but it is no given they can progress.

22:23: So lets turn our attention to the final game of the day. Russia take on South Korea in what could feasibly be billed as a straight shoot-out for the remaining qualifying spot from Group H. Russia qualified directly for the final's ahead of Portugal while South Korea limped through Asia qualifying. Both sides have endured problems in their lead up to the tournament and had Group H not been so short of quality, these teams might be cannon fodder.

22:16: Teams:

Russia: Akinfeev, Ignashevich,Glushakov, Kokorin Berezutskiy, Shatov,Zhirkov, Samedov, Fayzulin Eshchenko,Kombarov

South Korea: S R Jung, S Y Yun, Y G Kim, H M Son, C Y Park, Y Lee, J C Koo, K Y Han, S Y Ki, C Y Lee, J H Hong

22:05: So there we go, the hosts stumble as Mexico's dream of reaching the quarter final contiues to live on. But we must leave Fortzleza and focus on our final game of day six between the only two teams not to appear in Brazil so far, Russia and South Korea. Both teams are looking to progress potentially alongside Belgium, who won earlier today. Teams and preview on the way.

21:53: Frustration for Brazil as they draw 0-0 with Mexico. Neymar and co. denied by the stubborn Olympic gold medalists in Fortakleza and problems for Luiz Felipe Scolari. Mexico on the brink of the last 16 for a sixth successive year after a very well drilled and organised performance.

Full time: Brazil 0-0 Mexico
21:48: Jimenez tests Cesar with a superb volley and the rebound almost falls to Hernandez in the box. Brazil living dangerously in stoppage time.

21:47: Guardado almost wins it for Mexico with a curling effort which lands on the roof of the net. Three added minutes in Forteleza.

21:46: Brazil want a penalty but nothing doing from referee Cüneyt Çakir who waves away appeals as Marcelo throws himself to the floor despite being clean through on the left. Pathetic dive.

21:44: Thiago Silva could have won it for Brazil. A free-kick from the right comes into the PSG centre-back and his powerful header is somehow kept out by a reaction stop from Ochoa, who has been the difference in this game.

21:42: Oscar off and Willian on for Brazil as Dos Santos is replaced by Jimenez for Mexico. Neither team seemingly happy with the point here, they want all three.

21:39: Brazil are being run ragged by the pace of Mexico's substitutes, Hernandez and Fabian and Thiago Silva is forced to foul the former when they're caught short at the back. The resulting free-kick from Dos Santos hits the wall and Brazil break but Jo can't get onto Oscar's pass. Less than 10 minutes left.

21:32: Having said that about Mexico, Javier Hernandez has just replace Oribe Peralta so no sign of sitting back for Miguel Herrera's team. Would estimate that the Manchester United man is better than any option available to opposite number Scolari.

21:29: Much better from Brazil now, who have upped the tempo in and around the Mexico area. There comes a time in this second half where Mexico begin to settle for a point, that might just let the hosts in. Until then, Brazil's invention must improve.

21:26: Right on cue, Fred is replaced by Jo - the Brazil striker formerly of Manchester City. Chance for Brazil at last as Bernard crosses towards the back post when Neymar takes it down and forces Ochoa into another decent save at his near post.

21:23: Is there a worse forward leading the line for their country than Fred? He really lacks the ability to spearhead the attack of a side of Brazil's ambitions. He has produced nothing in these opening two games, bar a dive to win a penalty against Croatia. Scolari could do without him.

21:19: Brazil have shown nothing in this second half and Mexico produce another effort from outside the box, Guardado this time fails to hit the target and the hosts look out of sorts and in need of some inspiration. In their win over Croatia it came via a referee mistake, lets not remember.

21:15: Not seen much of Giovanni dos Santos but he turns and sees his a deflected shot saves by Cesar. The shots continue to reign down on the Brazil goal and Herrera is the latest to try and it flashes over.

21:12: Mexico are building in confidence here and Moreno's goalbound shot is deflected over the bar. The corner comes to nothing but as Brazil's nerves grow without an opening goal, the opportunties will surely present themselves to the Mexicans. Now Vazquez has another go from range and it flies just over with Cesar scrambling across his goal.

21:06: Bernard straight into the action. Dani Alves finds him over the top but his cross can't find Neymar and Aguilar heads the ball behind. Great football all around.

21:02: Players out for the second half. Bernard on for Ramires. We're back under way.

20:50: Goalless at half time in Fortaleza and Brazil have been frustrated by Mexico for long periods here. Chances are at a premium, with Ochoa saving from Neymar and Paulinho but there is little else of note from this Brazil performance. Mexico have disrupted the hosts but haven't offered much themselves bar long-range efforts from Herrera and Vazquez. The Confederations Cup meeting between these two was nervy and this game is going the same way.

Half time: Brazil 0-0 Mexico
20:45: Big chance for Brazil and again Ochoa comes to Mexico's rescue. Neymar's free-kick comes in from deep and after it hits Thiago Silva, Paulinho reacts first, poking the ball goalwards but Ochoa spreads himself and makes the save.

20:42: Mexico's efforts from range continue and this one nearly put them ahead. The ball is teed up for Vazquez, who shapes the ball with the outside of his foot and it bouncesd beyond Julio Cesar, but wide.

20:38: Mexico having rare forays into the Brazil half. Layun, who looked good against Cameroon in the first game, shoots goalwards but the ball flies over. Have done well to keep it tight but Miguel Herrera will be concerned by his side's lack of attacking threat.

20:36: First chance in a while for Brazil. Corner from the right from Neymar picks out Fred, whose looping header is saved easily by Ochoa.

20:31: Jonathan Peace is off again on goal-line technology as we see a graphic replay of how close Neymar's header was to giving Brazil the lead. Not sure he really understands.

20:27: Brazil react in the only way they know how and almost take the lead. Dani Alves crosses from the right and Neymar rises highest and powers a header towards the corner where Ochoa makes a stunning save to keep it out. Best chance so far.

20:25: Suddenly a glimmer from Mexico and their goalscorer against Cameroon, Peralta. The forward ducks and dives challenges from Marcelo and Alves but loses the ball. Now an effort from Herrera which produces a stunning save from Cesar. No corner awarded but a moment of danger nonetheless.

20:20: Luis Gustavo slices the ball horribly wide after a shot from all of 30 yards as Brazil continue to build. Fred now tries a delicate header to play in Ramires but is again offside. Good start from the hosts, but by no means perfect.

20:15: Bit scrappy, but against Brazil threaten down the left as Marcelo crosses but it only hits Fred and goes behind. Mexico have barely had a kick in the early stages.

20:12: Better from Brazil. Oscar, who has popped up on the left in the early stages, beats Aguilar and crosses for Fred, who only finds the side-netting. The offside flag is waved but an opening nonetheless for Brazil.

20:10: Not exactly a whirlwind start from Brazil but they've dominated possession for most of the frist 10 minutes. One or two loose passes from both sides, while Mexico have been forced into several desperate challenges.

20:02: Both Neymar and Dani Alves have bleached their hair for this second group match. Few naughty tackles from Mexico early on, with Neymar the victim of this latest challenge. The referee Cüneyt Çakir gives both teams an early talking to before play resumes.

20:00: We're under way in Fortaleza. Some noise meets the start of this mamouth game.

19:58: Those emotional scenes surrounding the Brazil national anthem last summer, are repeated in Fortaleza. Neymar in tears as the crowd led anthem reverberates around the ground. There is some atmosphere inside the Estadio Castelao where as well as being full of Brazil fans, it includes 10,000 travelling Mexican supporters.

19:53: Both teams on their way in Fortaleza.

19:49: Mexico only beat Cameroon 1-0, but they had two goals wrongly dissallowed for offside in the first half and missed a host of other opportunities. This will be no walkover for Brazil, who have lost six times to Mexico in the 21st century. But as every during this tournament, Brazil expects.

19:46: So what of Mexico? They are craving passage to the quarter final of this World Cup having being knocked out in the round of 16 in their last five appearances in the competitions. What might halt those ambitions is a group of players who might even struggle to emerge from the group. A struggle in qualifying for the final's has been preceeded by a difficult build-up and after seeing Croatia impress against Brazil, they will fear a group stage exit.

19:35: It would be an understatement to suggest that the Brazilian public didn't recieve the win over Croatia will must gusto, but their return to Fortaleza evokes memories of last summer's game against mexico on the same ground. The trend of the Brazilian team and supporters singing the national anthem after the music has finished began against the same opposition, in the same city during the Confederations Cup. It was the game in which so much changed and this time around, an impressive performance could convince many that the hosts are indeed the favourites by right for this World Cup.

19:19: These sides are playing their second group matches and picked up contrasting wins in their opening games. Brazil went behind before eventually beating Croatia in the first match of the tournament, with Neymar scoring twice, while Mexico dominated Cameroon as Oribe Peralta's goal gave them a winning start to the campaign. This is a repeat of the Olympia gold medal final at London 2012 and yet you fancy this game has substancially more importance.

19:13: So lets have a look at these two sides. Brazil make one change from the win over Croatia as Ramires replaces the injured Hulk. Mexico are unchanged from the 1-0 victory over Cameroon with Javier Hernandez again left out.

19:08: Teams:

Brazil: Julio Cesar, Dani Alves, Silva (c), David Luiz, Marcelo, Paulinho, Fred, Neymar, Oscar, Ramires, Gustavo

Mexico: Ochoa, Rodriguez, Marquez (c), Herrera, Layun, Dos Santos, Moreno, Guardado, Peralta, Aguilar, Vazquez

19:03: As Belgium win their first game of the tournament, it is already time to turn to Brazil and Mexico's second game of these finals. Both were victorious in their opening games but who will previal in Fortaleza? Team news and build-up on the way.

18:52: Substitute pair Marouane Fellaini and Dries Mertens give Belgium a winning start after a far from convincing display against Algeria. The African side had the lead at half-time through Sofiane Feghouli's penalty as Marc Wilmots' side toiled. But Fellaini's header five minutes after coming on and Mertens' smashing finish gives the World Cup dark horses the three points. You fancy their performances will have to improve dramatically if they're to do justice to their tag coming into the tournament.

Full time: Belgium 2-1 Algeria
18:47: Three minutes added on in Belo Horizonte. Algeria don't look like getting back into this.

18:40: Belgium almost put the icing on the cake as Mertens' cross finds Fellaini, whose header is superbly turned over by M'Bohli. That pair have turned this game on its head for Wilmots' side, whose substitues decisions will be the toast of the Belgium support.

18:38: Right, well I've been made to look a fool as Belgium complete their turnaround with 10 minutes left. Algeria are caught with too many players forward and Belgium have three on two and Hazard plays the reverse ball to Dries Mertens, who hammers the ball past M'Bolhi.

Goal: Belgium 2-1 Algeria (Dries Mertens)

18:34: Plenty of discussion over how the big name players have come to the party in this World Cup, but there has been nothing to shout about Eden Hazard's performance today. The Chelsea man has shown very little and has just misplaced a pass out of play which sends Belgium back into their own half. Very poor.

18:30: Van Buyten tries to repeat the trick from a corner but heads miles over as Belgium go in search of a winner. Algeria look s bit spent and would very much settle for a point at this stage.

18:28: Five minutes after coming on, Marouane Fellaini heads Belgium level to end his run of miserable form. Kevin de Bruyne's cross is curling in from the left and Fellaini's flicks the ball in off the crossbar. Just under 20 minutes left to find a winner.

Goal: Belgium 1-1 Algeria (Marouane Fellaini)

18:24: First genuine chance or Belgium. Substitute Origi gets through but M'Bolhi makes a smart stop. Now Fellaini heads woefully off target. Algeria have defended so well for three quarters of this game but can they weather the inevitable late storm?

18:21: This is a masterful rearguard from Algeria, who are pilling players behind the ball as we enter the final half an hour. Marouane Fellaini is the final change for Marc Wilmots. A more direct approach is on the way you fancy as Moussa Dembele goes off.

18:14: Algeria threaten a second as Medjani flicks on at the near post from a corner and Soudani can't get a foot on it to direct it in. Belgium living dangously while they continue to toil at the other end. Second change for them as Divock Origi replaces Romelu Lukaku. That change says plenty about the Chelsea striker's performance this afternoon.

18:06: M'Bolhi wasn't really called upon in the first half and maybe that has led to a loss of concentration. The Algerian stopper comes for a corner, gets nowhere near it, and the ball hits Witsel and sails over. Big let off.

18:03: Second half under way in Belo Horizonte. One change for Belgium, with Dries Mertens on for Nacer Chadli.

17:59: If a country are billed as a dark horse, are still allowed to be surprised by their failure to meet expectations? This for many of the Belgian team is their first major international tournament appearance so should be totally surprised by a first half performance which stuttered slightly? Algeria certainly look the more accomplished of the two sides and are closing on in their first World Cup win for 32 years.

17:48: Few shocks bigger in this World Cup if Algeria pull this one off. The African nation lead through Feghouli's penalty following Jan Vertonghen's foul, an incident which has defined Belgium's lacklustre performance which has lacked penetration throughout. Much work for Marc Wilmots to do at the break.

Half time: Belgium 0-1 Algeria
17:44: Best chance for Belgium comes after 44 minutes. Hazard escapes and feeds Chadli who can't get the ball from under his feet, and M'Bolhi makes an easy near-post save. Now Hazard crosses from the left and Lukaku can't quite latch onto it. At last Belgium come alive.

17:40: Chance for Jan Vertoghen to make amends for conceeding that early penalty as he is teed up by Kevin de Bruyne from a Belgian penalty 25 yards out. The Tottenham defender blasts the ball over the bar however.

17:35: When the game started, you could have been forgiven for thinking Algeria had begun with a one-goal lead, with 11 men behind the ball from the outset. Shots from range or set-pieces seem like Belgium's only route to getting out of a hole here and Witsel tries from range again, and is denied by M'Bolhi.

17:27: Must be said, that is some top refereeing from Marco Rodriguez to award that penalty. Too many officials shy away from off-the-ball incidents during play but he was right on the spot there and punished Vertonghen's clear pull back. Algeria have looked very solid and conceeding the first goal could be fatal for Belgium.

17:25: Stone wall penalty as Vertonghen pulls back Sofiane Feghouli, and the Valencia man steps up and sends Thibaut Courtois the wrong way to put Algeria in front. Bad news for Belgium, who have looked hopelessly pedestrian.

Goal: Belgium 0-1 Algeria (Sofiane Feghouli)

Penalty to Algeria
17:21: At last some encouragement for Belgium. Witsel is released 25 yards out from goal and his driven shot is beaten away to where it came from M'Bolhi.

17:19: First chance of the game and it comes for Algeria. Van Buyten is caught and Mahrez breaks in behind in the left-hand channel but he slashes his shot well wide. it's been a turgid start in Belo Horinzonte.

17:15: Algeria are deploying 10 men behind the ball from the outset here and it'a contributing to a very slow start to the game, with not much space for Belgium to operate. People criticised the Iran-Nigeria game yesterday, but this game is going the same way if the opeing 15 minutes are anything to go by.

17:07: Sections of both Belgium and Algeria supporters but it must be said there are signficant swathes of yellow in Belo Horizonte. Algeria have had much of the play so far while not showing much intent in attack. Belgium looking nervy early on.

17:00: Under way in Belo Horizonte.

16:54: Worth mentioning that much of Algeria's squad hail from France and are former French youth internationals, which while that dramatically detaches the squad from the public, it has improved their competitiveness. Both teams are out in belo Horizonte and the anthems are under way.

16:46: Belgium have been billed as the perenial dark horses of this World Cup such is the talent contained within their young crop of players, many of whom are based in the Premier League. The spine of the team, Thibaut Courtois, Vincent Kompany, Axel Witsel and Kevin de Bruyne are among the finest players in their position in Europe and around them are a stellar supporting cast including Eden Hazard, though the Chelsea man is yet to repeat his club form for his country. Unbeaten in qualifying and in 2014, Belgium play their first World Cup fixture for 12 years this afternoon, and with such a squad at their disposal, pressure could be their only obstacle should Algeria pose any kind of resistance.

16:40: ITV are doing their best to convince us that a game isn't taking plae this afternoon, cutting to some Brazilian musicians before another update on England's preparations ahead of their second group game against Uruguay. Gary Neville is being questioned once again on the Wayne Rooney debate. Two more days of this people, until he is inevitably selected in behind Damiel Sturridge.

16:30: So how might both teams line up this afternoon for our first game of the day? Well Belgium, depending on how you look at it, set up in a 4-3-3 or 4-1-4-1, with Toby Alderweireld and Jan Vertonghen at right and left back respectively while Axel Witzel will be at the base of the midfield. In the absence of Christian Benteke, Romelu Lukaku leading the line ahead of a fluid attack quartet spearheaded by Eden Hazard.

As you might expect, Algeria depend on defensive resilience and start with three holding players in Bentaleb, Taider and Medjani while the attack will be led by Valencia forward Feghouli and El Arabi Soudani. Though they held England four years ago, their World Cup goal-drought is an indication of their approach. Survival, might be the name of the game.
16:10: Belgium manager Marc Wilmots has sprung a surprise for Belgium's return to the World Cup after 12 years away, starting with 36-year old defender Daniel Van Buyten ahead of Arsenal captain Thomas Vermaelen. Elsewhere, Nacer Chadli starts instead of Dries Mertens while Romele Lukaku is fit to start up front.
For Algeria, former Portsmouth midfielder Hassan Yebda misses out with an ankle injury but Valencia's Sofiane Feghouli and Tottenham Hotapur youngster Nabil Bentaleb both start in midfield. Vahid Halilhodžić's side must score within 36 minutes this afternoon to prevent setting a World Cup record for time without a goal.

16:05: Teams:

Belgium: Courtois; Alderweireld, Van Buyten, Kompany, Vertonghen; Witsel, Dembele, De Bruyne; Hazard, Chadli, Lukaku

Algeria: Mbolhi, Bougherra, Ghoulam, Halliche, Feghouli, Medjani, Bentaleb, Soudani, Taider, Mahrez, Mostefa

16:00: We reach day six of the World Cup and already we're into the second phase of the group stage of the competition. As Belgium, Algeria, Russia and South Korea begin their campaigns, we see the return of hosts Brazil, who face fellow opening game winners Mexico in Fortaleza. Group H also begins, with the heavily favoured Belgians facing Algeria while Fabio Capello's Russia take on South Korea, who are looking to reach the last 16 for the third time in four final's appearances. Tasty, I am sure you'll agree.