Full time: Colombia 2-1 Ivory Coast
Full time: Uruguay 2-1 England
Full time: Japan 0-0 Greece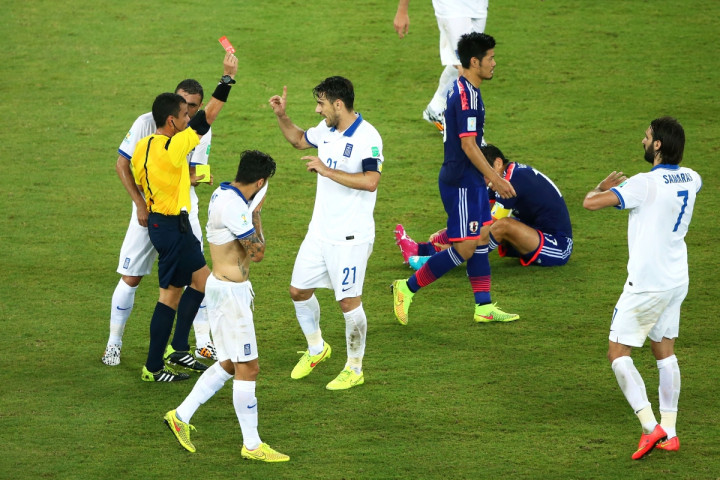 00:56: A desperate game in Natal comes to an end and leave neither side particularly happy. Japan and Greece will have to win their final group games against Colombia, who have now qualified, and Ivory Coast - who themselves will likely only need a draw.
Well that brings an end to our coverage of day eight of the World Cup. We have three more games tomorrow, including Italy v Costa Rica, a now critical game regarding England's future in the competition. Until then, goodbye.

Full time: Japan 0-0 Greece
00:48: Holebas tests Kawashima from a tight angle as Greek try to break out but they almost get caught, before a Torosidis handball gives away a free-kick in a dangrous position. Endo's strike forces Karnezis into another save. Four minutes added on.

00:44: Desperate stuff from Japan as they continue to press. Nagatomo's shot come cross his Uchida but flies over as oppose to into the back of the net. This has been a typical Greece performance, and they will now fancy grabbing that second place going into the final day of Group C, if they can hold on.

00:40: Less than 10 minutes left in Natal. A genuine contender for worst game of the tournament this. Japan really need a goal and they are throwing players forward at will in search of that winner. Samaras heads wide from a rare Greece chance at the other end.

00:37: The efforts are reigning down on the Greece goal now and they're in survival mode it has to be said. Okubo shoots from 25 yards and Karnezis parries. The 2004 European champions are running down the clock at every opportunity and there would be some lengthy time added on at the end of the game as a result.

00:30: The Greeks contribute to their own problems as Gekas fails to clear from his own six yard line and Uchida running in almost opens the scoring, but drives wide.

00:27: What a chance for Japan! Kagawa plays a perfect ball over the top, Uchida crosses across the face of goal, putting the ball on a plate for Okubo, who blazes the ball over the top. Greece look very solid and with the final quarter approaching, you wonder how many more yards this Japan team have in them.

00:18: Greece force three successive corners and from the third they almost grab the lead. Gekas leads back and heads towards the corner, only to see Kawashima claw away the effort with a last-ditch save.

00:16: Japan struggling to break through and just 11 minutes into the second half they call for Manchester United's Shinji Kagawa. More than creative power on the pitch now you would think but Greece remain firm.

00:10: The experienced Endo is on in the second half and the record Japan appearance maker almost creates the opening from a free-kick, which just evades Honda.

00:04: Players out for the second half in Natal and we're back under way. Straight from the kick-off Georgios Samaras hits from the half-way line and is goes just wide. Great imagination.

23:50: Well after the pain of England's defeat, that was hardly a first half full of action. Japan have controlled the game but face an uphill task breaking down a Greece side which are down to ten men after the dismissal of captain Konstantinos Katsouranis and the loss of striker Kostas Mitroglou through injury. Both teams really need to win this one, but you'd be forgiven for thinking otherwise.

Half time: Japan 0-0 Greece
23:41: Greece down to ten but they force the best chance of the game as Torosidis cuts inside and lashes goalwards, forcing Kawashima into turning the effort behind.

23:40: Well Japan are on top and now they hae a numerical advantage as Greece are reduced to ten men. Okubo gets away in the defensive third and Katsouranis makes a last ditch tackle, gets none of the ball and referee Joel Aguilar shows a red card.

Red card: Konstantinos Katsouranis (Greece)

23:35: Japan continue to press and another half chance comes their way. Nagatomo crosses well from the left and Okubo heads over. Problem for Greece meanwhile, as Mitroglou has taken a blog to the hip and is being replaced by Theofanis Gekas. His injury-striken 2014 continues.

23:29: Keisuke Honda takes aim with a free-kick in the left hand channel of the penalty area. His curling effort is just kept out by Karnezis, who palms the ball out with a nervy stop.

23:23: Again Osako ends a flowing Japan passing move and his foray towards goal seeing him curl the ball just wide of Karnezis' goal. Now Torosidis heads the ball away from Osako's path. Japan pretty dominant now.

23:20: Japan starting to penaltrate with their patient passing game. Ball is laid off to Osako, and he curls the ball towards the far corner but Karnezis keeps it out.

23:12: Chance for Greece. Kone gets ahead of Honda and there is a three on three momentarily. He drives towards goal and Kawashima makes a decent save. Japan have started with plenty of possession though but will be keen to get this game won early, having faded badly late on against Ivory Coast.

23:03: Greece haven't scored in six of their last seven World Cup matches so it is vital they don't conceed the first goal. Yamaguchi looks to do just that inside the first two minutes, but his shot is blocked on the edge of the box.

23:00: Right, wipe away those tears. The World Cup is about much more than how England do. We're under way in Natal.

22:53: Teams are out in Natal, where again there is rain. Anthems on the way.

22:51: Back to England, plenty of the questions are being asked of the passion and desire of manager Roy Hodgson and his players. No mention of quality, interestingly.

22:42: These two teams lost their opening games in contrast fashion last Saturday. Japan led at half time against Ivory Coast before two late goals consigned them to defeat while Greece were swept aside by Colombia. Defeat tonight leaves both needing favours going into their final game.

22:34: Japan have paired both Yoshito Okubo and Yuya Osako in attack, with Shinji Kagawa left out from the start. Yaushito Endo remains on the bench.
Jose Holebas' place was under pressure after the loss to Colombia but he remains but Kontas Mitroglou is recalled to the first team to partner Georgios Samaras up front.

22:27: Teams:

Japan: Kawashima, Uchida, Yoshida, Konno, Nagatomo, Hasebe, Yamaguchi, Okazaki, Honda, Okubo, Osako

Greece: Karnezis, Torosidis, Papastathopoulos, Manolas, Holebas, Maniatis, Katsouranis, Kone, Fetfatzidis, Mitroglou, Samaras

22:20: While the analysis continues, we have to turn our attention to the final game of the day, from Group C where Japan and Greece square off, knowing the loser will almost certainly make an early exit from the World Cup. Team news and inevitably more England reaction, on the way.

22:16: So here is the maths. If Italy beat Costa Rica tomorrow, England will remain in the tournament going into their final game. Should the Italians then beat Uruguay and England overcome Costa Rica, Hodgson's team would more or less qualify for the last 16. It's not over.

England manager Roy Hodgson on ITV: "We're more than disappointed, we believed could do enough today. Having worked hard to counter that first goal to get back to 1-1 I thought we would go on to win the game or at least draw the game. It is a unbelievable blow."

22:00: Lets not forget England created several very good chances throughout the 90 minutes, and if Italy do Roy Hodgson's men a favour tomorrow, they can still be hopeful of reaching the last 16. For now, the post-mortom has truly begun.

21:54: England are on the brink of exiting the World Cup at the group stage for the first time for over half a century after two Luis Suarez goals help Uruguay defeat Roy Hodgson's men in Sao Paulo. A draw between Italy and Costa Rica tomorrow, or a win for Costa Rica, will see England out of Brazil with a game still to play. England need Italy to win their final two games to stand any chance of remaining in the tournament.

Full time: Uruguay 2-1 England

21:49: Steven Gerrard takes aim from 25 yards but it goes harmlessly wide. Uruguay have two more minutes in which to hold out.

21:46: Five added minutes in Sao Paulo. England need a goal.

21:45: Gerrard tries to give England a lfieline but his free kick is cleared and Sturridge's ball back in is claimed by Muslera. Suarez is finally off for Uruguay, the damage already done.

21:42: What world class players can give you. Uruguay are never out of it and Luis Suarez smashes a second in to put England in trouble again. Steven Gerrard beats Cavani to a header from a goal-kick but the ball runs through Cahill and Jagielka and Suarez draws Hart and smashes into the back of th net. Rickie Lambert coming on for England.

Goal: Uruguay 2-1 England (Luis Suarez)

21:38: Uruguay haven't given up taking all three points and Suarez almost finds Cavani in the box but England put it behind for a corner.

21:35: Only one winner from here you feel and England are ticker are going level. Baines finds Sturridge who takes to touch to control and the second to curl towards the corner which Muslera saves.

21:33: Classic break from England gives them an equaliser with 15 minutes left. Sturridge works an opening down the right and feeds Glen Johnson who does brilliantly, comes inside two Uruguay defenders and finds Rooney in the six-yard box and he places beyond Muslera. His 40th international goal, and his first in the World Cup.

Goal: Uruguay 1-1 England (Wayne Rooney)

21:30: Can understand both England changed, with space likely to be at a premium for the remainder of this second half. Daniel Sturridge continues to pull wide onto this right handside and he has a shot off the flank which s weak and is easily saved by Muslera.

21:27: Another change for England. Adam Lallana on for Danny Welbeck. England need a goal sharpish.

21:24: Change for Uruguay as Nicolas Lodeiro comes off and is replaced by Cristian Stuani. Yellow card for Steven Gerrard, who lunges in on Cristian Rodrgiuez.

21:21: Barkley on and Sterling off for England. Meanwhile, Daniel Sturridge gets away down the left, but his cross is straight to Muslera. Less than half an hour remaining to keep their World Cup hopes in their own hands.

21:19: Ross Barkley coming on for England as Jordan Henderson shoots goalwards but is denied by an easy save from Muslera. Some concern over Alvaro Pereira, who got an accidental knee in the face as Sterling tried to jump over him and looks to have momentarily gone out cold. He is back to his feet and wants to continue. Strictly speaking, he should be coming off but the Uruguay backroom staff have alowed him to remain on.

21:13: On reflection, that is some save from Muslera, diving to his left to deny Rooney his first World Cup goal. Some encouragement for England in this second half but you still feel a change is required to help regain some control.

21:11: After soaking up so much pressure, England should be on the scoresheet. Baines' cross comes through to Rooney who takes one touch to control and second to plant towards goal but Muslera keeps it out. Somehow.

21:08: England pushing out and Rios' ball almost catches them out and is comes through to Suarez who from the edge of the area drags his effort hopelessly wide. Gonzalez now plays Cavani in, but he misses the target from point-blank range. England hanging on.

21:06: Luis Suarez almost catches out Joe Hart from a corner once again, curling it towards goal and forcing the City stopper to beat the ball clear into danger, where England somehow survive. Gerrard now blocks from Gonzalez's goalbound shot.

21:03: No changes at the break. Uruguay begins the secoond half where they left off in the first, with Suarez drifting a cross in towards striker-partner Cavani but Cahill heads the ball away.

21:01: England are 45 minutes away from all-but exiting the World Cup. Defeat tonight and a draw between Italy and Costa Rica tomorrow will see Roy Hodgson's side out of the tournament. Teams out for the second half and we're back under way.

20:55: Former England manager Glenn Hoddle believes Wayne Rooney is playing too central. After a week of debate that he should be playing in the middle, now he's not moving enough. I am not sure the United striker can do much more.

20:48: Luis Suarez's 40th international goal, a month on from knee surgery that looked set to rule him out of the World Cup, has Uruguay ahead over an England team heading for the ext door in Brazil. Wayne Rooney has hit the bar with a header but for all their dominance, they have lacked the killer edge which Suarez produced when he knocked home Edinson Cavani's inch perfect cross. Plenty of life in this game, but England are running out of time.

Half time: Uruguay 1-0 England

20:42: England look to bite back immediately and Sturridge forces Muslera to beat away his near post effort. Sterling now gets away on the right but his cross is headed behind by Gonzalez.

20:40: Guess who? Luis Suarez gives Uruguay the lead with a tidy header from eight yards. Lodeiro feeds Cavani as Engand get caught ahead of the ball. Cavani is allowed onto his right foot and floats an inch-perfect cross in towards Suarez who turns and heads the ball beyond Joe Hart. A potentially killer goal for England's World Cup hopes.

Goal: Uruguay 1-0 England (Luis Suarez)

20:37: Less than 10 minutes remaining of a first half which has flown by. Daniel Sturridge turns and blazes over from 30 yards. Game has swung this way and that throughout but whoo will have the accendency comes the break?

20:32: England should be ahead. Steve Gerrard floats a free-kick to the back post where Wayne Rooney has gambled, but he heads onto the crossbar from two yards out. A tough header, but the Manchester United man will be disappointed not to have scored.

20:30: Diego Godin is a lucky, lucky boy. Already booked for dilberate handball early in the game, he fouls Daniel Sturridge off the ball on the right hand side. Referee Carlos Velasco Carballo issues no further punishment to the Atletico Madrid defender however.

20:27: Sterling gives away a soft free-kick wide on the left and Suarez swings it in by Joe Hart claims it with ease. Uruguay certainly having the better moments with the ball and Cahill has to take extreme action, clearing as Cavani looked to steal in. From the corner, the PSG striker comes to the edge of the box, but strikes over.

20:24: Uruguay are pressing high up the pitch and leaving England with little option but to throw the ball forward and then feed off scraps in the final third. Raheem Sterling has been caught trying to beat too many players in the middle of the pitch too, which is a dangerous ploy. Otherwise, a tight game.

20:16: Some dodgy England defending almost lets Uruguay in. Jagielka pokes at a Lodeiro cross and when Cavani lays it off, Rodriguez lashes a shot goalwards but just over Joe Hart's goal.

20:14: Both teams enjoying bits of possession in the early moments here, in an attempt to play their way into the game. Phil Jagielka almost gives the ball away to Suarez before nervously clearing. Neither side will concerned by their start.

20:10: Free-kick for England in a dangerous postion as Godin is booked for a handball after blocking a Sturridge flick. Wayne Rooney over it and it curls just wide with Muslera rooted to the spot. Inces away from giving England the lead.

20:05: For what it is worth, Luis Suarez looks very sharp in these opening minutes. he wins a corner as Joe Hart fumbles a deflected Suarez cross behind. The corner from Suarez forces Hart to beat the ball out at the near post and England survive.

20:02: Around 8,000 England fans have travelled to Sao Paulo for this game. Big noise inside the Arena de Sao Paulo at kick-off. Uruguay look they've gone with two up front from the start, with three across the midfield.

20:00: Anthems over with and we're under way in Sao Paulo.

19:52: Teams in the tunnel in Sao Paulo. Almost ready to go.

19:50: There is so much at stake tonight in Sao Paulo, you wonder how attacking both teams can avoid to be from the getgo. Defeat for either will effectively end their time in Brazil ahead of their final group matches. Having said that, this tournament has been bereft of tight, tense matches and attack seems to be the best form of defence at this World Cup.

19:42: Both teams will line up in a 4-2-3-1 formation this evening and could that lead to a more cagey game than many have predicted. Uruguay have made five alterations of course, which means their performance is somewhat unpredictable. Cristian Rodriguez, Luis Suarez and Nicolas Lodeiro will operate behind lead striker Edinson Cavani.
England have Jordan Henderson and Steven Gerrard at the base of the midfield, with Raheem Sterling to the right and Danny Welbeck on the left of a central Wayne Rooney.

19:30: The build-up to this game has surrounded two pivotal figures. Luis Suarez comes into this game having not played since mid-May but has declaired himself 100% for the game having undergone knee surgery a month ago. His fitness will be vital to Uruguay's chances, not least England's, in Sao Paulo.
For England, Wayne Rooney is very much his equal. His fitness and role for England has been heavily screwtinised in the days leading up to this game and you fancy unless he plays a signficant role in victory, he will at the centre of even more discussion. Many are awaiting a major tournament performance from him, as well as a first World Cup goal, but questions remain.

19:18: Ahead of kick-off, watch IBTimes UK's video preview of Uruguay v England.

19:13: After promising that he is 100% fit, Luis Suarez as expected starts in the Uruguay attack in one of five changes from the shocking defeat to Costa Rica. Alvaro Pereira, Jose Maria Gimenez, Nicolas Lodeiro and Alvaro Gonzalez also come in.

England stick with the same team which started the defeat to Italy, with one alteration in system as Wayne Rooney moves back to a central role behind Daniel Sturridge. Alex Oxlade-Chamberlain does't make the bench despite upping his return from knee ligament damage.
19:08: Teams:

Uruguay: Muslera, Godin, Pereira, Rodriguez, Suarez, Gimenez, Lodeiro, Arevalo, Gonzalez, Cavani, Caceres

England: Hart, Johnson, Jagielka, Cahill, Baines, Gerrard, Henderson, Welbeck, Sterling, Rooney, Sturridge

19:03: So one tasty game out of the way. What's next? Oh yes, just the small matter of Uruguay v England. Strap in then.

18:57: Colombia are on the brink of the last 16 of the World Cup for the first time in their history after a 2-1 win over Ivory Coast. Goals from James Rodriguez and Juan Quintero, before Gervinho's consolation, set up the victory for Colombia whose passage from Group C looks all but secure.

Full time: Colombia 2-1 Ivory Coast
18:53: Colombia making this last few minutes as difficult for themselves as possible. Yepes misses a through ball a Drogba is almost onto it but Ospina comes out and clears the danger. Will there be one last chance?

18:51: Free-kick for Ivory Coast in a dangerous position but Colombia survive as Toure's effort is overhit. Cuadrado is now down injured, which forces Ivory Coast to cut short their attack. Four added minutes in Brasilia meanwhile.

18:46: Colombia guilty of throwing too many players forward and Ivory Coast break. Gervinho finds Kalou, but his effort is weak and Ospina makes an easy save.

18:43: Ivory Coast really pushing for an equaliser here and they almost get it as Zuniga heads the ball away from Drogba's path. Around seven minutes left to force something.

18:35: Remember that lad from Arsenal, Gervinho who left the club last summer? He's just scored a stunner. Gervinho comes in off the left wing, beats three players before powering a shot beyond Ospina at the near post. Great goal to thrust the Africans back into the game.

Goal: Colombia 2-1 Ivory Coast (Gervinho)

18:32: Colombia break from an Ivory Coast corner and they put the game out of sight with 20 minutes left. Rodriguez plays through substitute Quintero, who slides the ball under Barry. The Colombians look set for the last 16 of the World Cup for the first time in their history.

Goal: Colombia 2-0 Ivory Coast (Juan Quintero)

18:29: Chance for Ivory Coast to hit back straight away as Drogba wins a free-kick 25 yards out. Yaya Toure takes it and it strikes the middle of the wall. Aurier's cross is beaten behind by Ospina. The subsequent corner comes through to Toure, whose effort from inside the bos is dragged wide.

18:26: The breakthrough comes after 64 minutes in Brasilia and it's the pin-up boy James Rodriguez who gets it. A corner from the left is in towards the near post and he heads powerfully towards goal and Barry can only parry the ball into the roof of the net. Super header.

Goal: Colombia 1-0 Ivory Coast (James Rodriguez)

18:21: Having said that, Colombia go within inches of taking the lead. Cuadrado's shot from a tight angle is turned onto the post by Barry, a save which is a bit of a flap rather than a genuine save. Change for Ivory Coast, which sees Bony replaced by Didier Drogba.

18:19: Ivory Coast becoming more of a force in this game and they almost go ahead as Armero chests the ball back towards his own goal and Gradel steels in before Yepes makes a last ditch challenge. The slick Colombia we saw in the first game are no more it seems.

18:18: Probably Ivory Coast's best chance of the game. Toure plays a delicious ball in behind Zuniga and Wilfried Bony peels away and attempts an acrobatic effort but is unable to make contact. Would have been some goal that had it gone in.

18:14: Yaya Toure's performance in this World Cup has been of one who dragged his side to the league title last season almost single handedly. Would be fair to say that the City man looks jaded and as a result a shade of the player who dominated in the Premier League last season and he curls a free-kick well wide from a promising position to sum up his performance.

18:12: Second half has begun must like the first did, with both teams keen to attack. Toure feeds the ball through to Gervinho but the Roma man goes to ground without any touch and the ball roles out of play. Cuadrado now crosses at the other end but Gutierrez can't get anything on it.

18:06: Players out for the second half in Brasilia and we're back under way. Both teams would probably take a draw at this stage and leave securing qualification to their final game.

17:50: A half of two halves in Brasilia. Colombia started well and should have put themselves ahead through Teo Gutierrez but Ivory Coast grew into the game and despite Yaya Toure's inconsistent display, the Africans look well set.

Half time: Colombia 0-0 Ivory Coast
17:47: Gervinho slaloms through the Colombia defence but decides against shooting the South American's clear the danger.

17:44: Horrible cross from Max Gradel from the right which goes miles out of play. This game has slipped into a really affair. Colombia have looked the better, but barely. Half time can't come soon enough.

17:41: BREAKING: Luis Suarez starts for Uruguay against England.

17:40: Nice patient build-up play from Ivory Coast ends with Die's effort being deflected behind and Colombia clear from the eventual corner and counter but Bamba smahes the ball out under the attention of Gutierrez

17:36: Yaya Toure limping following a storming run which was halted by Sanchez in the Colombia half. Looks like damaged pride, rather than an injury however after the Manchester City man was muscled off the ball.

17:31: Colombia should be ahead following another sweeping counter-attack. Rodgriez crosses from the left and Gutierrez makes a hash of the finish, slicing his effort from seven yards horribly wide.

17:28: Slight lull in the game as Cheick Tiote shoots over from 25 yards. After a fast start, both set of players struggling to make much of an impact in the attacking third.

17:20: Cuadrado's pace is casuing plenty of problems for the Ivory Coast and is cross is cleared over his own crossbar by Boka. Colombia are leaving three players forwards consistently and it's giving them an out ball as soon as they win possession off the Ivory Coast.

17:14: Entertaining start in Brasilia. Ibardo's cross can't quiet find Rodrgiuz in the six yard box before an Ivory Coast counter attack led by Gervinho enhds with a blocked header from Tiote.

17:10: First chance for Colombia. Lovely long raking pass from Rodriguez and when Cuadrado's lay-off finds Gutierrez the scorer from the opening game against Greece drags his shot wide. Ivory Coast have had must of the posession so far, but just a glimmer of what the South American side can produce.

17:03: Under way in Brasilia. Just mention for today's referee who is Howard Webb from Rotherham. He officiated the final in 2010 you'll remember.

17:01: Wow, two very emotional renditions of the national anthems. Colombia are essentially playing at home in Brasilia here and plenty of noise accompanies their anthem, before Ivory Coast midfielder Serey Die is seen weeping uncontrollably upon hearing his nation's anthem.

16:57: Teams on their way in Brasilia at the Estadio Nacional. Thousands of Colombian fans in attendance and according to BBC as many as 50,000 have travelled for the game. Outstanding support.

16:52: No doubt that despite the scoring form of Wilfried Bony, the omission of Didier Drogba will again not go down well in the Ivory Coast. For so long the talisman of their golden generation, the 36 year old is now no long the go to man. His introduction did inspire Ivory Coast's comeback against Japan, but his influence is not longer as signficant and it's time for Yaya Toure to step up and lead this team into the last 16.

16:42: Naturally, there is plenty of attention on england just hours before their second group game. All the pre-match talk has surrounded two men; Luis Suarez and Wayne Rooney. Both are expected to start, in their favoured roles but their influence in Sao Paulo is of much debate. How fit is Suarez? Is Rooney in form? Thank goodness, from 8pm tonight those questions will be answered. The pre-match build-up has been unbearable if you ask me.

16:30: Team news wise, Colombia are unchanged from the 3-0 win over Greece, with Jackson Martinez again sitting out while Ivory Coast make one alteration but not to recall captain Didier Drogba, but instead replace Salomon Kalou with Max Gradel. This game is a bit of a free pass for both sides so hopefully they'll throw everything at each other this afternoon.

16:21: So lets have a look at these two teams ahead of their second group game. Colombia swept aside Greece in their opening match and though they were without Radamel Falcao they possess a plethora of attacking players at their disposal, with James Rodriguez the real star of this ultra-attacking sie. Ivory Coast meanwhile stumbled to victory over Japan with two second half goals inspired by Didier Drogba's introduction. They are seeking to reach the last 16 for the first time in their history, having fallen at the first hurdle in 2006 and 2010. A win from one of their final two group games will probably do it.

16:12: Teams:

Colombia: Ospina, Zapata, Yepes, Sanchez, Armero, Aguilar, Gutierrez, Rodriguez, Cuadrado, Ibarbo, Zuniga

Ivory Coast: Barry, Boka, Zokora, Tiote, Gervinho, Bony, Gradel, Aurier, Y Toure, Serey, Bamba

16:08: You would be forgiven for thinking that Uruguay v England was the only entertainment on day eight of the World Cup, but thankfully we have two other games to take our attention away from the trials of the national team. Later we will see Japan and Greece fight for their lives in Group C after both losing their opening match, but from 5pm we have Colombia and Ivory Coast from Brasilia. Team news and preview on the way as well as plenty of England chat. Sorry.

16:00: Englsnd face a do or die moment in their World Cup ambitions in Brazil. Roy Hodgson's men face Uruguay tonight knowing defeat will all but end their interest in the summer finals, while a draw will likely leave us all guessing ahead of the final group game against against Costa Rica. Victory meanwhile could open the door to the last 16 and spark renewed optimism over the young breed of players emerging in the national game. They don't come much bigger.

James Rodriguez
Alvaro Gonzalez