Premier League Scores and Updates As They Happened: Manchester United 1-1 Chelsea, Tottenham 1-2 Newcastle, Burnley 1-3 Everton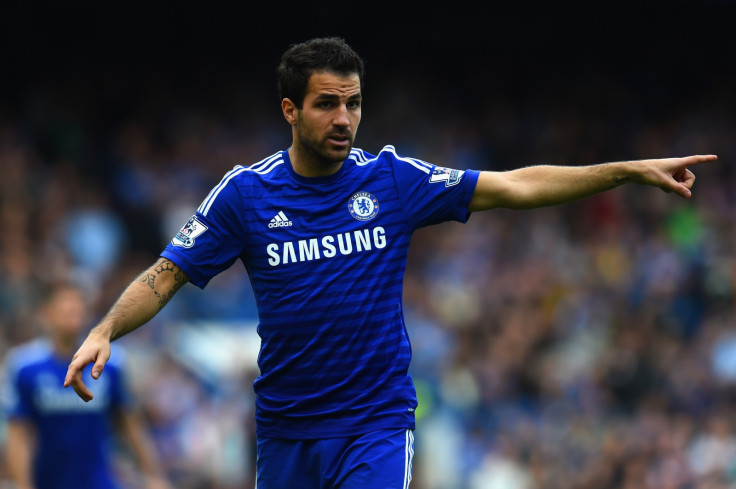 Tottenham 1-2 Newcastle FT
Burnley 1-3 Everton FT
Manchester United 1-1 Chelsea LIVE
5:54pm: And that's a wrap. What a game! Not the Chelsea thrashing we were expecting, United held on and thanks to a late red card for Ivanovic Van Persie took advantage of the change in momentum and equalised. Thanks for joining us tonight.
5:53pm: GOAL! Robin van Persie gets one in the net and United are level with Chelsea! Courtois saves Fellaini's shot from Di Maria's free kick but not the rebound - that red card looks like it was the game changer!
5:52pm: RED CARD: Ivanovic receives a red card as he accumilates a second yellow. Just 60 seconds left!
5:50pm: Andre Schurrle is on for Hazard as four minutes are added to the clock.
5:48pm: Hazard goes in the book for a niggly foul. Chelsea looking comfortable still.
5:46pm: In the final five minutes now, and United will need to step up the pressure if they hope to trouble Chelsea here.
5:43pm: Manchester United have seen more of their net than Chelsea's with 16 shots on goal compared to 9. But Van Persie has made the difference so far, though both his best chances were saved by Courtois. Can he find his spark in the final 10 minutes?
5:36pm: In the first half Manchester United surprised by not only keeping up with Chelsea but looking dangerous themselves. Now it's playing out in a much more predictable way as the Blues look in a different league to the hosts. Willian and Ivanovic both have chances and it would appear Chelsea aren't done scoring yet.
5:27pm: James Wilson comes on for Juan Mata, who was good today but not the best he's ever been. Meanwhile Jon Obi Mikel comes on for Chelsea in place of Oscar - time to park the bus it seems.
5:24pm: And another booking for Ivanovic after he brings down Di Maria. Chelsea are still dominating and looking more likely to take the points from this one.
5:21pm: Oscar gets a yellow card for a collison with Smalling.
5:15pm: Chelsea are looking on top now while United are scrambling to get back on the front foot. It was an important goal and could have gone either way. Now Chelsea are in the advantage will they move to protect it or increase it?
5:12pm: GOAL! Chelsea are up 1-0 thanks to the legendary Didier Drogba's header. Robin van Persie gets a touch on it but can't keep it out.
5:09pm: Mata is working a treat against Cesc Fabregas right now and the Chelsea man goes in the book for a tackle against him on the edge of the box.
5:04pm: And we're back! Chelsea gets us underway.
4:42pm: And that's a wrap on the first half.
4:38pm: De Gea makes a massive save with his legs as Didier Droga drives the ball towards the net. Not long left, the scoreboard says 0-0 but it's been a game full of excitement so far.
4:36pm: Ivanovic calls for a penalty after looking like he was held by Smalling during a set piece, but it's waved away.
4:35pm: Manchester United look on top at the moment but that's a dangerous thing to say when you're playing Chelsea. Van Persie's shot, which was saved by Courtois, has been the best chance this half.
4:28pm: Van Persie is denied again by the keeper and the shots on target are favouring United right now with three to Chelsea's zero.
4:23pm: Big chance for Robin van Persie but Courtois is swift off his line and makes the save.
4:22pm: Drogba goes in the book for halting a counter attack by Manchester United's Juan Mata.
4:18pm: The game is starting to settle down a little bit and United's defence has done better than many were predicting so far. Neither goalkeeper has had to work too hard just yet though.
4:11pm: Manchester United and Chelsea are both going for it, and it's made for an entertaining start to the match at least. Di Maria is building up his shots on goal and Rafael receives a yellow for a foul on Hazard.
4:07pm: Big start for both sides as Oscar, Van Persie and Di Maria all go close. Well, in the case of Di Maria that's a bit of a lie - the ball goes sky high over the bar.
4:03pm: Chelsea looking in control at the moment as they win corner after corner.
4:00pm: And we're off!
3:55pm: The teams come out of the tunnel to a huge roar and it's just minutes to go now.
3:46pm: Lots of talk about Louis van Gaal and Jose Mourinho's friendship as the two hug before the game starts. Both are certainly competitive though and it will be interesting to see how their rivalry forms in the coming years (if both are around at these teams that long?).
3:43pm: Just over 15 minutes until kick off and Manchester United are certainly the underdogs against a rampant Chelsea despite the game taking place at Old Trafford. With no Radamel Falcao or Diego Costa, both sides have mixed up their attacking line-ups, while United's defensive woes continue with Phil Jones out injured.
3:24pm: And that's a wrap at White Hart Lane as well as Newcastle get their second win in a row and first away win since March. The fans aren't happy as Tottenham head for the tunnel and with good reason; from the first half, they looked runaway winners but their second half performance let them down.
3:23pm: Everton and Tottenham both come close to scoring but it's all over at Turf Moor as the Toffees finish with a 3-1 win over Burnley.
3:19pm: We're into extra time now and White Hart Lane is where the action will likely be as they look for at least an equaliser.
3:13pm: GOAL! Samuel Eto'o scores for Everton and it all looks to be over at Burnley, who have been second best today. His shot looks to have come from outside the boz and has just the right curl to elude all defenders and the keeper and find the back of the net.
3:12pm: Tottenham make a late change with Soldado coming on for Adebayor - can the Spaniard find a last minute spark?
3:11pm: Burnley are not giving Everton much to worry about as the visitors continue to control possession. It's hard to see this score turning around - maybe extra time will pick the side up?
3:06pm: Haidara comes on for Perez for Newcastle, while Lennon comes on for Lamela for Tottenham. We're going into the last 10 minutes in the early afternoon fixtures...
3:03pm: Everton look on top at Burnley, and at Tottenham the hosts are pushing hard for a goal with Christian Eriksen and Eric Dier both clocking shots on the board. Newcastle are holding strong though.
2:58pm: So close for Tottenham but the linesman's flag is up - the ball was out of play before hitting Tim Krul and going into the net.
2:57pm: Some team news from Old Trafford. The Manchester United starting line-up will consist of the following:
De Gea, Rafael, Smalling, Rojo, Shaw, Blind, Fellaini, Mata, Januzaj, Di Maria, Van Persie
For Chelsea, Didier Drogba will start in Diego Costa's absence.
Courtois, Ivanovic, Cahill, Terry, Felipe Luis, Fabregas, Matic, Willian, Oscar, Hazard, Drogba
2:55pm: And for Tottenham, Harry Kane is on for Capoue. Can changing it up change a Spurs side that looks entirely different from the first half?
2:53pm: Ross Barkley is on for Romelu Lukaku for Everton, with the striker having an up and down day today.
2:48pm: It's looking a very different game now at White Hart Lane with Spurs still sleeping from half time while Newcastle take advantage. Over at Burnley, Everton are seeing most of hte ball but the hosts have had 11 shots on goal to their oppositions' 8.
2:46pm: GOAL! Newcastle are in the advantage as Ayoze Perez helps them take a 2-1 lead over Tottenham.
2:36pm: Alan Pardew will be relieved with that one. Meanwhile at Old Trafford there's some big team news with Diego Costa apparently not arriving with the Chelsea side.
2:33pm: GOAL! That was damn quick from Newcastle, who after a disastrous first half are now level thanks to Sammy Ameobi. Spurs let the side in with a chance and Hugo Lloris clearly wasn't ready for Ameobi to pick up Jack Colback's ball and shoot on target.
2:33pm: And we are off again!
2:18pm: And Burnley v Everton have joined the other fixture for half time too. Stay tuned for an exciting second half - can Newcastle turn it around? They've got a lot more work to do than Burnley, who are looking dangerous even though they're behind.
2:17pm: And that's a wrap on the first half of Tottenham v Newcastle.
2:14pm: Eto'o goes down, and has a free kick turned down by the ref, but he looks to have a lasting problem as he speaks with the physio. Just minutes left in the first half.
2:12pm: Newcastle have a chance! But Jack Colback's shot hits Moussa Sissoko and misses as a result. Meanwhile Everton hit the woodwork through Naismith as they push to take the scoreline to 3-1.
2:09pm: Interesting stat from Squawka here:
Romelu Lukaku has now scored 36 goals in the Premier League since 2012/13. Only Suarez (54), Van Persie (40) and Aguero (38) have more.

2:05pm: No shots on target yet for Newcastle and the side don't look a great chance of scoring, with Tottenham boasting 75% possession.
1:59pm: GOAL! Romelu Lukaku makes up for his earlier mistake by putting Everton ahead.
1:57pm: Burnley have had one shot on target along with Everton but the side have had six shots in total compared to the Toffees' two. Could they be in for a home win today? It would pull them out of the relegation zone if so.
1:53pm: GOAL! It's game on at Burnley with the side equalising through Danny Ings, who along with Lukas Jutkiewicz takes advantage of Romelu Lukaku's terrible mistake and gets the ball into the net.
1:50pm: Chadli and Eriksen had shots blocked before Adebayor got the ball into the net, and the way things are going Newcastle are going to struggle to get back into this. How long until half time?
1:49pm: GOAL! It was coming and Emmanuel Adebayor is on target with a header from close range to put Tottenham in the advantage. Assist goes to Mason for his cross, and that was as much disorganised defending from Newcastle as it was brilliance from Spurs.
1:44pm: It's still all Tottenham with Newcastle struggling to see the ball at all at the moment. Ryan Mason has a shot from outside the box but it's high and wide.
1:38pm: Tottenham have a penalty shout but it's waved away by referee Anthony Taylor as Daryl Janmaat looks to commit handball in the box.
1:35pm: Meanwhile over at White Hart Lane Tottenham have control of possession but are yet to do anything dangerous.
1:33pm: GOAL! Everton get us underway early as Samuel Eto'o scores to take the vistors up 1-0 at Burnley. With a brilliant header from the centre of the box, he makes the most of his space and Everton have been rewarded for looking on top in the opening minutes.
1:30pm: And we're off!
1:25pm: There's just minutes until kick off as the players get ready for two very important fixtures. Later on it's the match of the week with Manchester United taking on Chelsea, there will surely be some goals today!
1:20pm: Everton have also been somewhat disappointing so far this season after pushing for a top four spot last campaign. The side are known for their slow starts but will they take advantage of Burnley's inexperience in the Premier League, which sees the side in the relegation zone at present?
1:15pm: Alan Pardew is certainly under a lot of pressure with Newcastle, as the side come off one win in 10. The fans have been calling for his sacking for some time and opposition supporters have been getting in on the action too. Tottenham have just as much to prove today as they look to recover from a 4-1 thrashing at the hands of Manchester City. Both sides have been accused of playing with no heart when the chips are down: will one step up today?
1:10pm: The line-ups for Tottenham v Newcastle are as follows:
Tottenham XI: Lloris, Dier, Kaboul, Vertonghen, Rose, Capoue, Mason, Chadli, Eriksen, Lamela, Adebayor.
Newcastle XI: Krul, Janmaat, S.Taylor, Coloccini, Dummett, Sissoko, Anita, Colback, Obertan, Perez, Gouffran.
And for Burnley v Everton:
Burnley XI: Heaton, Trippier, Shackell, Duff, Ward, Kightly, Jones, Arfield, Boyd, Jutkiewicz, Ings.
Everton XI: Howard, Baines, Jagielka, Alcaraz, Coleman, Naismith, McCarthy, Barry, Osman, Eto'o, Lukaku.
1:00pm: Good afternoon and welcome to IBTimes UK's coverage of the Sunday Premier League fixtures. Two big matches are in store today with Tottenham taking on Newcastle as both sides look to turn their season around while Manchester United will be sorely tested by a rampant Chelsea later in the afternoon.
© Copyright IBTimes 2023. All rights reserved.