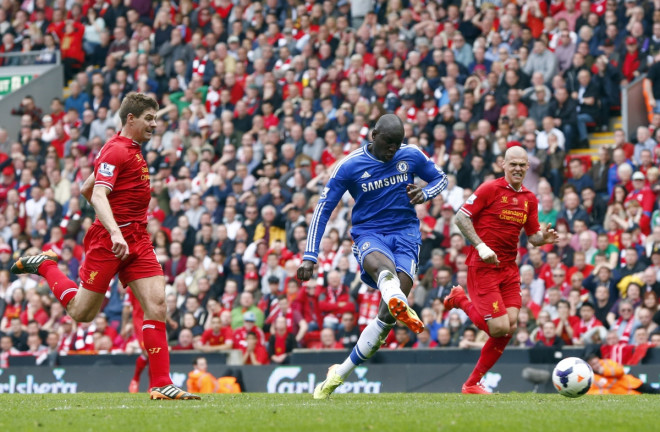 Sunderland 4-0 Cardiff FT
Liverpool 0-2 Chelsea FT
Crystal Palace 0-2 Manchester City LIVE
6:03pm: And that's a wrap! City take an important but expected win over Crystal Palace to keep them on track for the title. With three games left to play it's all in City's hands now, though they will be hoping Liverpool and Chelsea drop points in their final matches to. Thanks for joining us today!
6:00pm: A final substitution for City as Alvaro Negredo is on for Edin Dzeko.
6:00pm: According to OptaJoe,
Yaya Toure has now scored six in his last six Premier League games for Manchester City. Powerhouse.

5:59pm: 3 minutes of extra time...
5:52pm: 10 minutes to go and City continue to look in control though Vincent Kompany should receive a yellow for going through Thomas Ince, but ref rules only for a free kick.
5:48pm: Here's the goal from Yaya Toure which put City up 2-0 and effectively shut down the game today: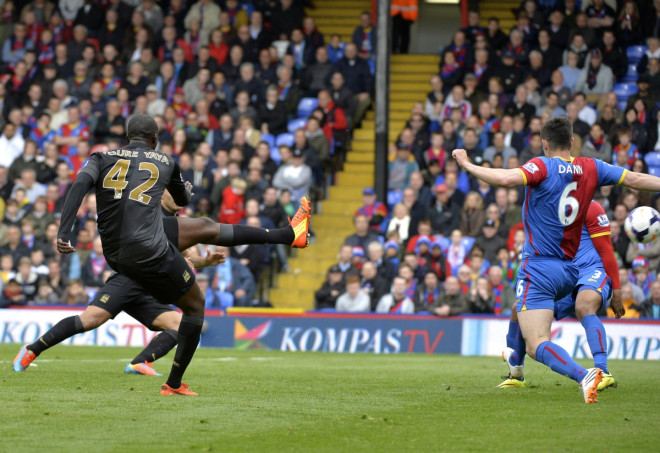 5:42pm: Joel Ward is booked by Webb for a tackle on James Milner.
5:41pm: Palace make another substitution with Tom Ince on for Bolasie. City are continuing to prove what a great counter-attacking side they are and look dangerous every time they get the ball.
5:39pm: Does Pulis have a miracle comeback in him? He makes some changes to Palace in the hopes of shaking things up. Gayle and Murray are on for Chamakh and Jerome.
5:35pm: Fernandinho is on for a brilliant Toure, with Pellegrini obviously deciding he needs a rest for the upcoming games.
5:31pm: Palace are picking up their game but not enough to have a huge impact on City - Pellegrini's men are still enjoying 58% of possession and have 11 shots on goal to the home side's two.
5:20pm: No parking the bus for Crystal Palace it seems - the side are offside though with Cameron Jerome being caught with a pass from Jason Puncheon.
5:19pm: Toure has been brilliant today after returning from the sidelines and the midfielder shuts down a chance for Palace early on. They get a corner but nothing comes of it.
5:13pm: And we're back!
4:58pm: And that's a wrap for the first half. City looking very much in control here, but can Palace turn it around in the second half?
4:56pm: 2 minutes of extra time in this half.
4:54pm: GOAL! Yaya Toure puts City in front by 2 and this is looking like it's going to be a very dominant display from the side indeed. The star completes 1-2 passing with Samir Nasri and shoots from the centre of the box to make this a nightmare day for Liverpool fans all round.
4:45pm: Pablo Zabaleta clashes with Marouane Chamakh and the City man is at fault according to the ref, and handed a yellow card.
4:43pm: Chelsea's final two fixtures are against Norwich and Cardiff, while Manchester City face Everton, Aston Villa and West Ham. Meanwhile Liverpool are up against Crystal Palace and Newcastle. One might say City have the toughest run facing fourth-place chasing Everton but with so many teams in the midst of the drop zone it could be tough for the Blues and Reds too...
4:39pm: Brendan Rodgers on his side's 2-0 loss to Chelsea earlier:
I thought my players were outstanding today. We showed everything today.

We just couldn't find the breakthrough - I think there were two buses parked today, never mind one."
4:36pm: Referee Howard Webb books Delaney for a rough challenge on Aguero as City continnue to build up their shots on goal.
4:27pm: City have had two shots at goal now and are enjoying the majority of possession. Meanwhile back at Anfield for a moment, Jose Mourinho is winding up the press once again by insisting that Liverpool or City will win the title. He's certainly a man for sticking to his word.
4:19pm: City are certainly looking the gods so far with Aguero having a shot on goal soon after the side took the advantage. The striker misses to the left and you wonder if this will simply be target practice for the title contenders as Palace scramble to get themselve organised.
4:14pm: GOAL! Hardly had time to think, and City are already in front! Edin Dzeko puts the side up 1-0 within four minutes with a header from the centre of the box.
4:10pm: And we're off!
4:05pm: Now, if you can get over that excitement, switch your attention to Crystal Palace and Manchester City where Manuel Pellegrini's men have a big chance to put a dent in Liverpool's lead. The side are currently six points behind but have two games in hand. Should they win this against 11th-placed Palace they will be within a game, with an extra game. And did I mention the 6 point goal difference? It's going to be a tough run-in for Liverpool now.
4:00pm: And that's a wrap!! Chelsea have completed what has been an absolute nightmare display for Liverpool - the first goal being caused by their captain and the second assisted by hated striker Fernando Torres. The title race is well and truly open people!!
3:58pm: GOAL! Chelsea double their lead! Willian, the man Liverpool wanted last summer, makes his former suitors suffer. And the assist will go to none other than Fernando Torres.
3:57pm: Yellow card for Ashley Cole, just a few minutes left...
3:55pm: Four minutes added time.
3:54pm: Speaking of stats, Liverpool have now had 25 shots on goal to Chelsea's 10. The ones that count though, on target, are far closer, with 7 to 3.
3:53pm: According to InfostradaSport,
Liverpool have scored in their last 25 Premier League matches since losing 2-0 at Arsenal on 2 Nov 2013.
3:51pm: Liverpool are attacking, attacking, attacking, and it seems to be a case of how long can Chelsea hold out like this now.
3:48pm: It's the sub we've all been waiting for - Ba is off for Torres. Can the former Liverpool man kill his old club's dreams once and for all?
3:47pm: Liverpool make a change with Aspas on for Flanagan. Rodgers going all-out with his attack now.
3:45pm: Here's Demba Ba outrunning Steven Gerrard after the Liverpool man tripped and allowed him a successful scoring chance: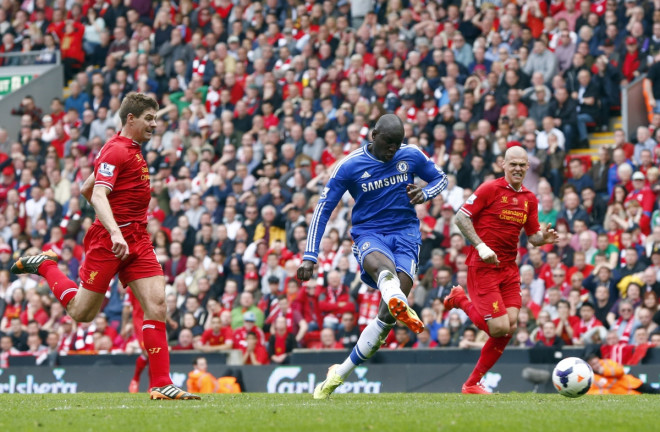 3:43pm: Chelsea make a change with Cahill coming on for Schurrle.
3:40pm: Both Andre Schurrle and Mikel are down and Atkinson orders them off the field. But they're back up and returning to play instead. Meanwhile Gerrard has had a shot but it was straight to Schwarzer - if the captain scores the equaliser that would be a dream for Liverpool fans.
3:35pm: Some end to end stuff going on here but liverpool looking less likely to break through Chelsea's defence as the clock ticks down. We're entering into the final 20 minutes and Lampard's free kick has been cleared as Liverpool are forced into their own defence.
3:30pm: Willian is making an immediate impact, assisting Ba in a shot on goal which is blocked. Andre Schurrle has also had a chance on goal for Chelsea in the last few minutes - they might be parking the bus but they're still dangerous up front, and this balance is what won them the Champions League two seasons ago.
3:27pm: Chelsea make a change with Willian on for Mohamed Salah.
3:27pm: In the first hald, while Liverpool dominated possession their shots on goal weren't much higher than Chelsea. That stat now stands at 13 to 7. A good start to the first half by the Reds.
3:25pm: Chelsea keeper Mark Schwarzer hasn't had to do too much work this game, but the stand-in for Petr Cech is called to arms as Joe Allen shoots a screamer at the net from 25 yards out. He was a signing many questioned at the time but the Australian international is certainly proving worthy right now.
3:23pm: Sturridge is on in the place of Lucas and Liverpool will go in all-guns blazing now.
3:20pm: Chelsea's game plan might have worked in the first half but with Daniel Sturridge getting ready to come on Liverpool are upping the stakes. Surely Mourinho has to adjust his game plan slightly over the next half hour to attack more?
3:18pm: Penalty appeal for Liverpool as Sertling looks to be fouled in the box by Kalas. Not given which angers the Kop immensely.
3:15pm: Team line-ups for Crystal Palace v Manchester City:
Crystal Palace XI: Speroni, Mariappa, Dann, Delaney, Ward, Jedinak, Ledley, Bolasie, Puncheon, Chamakh, Jerome
Bench: Hennessey, Gabbidon, Parr, Dikgacoi, Ince, Gayle, Murray
Manchester City XI: Hart, Zabaleta, Kompany, Demichelis, Kolarov, Milner, Garcia, Toure, Nasri, Dzeko, Aguero
Bench: Pantilimon, Lescott, Richards, Clichy, Fernandinho, Jovetic, Negredo
3:13pm: Branislav Ivanovic has been working hard today to frustrate Luis Suarez and the striker receives a free kick after being fouled thanks to a foul by the man he bit at around this time last year.
3:10pm: And we're back! Can Liverpool make up for tht costly mistake, and will Chelsea continue to defend like their life depends on it??
2:56pm: And that's a wrap for the first half. Chelsea have frustrated Liverpool and taken advantage of one mistake by captain Steven Gerrard to go up 1-0 in the first 45 minutes. Mourinho will certainly be pleased with that, Rodgers on the other hand will need a new game plan if he hopes to break through the Blues' wall.
2:53pm: GOAL! Chelsea go up 1-0 thanks to Demba Ba! A horrendous mistake from Steven Gerrard, who has otherwise been great this game, allows Ba to get one past Simon Mignolet. Just goes to show it isn't possession that counts.
2:49pm: Yellow card for Frank Lampard after a tackle on Sterling at the half way line.
2:44pm: Penalty appeal for Chelsea as Job Flanagan appeared to hit the ball with his arm. Arm was out but didn't look intentional from the replays. Salah not happy though.
2:41pm: Referee Mark Atkinson is getting increasingly frustrated with Chelsea's time wasting, adding on time continually as the side hesitate over the ball. It's certainly working quite well for them though with Liverpool also getting frustrated and not creating any real chances.
2:37pm: Liverpool have scored the most goals this season with 96, while Chelsea have conceded the least with 26, making this all the more intriguing. The Blues are certainly using their well-known park the bus strategy at the moment and it's working with the Reds having no shots on target as yet.
2:31pm: Jose Mourinho's attire today is certainly interesting. If you're going to piss a whole lot of people off today, I suppose at least you should be comfortable doing it!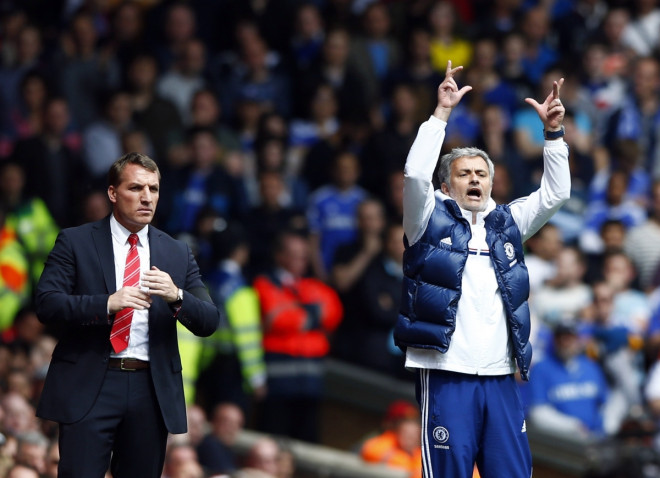 2:27pm: Yellow card for Salah after a clear foul on Sterling. Liverpool currently have 74% of possession.
2:24pm: That statistic is testament to the fact that Liverpool are very much in control of this game, though Kalas is doing well in his first full debut for Chelsea, looking every bit the defender of his experienced teammates.
2:22pm: According to Squawka,
Steven Gerrard & Joe Allen have completed more passes between them so far (21) than the entire Chelsea side (17).
2:18pm: Two shots now for Liverpool with both Philippe Coutinho and Glen Johnson having a crack but nothing on target yet. Mourinho doesn't look happy, arguing with the fourth official and wrestling with the ball as Steven Gerrard and Jon Flanagan try to take it from the line.
2:11pm: Chelsea are clearly operating under the game plan of stopping Liverpool's momentum, with the side being accused of time wasting already.
2:09pm: Chelsea off to a good start garnering a free kick out of Raheem Sterling. Much talk is about how strong Liverpool are but don't discount the Blues' experience of this kind of pressure, could come in very handy today.
2:05pm: And we're off!
2:03pm: The atmosphere at Anfield is electric - For the first time in Premier League history Liverpool could be holding the title in their hands, and today's match is pivotal in their fight for the trophy. Chelsea certainly have a tough fight ahead of them to silence the crowd, particularly with Jose Mourinho limiting his attacking options.
2:00pm: The last time these teams faced one another was at the end of last year. Chelsea came out on top 2-1. Back then Arsenal were a title contender and Liverpool were fifth - it's a very different story now.
1:56pm: Seeing how Kalas performs against Luis Suarez will certainly be interesting, and apart from the youngster it would appear that Mourinho has modelled his squad around defensive options rather than attacking ones. Liverpool have won their last 11 games on the trot and the Blues manager has made it clear this week that he prioritises the Champions League.
1:50pm: And that's a wrap for Sunderland v Cardiff with the Black Cats winning 4-0 thanks to a final goal from Connor Wickham. The side could in fact pull off a great escape from the drop which many believed was impossible at the beginning of the year.
1:39pm: Currently at the top of the table Liverpool are on 80 points while Chelsea are five behind with 75. Manchester City are third on 74 points and with three games left to play today's match-ups are crutial to all three team's title hopes. Should Liverpool win, they'll be 8 points ahead of their rivals meaning the trophy is firmly in their hands. If the Blues win, it'll be 2 points seperating them with two games left.
1:34pm: Elsewhere in the Premier League today Sunderland are beating Cardiff 3-0 as both teams fight to get out of the relegation zone. While it's good news for the Black Cats they're now equal on points with Norwich in 18th place, while Cardiff take bottom place as it stands.
1:30pm: Meanwhile Brendan Rodgers has been playing some mind games of his own, insisting this weekend that all the pressure is on Chelsea today with Liverpool never expecting to be in the fight for the title at this late stage of the season.
Everyone talks about pressure but that is Manchester City or Chelsea - when you spend that sort of money and expect to win the league," said Rodgers.

I don't think there is pressure on ourselves, only what we have from within. Look at Tottenham ... [when] you spend over £100m you'd expect to be challenging for the league.

People talk about pressure but it's absolutely wonderful.
1:25pm: Jose Mourinho has been toying with the possibility of fielding a weakened line-up all week as Chelsea prepare for a Champions League semi final match with Atletico Madrid next week. but apart from Tomas Kalas the side are looking pretty experienced, hinting that the manager has in fact been placing Rodgers in a false sense of security in the lead up to the game today.
1:20pm: Line-ups for Liverpool v Chelsea
Liverpool starting XI: Mignolet, Johnson, Flanagan, Skrtel, Sakho, Gerrard, Allen, Lucas, Coutinho, Sterling, Suarez
Subs: Jones, Toure, Agger, Cissokho, Alberto, Aspas, Sturridge
Chelsea starting XI: Schwarzer, Azpilicueta, Ivanovic, Kalas, Cole, Lampard, Mikel, Matic, Salah, Ba, Schurrle
Subs: Hilario, Ake, Cahill, Van Ginkel, Baker, Willian, Torres
1:15pm: Good afternoon and welcome to IBTimes UK's live coverage of the title defining match-ups of Liverpool v Chelsea and Crystal Palace v Manchester City. Three sides in contention for Premier League silverware and the results today will make all the difference in their pursuit of the ultimate English trophy.