Premier League As It Happened: West Ham United 2-0 Tottenham Hotspur - Newcastle United 3-0 Cardiff City - Manchester United 0-1 Sunderland - Everton 2-3 Manchester City
Full time: West Ham United 2-0 Tottenham Hotspur
Full time: Aston Villa 3-1 Hull City

Full time: Manchester United 0-1 Sunderland

Full time: Newcastle United 3-0 Cardiff City - Cardiff City relegated from the Premier League

Full time: Stoke City 4-1 Fulham - Fulham relegated from the Premier League

Full time: Swansea City 0-1 Southampton

Full time: Everton 2-3 Manchester City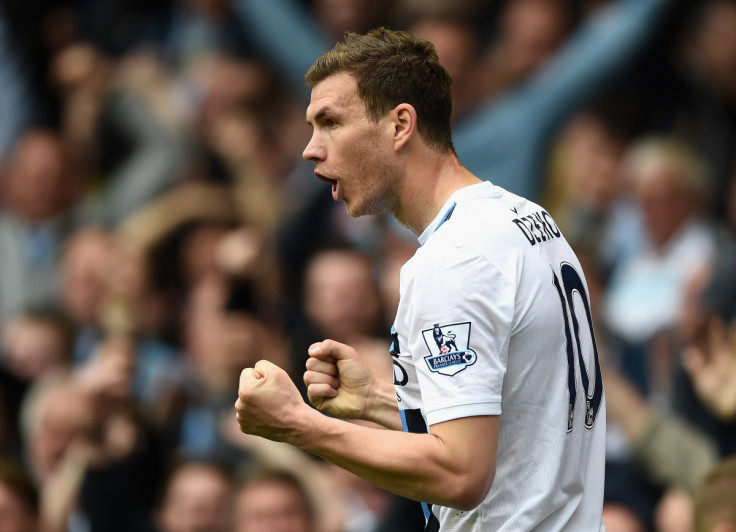 19:25: Manchester City go top of the Premier League table and are two wins away from claiming a second title in three seasons. Edin Dzeko scored either side of half-time to hold off an Everton side whose Champions League hopes are now over. Arsenal are confirmed as the fourth place finishers this season.
That's all we've got time for on this Premier League live text. We'll be back tomorrow with all the action but until then goodbye.
Full time: Everton 2-3 Manchester City

19:20: Six added minutes at Goodison Park. Everton pressing for the equaliser.
19:17: City are living dangerously here and everton almost take full advantage. Delofeu jinks in between the City defence and is denied by Hart at the near post. Two minutes plus stoppage time remaining.

19:13: Well there is a rediculous stand-off here at Goodison. The game has been stoped for four minutes to allow Dzeko is get treatment which referee Lee Probert doesn't believe he needs. The Bosnian walks off and is booked on the way. Should be some healthy stoppage time you will feel.

19:08: Everton haven't been able to force the issue since grabbing the second goal and City look solid and with Dzeko down they are looking to run down time.

19:01: Gerard Delofeu on for Everton as they push for an equaliser. First moment we've seen from City though since their third goal and Zabaleta almost puts the game to bed but Howard makes a good save with his legs.

18:56: With the match meandering along, Everton catch Manchester City cold and maybe there is life in this game? Leighton Baines delivers a delicious ball in from the left and Romelu Lukaku heads in off the post. Yaya Toure off for City now. Could Everton gatecrash their title party?

Goal: Everton 2-3 Manchester City (Romelu Lukaku)

18:51: This game already had a pedestrian feel to it and since City's third that has hardly improved things. Just under 30 minutes left and you wonder how competitive it might be.

18:38: From one crucial save from Joe Hart at one end to a third City goal at the other. Samir Nasri toys with John Stones before his centre is turned home by Dzeko.

Goal: Everton 1-3 Manchester City (Edin Dzeko)

18:36: What a save from Joe Hart! Ross Barkley drives through the heart of City back four and feeds Naismith, who shakes off Zabaleta and gets his shot away which is turned away by the England No.1.

18:34: Under way in the second half at Goodison. No changes.

18:23: Manchester City heading for the Premier League summit after stagig a first half turnaround at Goodison Park. Ross Barkley had Everton ahead but goals from Sergio Aguero and Edin Dzeko have City on course for the title. The atmosphere a normally pumping Goodison has been lacklustre to say the least, and there is more than a feeling that the Everton faithful are content with the current result. A real shame.

Half time: Everton 1-2 Manchester City

18:15: It's been a strange game at Goodison but City have completed the turnaround before half time. Milner's cross from the right is a hanging ball and Dzeko stoops and heads past Tim Howard, whose despairing dive couldn't keep the ball out.

Goal: Everton 1-2 Manchester City (Edin Dzeko)

17:59: Aguero injured himself in scoring the leveller and has now been replaced by Fernandinho. His injury problems during the second half of the season has really held by City's title hopes and they've been given another blow here.

17:54: An equaliser out of almost nothing for Manchester City and it comes from sergio Aguero once again. Yaya Toure escapes in behind the Everton midfield and when he feeds Aguero the Argentine powers on and beats Tim Howard at his near post.

Goal: Everton 1-1 Manchester City (Sergio Aguero)

17:44: The Premier League title race is blown open again. It's paitient build-up from Everton from the left but suddenly Ross Barkley curls one from fully 30 yards beyond Joe Hart. It's a stunning goal from the England international and City are shell-shocked.

Goal: Everton 1-0 Manchester City (Ross Barkley)

17:40: First opening as City look to get another fast start. Nasri's corner is met by Javi Garcia but his header is straight at Tim Howard.

17:34: So which Manchester City will turn up this afternoon? The one which played at Crystal Palace last week was of one which was ready to take their second chance in the title race with both hands. They have only won once in 22 games at Goodison and face an Everton team who have designs on fourth place.

17:31: Under way at Goodison Park.

17:26: Everton v Manchester City

Everton: Howard, Baines, Stones, Jagielka, Alcaraz, Coleman, McCarthy, Osman, Barkley, Naismith, Lukaku.

Manchester City: Hart, Zabaleta, Kompany, Demichelis, Clichy, Garcia, Yaya Toure, Milner, Nasri, Aguero, Dzeko
17:13: So six down and just one to go and it's a big one. Manchester City travel to Everton looking for just a second win 22 games at Goodison Park which will take them to the top of the Premier League. Everton are still pursuing a Champions League place but defeat today will see those hopes end. Team news on the way.

17:00: Two of the relegation places in the Premier Lesgue have been filled as Cardiff City and Fulham drop down to the Championship. Both have undergone managerial changes this season but a bottom three finish was not on the agenda this season. Norwich City could all-but join them tomorrow if they lose to Chelsea.
Full time: Aston Villa 3-1 Hull City
Full time: Swansea City 0-1 Southampton
Cardiff City and Fulham relegated from the Premier League

Full time: Manchester United 0-1 Sunderland
Full time: Newcastle United 3-0 Cardiff City

Full time: Stoke City 4-1 Fulham
Goal: Swansea City 0-1 Southampton (Rickie Lambert)

Goal: Newcastle United 3-0 Cardiff City (Steven Taylor)

16:47: Loic Remy with a simple finish as Newcastle break and Cardiff are down.

Goal: Newcastle United 2-0 Cardiff City (Loic Remy)

16:42: Sunderland hit the woodwork for a second time. Fabio Borini gets onto his left foot in the United box and leaves De Gea stranded with a curling effort which bounces off the crossbar.

Goal: Stoke City 4-1 Fulham (Jonathan Walters)

Goal: Stoke City 3-1 Fulham (Kieran Richardson)

16:35: How are Cardiff not level? Cross from the left is palmed out by Krul and Gunnarsson is denied on the line by Coloccini. previously, Krul made an incredble point-blank save from Kenwyne Jones.
Goal: Stoke City 3-0 Fulham (Oussama Assaidi)

16:30: Sunderland within inches of making it two. Giaccherini comes in on a right-wing cross and strikes the post. Connor Wickham finds the side-netting from the follow up effort.

16:22: Mannone almost drops Sunderland in it as Vidic looks to level the scores at Old Trafford. Jozy Altidore on for Connor Wickham as Robin van Persie comes on for his first appearance since March. Big test this for the Black Cats.

16:19: Despite leading Cardiff at St James', Newcastle are starting to become irrate as stewards attempt to take down banners protesting against the regieme of Alan Pardew and Mike Ashley. We're approaching the 69th minute, where fans have promised to stage a walkout.

16:15: Adnan Januzaj on for Manchester United who hold the key for both Fulham and Cardiff's Premier League's future. Both sides look like heading for defeat and need help from elsewhere. Sunderland look comfortable at Old Trafford however.

Goal: Stoke City 2-0 Fulham (Marko Arnautovic)

16:04: Former Newcastle striker Craig Bellamy on for Cardiff at St James' Park as his side look for a goal which would postpone their relegation from the Premier League. Fulham need a similar dramatic turnaround.

16:02: Under way at Old Trafford. Still waiting to restart elsewhere.

15:52: So half time in the five 3pm kick-offs and as things stand both Fulham and Cardiff City will be relegated this afternoon. Both sides are losing at Stoke City and Newcastle while Sunderland are beating Manchester United. Any change to those results could provide the lifeline.

Goal: Aston Villa 3-1 Hull City (Andreas Weimann)

15:46: Manchester United have rarely threatened against Sunderland in the first half but Mannone saves well from Juan Mata from range. Sunderland very solid since the goal.

Goal: Aston Villa 2-1 Hull City (Andreas Weimann)

15:41: So as things stand, both Cardiff City and Fulham are being relegated from the Premier League while Sunderland are taking another step towards safety. Long way to go, you fancy.

Goal: Stoke City 1-0 Fulham (Peter Odemwingie)

15:32: Sunderland's impressive form against the big clubs continues as they take the lead at Old Trafford. Connor Wickham crosses from the right and Larsson arrives on cue and volleys past De Gea.

Goal: Manchester United 0-1 Sunderland (Seb Larsson)

Goal: Aston Villa 1-1 Hull City (Jordan Bowery)

15:25: Alan Pardew wil be delighted by the start his side have made this afternoon and they should be two up. Sissoko shoots from range and upon being deflected, smashes against the post with Marshall beaten.

15:22: The home team are also on top at Old Trafford and Patrice Evra almost puts them ahead against Sunderland but Vito Mannone gets down to it.

15:19: Newcastle have dominated the early stages and they take the lead after 18 minutes. Sissoko's cross from the right has plenty of pace and Shola Ameobi ghosts in behind Caulker and heads beyond Marshall.

Goal: Newcastle united 1-0 Cardiff City (Shola Ameobi)

15:15: Not much to report the opening 13 minutes across the country. The focus at St James' Park is two-fold with Cardiff hoping to avoid relegation while there is much attention to those Newcastle fans who are planning a walkout in the 69th minute to protest against the club's current fortunes.

Goal: Aston Villa 1-0 Hull City (Ashley Westwood)

15:04: Under way in all out 3pm kick-offs. Our attention will be on Manchester United v Sunderland and Newcastle United v Cardiff City, but stay with us for all the goals as they go in.

14:55: Teams

Aston Villa v Hull City
Aston Villa: Guzan, Lowton, Vlaar, Baker, Clark, Albrighton, Westwood, Delph, Bertrand, Weimann, Agbonlahor.
Hull: Harper, Rosenior, Davies, Chester, Elmohamady, Meyler, Livermore, Huddlestone, Figueroa, Jelavic, Long.
Manchester United v Sunderland
Man Utd: De Gea, Jones, Ferdinand, Vidic, Evra, Fletcher, Carrick, Nani, Mata, Young, Hernandez.
Sunderland: Mannone, Vergini, O'Shea, Brown, Alonso, Larsson, Cattermole, Colback, Johnson, Wickham, Borini.
Newcastle United v Cardiff City
Newcastle: Krul, Debuchy, Williamson, Coloccini, Dummett, Sissoko, Anita, Tiote, Gouffran, Shola Ameobi, Remy.
Cardiff: Marshall, Da Silva, Caulker, Turner, John, Whittingham, Gunnarsson, Kim, Mutch, Zaha, Campbell.
Stoke City v Fulham
Stoke: Begovic, Cameron, Muniesa, Wilson, Pieters, Whelan, Nzonzi, Assaidi, Ireland, Arnautovic, Odemwingie.
Fulham: Stockdale, Burn, Heitinga, Hangeland, Riise, Holtby, Parker, Sidwell, Diarra, Richardson, Bent.
Swansea City v Southampton
Swansea: Vorm, Tiendalli, Amat, Williams, Ben Davies, Britton, Shelvey, de Guzman, Hernandez, Routledge, Bony.
Southampton: Boruc, Clyne, Fonte, Lovren, Shaw, Schneiderlin, Wanyama, Lallana, Cork, Steven Davis, Gallagher.
14:48: So after an early start to pre-season at Upton Park, we turn our attention to the five 3pm kick-offs in the Premier League. Fulham and Cardiff City are fighting for their lives at the bottom, with Sunderland in a position to relegate both of them if they can get something at Manchester United. Team news on the way.

14:38: So all over at Upton Park. Don't worry about tunning into the highlights of this one later tonight, it was a poor game and one typical of the final weeks of the season. The presure continues to swell on Tim Sherwood's future at Tottenham while it has somewhat eased on Sam Allardyce.

Full time: West Ham United 2-0 Tottenham Hotspur
14:34: At last some action. Danny Rose ghosts into the box and with his right food forces Adrian into the pushing the ball over the bar. We're two minutes into three added on.

14:22: Back to Upton park and this fixture continues to look more and more like an end of season game. There is a real lack of competitiveness from either side and both sides have been going through the motions somewhat.

14:12: The Championship has delivered more unpredictability at both ends. Birmingham are safe after drawing 2-2 at Bolton, sending Doncaster back to League One. In the play-off race, Brighton have grabbed sixth in the stoppage time after beating Nottingham Forest with a stoppage time goal as Reading could only draw with Burnley.

13:52: With 15 minutes of game up and down the country remaining, it's Reading heading for the play-offs and Birmingham City going down to League One. Reading are drawing 2-2 with Burnley but know should Brighton beat Nottingham Forest, they miss be dumped into seventh. Birmingham meanwhile are losing at Bolton and though Blackpool are down against Charlrton and Doncaster are losing at Leicester, Lee Clark's men are heading for the third tier.

13:49: Second half under way at Upton Park. No changes for either side. I'll update you on the Championship final day shortly too.

Half time: West Ham United 2-0 Tottenham Hotspur

13:32: Tim Sherwood said before kick-off he had selected a team who could fight themselves to a win today but after 44 minutes here they've pulled no punches and West Ham take a two-goal lead with embaressing circumstances. Stewart Downing miss-hits a free-kick and the entire Spurs wall turn their back on the ball and it goes through and past Hugo Lloris. A first West Ham goal for Downing but a shoddy way to concede from a Tottenham point of view.

Goal: West Ham United 2-0 Tottenham Hotspur (Stewart Downing)

13:14: Spurs barely have time for a reshuffle before West Ham take the lead. Corner from the right is swung into the back post and Carroll rises highest and his header is across goal and catches the top of Harry Kane and bounes beyond Lloris. An unfortunate own goal.

Goal: West Ham United 1-0 Tottenham Hotspur (Harry Kane own goal)

13:12: Referee Phil Dowd at the centre of attention as Tottenham are reduced to 10-men. Stewart Downing breaks in behind the Spurs back four and is taken down by Younes Kaboul, albeit outside the box. Dowd, after asking his assitant, dismisses the French defender. From the resulting free-kick, Hugo Lloris makes a fine save from Andy Carroll.

Red card: Younes Kaboul (Tottenham Hotspur)

13:04: Very little to report from Upton Park early on. Adrian has twice also been caught with some slack clearing of the ball but otherwise the game has failed to get off the ground, even in West Ham's ploy of feeding the ball to Andy Carroll has persisted.

12:52: More drama in the Championship where Burnely are now ahead against Reading through Danny Ings and with Nottingham Forest now leading Brighton the door is open for Blackburn to nick that sixth place. They still need a goal difference swing to make it though. At the bottom, Millwall are leading Bournemouth and as it stands are staying up.

12:47: Under way at Upton Park.

12:42: Teams on their way out at a sun-decked Upton Park. Big game for both sides even if the pair's season is essentially over.

12:37: Couple of crucial early Championship goals to update you on. Blackburn lead 2-1 at home to Wigan Athletic while Burnley have just levelled against Reading at the Madejski Stadium. Brighton currently been held by Nottingham Forest in the race for that final play-off place.

12:29: At Upton Park, we have two managers who come next season might be taking their place in a different dugout. Sam Allardyce's position have come under increasing pressure from the Hammers support after producing a season though of survival, but one which has failed to thrill the home fans. As for Tim Sherwood, his position at tottenham seems almost untenable with Frank de Boer eyeing a move to White Hart Lane.

12:15: Teams:

West Ham United: Adrian, Reid, McCartney, Nolan, Tomkins, Carroll, Taylor, Noble, Demel, Diame, Downing.

Tottenham Hotspur: Lloris, Naughton, Dawson, Kaboul, Rose, Lennon, Paulinho, Sigurdsson, Eriksen, Adebayor, Kane
12:11: Away from the Premier League, it's the final day of the Football League and while matters at the top are al but sorted, several teams are fighting for their lives at the bottom. We'll be focusing on the drama in the Championship where Reading, Brighton and Hove Albion and Blackburn Rovers are looking to secure the final play-off place while Blackpool, Millwall, Doncaster Rovers and Birmingham City are hoping to avoid relegation. We'll have updates through the 12:15pm kick-offs.

12:00: After 36 weeks of jostling, the penultimate weekend of the Premier League season could be the most pivotal of them all. At the top, Manchester City can leap-frog Liverpool with a win at Merseyside rivals Everton while at the bottom, both Fulham and Cardiff could be relegated if they lose and Sunderland can get something at Manchester United. it could be a real nail-bitter.

© Copyright IBTimes 2023. All rights reserved.