Tottenham Hotspur 1-5 Manchester City
Chelsea 0-0 West Ham United
Aston Villa 4-3 West Brom
Sunderland 1-0 Stoke City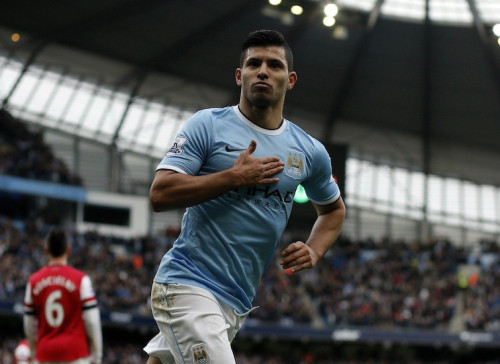 21:43: And it's all over. City are now on 68 goals in the Premier League this season and have thoroughly blitzed Tottenham at White Hart Lane. The home side were on the receiving end of one or two unjust decisions as Michael Dawson saw a goal chalked off and Danny Rose was shown a red card, but City's relentless hunger for goals saw them dismantle Tim Sherwood's side with relative ease to send them top of the Premier League.
Elsewhere, a resolute West Ham held Chelsea to a 0-0 draw at Stamford Bridge, claiming a point that would have been enough to lift them out of the bottom three, had Adam Johnson's sixth Premier League goal of the season not handed a Sunderland an invaluable three points that sends them 17th.
It was raining goals at Villa Park in the first half as a Midlands Derby between Villa and West Brom in a game that three each before half time before Christian Benteke's second half penalty gave Paul Lambert's side the win.
FULL TIME
Chelsea 0-0 West Ham
Aston Villa 4-3 West Brom
Tottenham 1-5 Manchester City
Sunderland 1-0 Stoke City
21:35: Spurs are pleading for the final whistle in extra time but City nearly open them up again through Zabeleta and Navas combining effortlessly down the right, but Dzeko handles it in the six yard area.
21:33: Now it's five. Vincent Kompany is the quickest to react in the six yard area to poke home his third of the season.
Goal! Tottenham 1-5 Manchester City (Vincent Kompany, 88)
21:30: Just as City look to be lazily seeing this game out they click into action and nearly make it five. Dzeko sends Navas clear down the right and the Spaniard's ball falls to Kolarov who fires just wide.
21:27: Jovetic is too busy reliving his first Premier League goal in his head to run onto an excellent ball from Dzeko down the right, before the Bosnian shanks his sixth or seventh effort of the night horribly wide. Lewis Holtby is on for Spurs in what could very well be his final appearance for the club. What a way to go out
21:24: At Stamford Bridge Antonio Nocerino has come on for Kevin Nolan for his West Ham debut.
21:22: Stevan Jovetic has now got in on to act. Fernandinho slides a ball into box from the left that is collected by substitute Jovetic. He checks onto his right side and looks to curl one into the bottom corner but the ball takes a huge deflection en route to nestling in the back of the net. With a goal controversially ruled offside, a very harsh red card and now this, Tottenham have not had the rub of the green this evening, but City have been wonderful.
Goal! Tottenham 1-4 Manchester City (Stevan Jovetic, 77)
21:19: It is resembling a training match at times at White Hart Lane with City making excellent use of their man advantage, but look as menacing as ever going forward. Hart is called into action for the first time in a while as he confidently punches away an in-swinging Spurs free kick.
21:17: It's still goal-less at Stamford Bridge and Chelsea will be kicking themselves if they fail to capitalise on Arsenal's slip-up last night. Eden Hazard has endured a surprisingly quiet evening, but fires a vicious effort on goal from 20 yards out that flashes past Adrian's left hand post.
21:14: It's a testament to Tim Sherwood that Tottenham didn't crumble after going three goals down, they have still shown intention to at least try and forge openings that might kick this game into life again. It is going to be very difficult though with ten men against a City side who have been so dominant in possession and could have added to their lead since the third.
21:11: Another excellent spell of incisive passing from City frees Clichy down the left who squares the ball for Dzeko in the centre, but he widly hacks the ball over danger. Although excellent in the build up, the Bosnian has been fairly awful in front of goal tonight.
21:08: Diego Lugano pulls down Benteke in the box and the big Belgian calmly steps up to restore Villa's lead. About time, too, we have been absolutely starved of goals in this half, a whole 19 minutes wait.
Goal! Aston Villa 4-3 West Brom (Christian Benteke)
PENALTY - Aston Villa
21:06: The red card decision that has been lost amongst this flurry of goals at White Hart Lane had Spurs players fuming, and rightfully so. Dzeko looked favourite to score but Rose had made up some excellent ground to slide in from the side – not behind – to hook the ball away. Harsh decision.
21:04: That goal has restored a bit of faith around White Hart Lane, is this a comeback or consolation?
21:02: Spurs pull one back! Capoue gets a second bite of the cherry after missing his first effort after Eriksen delivered a corner into the box. He connects with the second and despite Fernandinho's efforts to punch of the ball off the line, it's in.
Goal! Tottenham 1-3 Manchester City (Etienne Capoue, 58)
20:57: Game over at White Hart Lane. Still reeling from the shock of going down to ten men Edin Dzeko makes it three and it's a beautiful team goal from the visitors. Navas and Zabaleta combine on the right before a cross is rolled across for Silva. The Spaniard drops a shoulder and moves the ball onto his left but his wicked shot draws another stunning save from Lloris. Unfortunately, it rebounds to Dzeko who side foots into the roof of the net.
Goal! Tottenham 0-3 Manchester City (Edin Dzeko, 53)
20:55: Toure confidently slots the ball passed Lloris and you can't help but think this game is over now with Spurs down to 10 men.
Goal! Tottenham 0-2 Manchester City (Yaya Toure, 50)
20:53: Oh dear, moments after mouting a dangerous looking attack at the other end, Tottenham are caught on the counter and Rose dives into challenge inside the six yard box. Ref points to the spot and Rose is shown a straight red.
RED CARD - Danny Rose (Tottenham)
PENALTY - Manchester City
20:51: Etienne Capoue has come on or Mousa Dembele - who suffered an ankle injury - and is lucky to avoid a booking moments later, clumsily clamping on David Silva.
20:48: And we are back underway at White Hart Lane and elsewhere across the country.
20:43: Meanwhile it's all kicking off at Villa Park. After West Brom took a 2-0 lead within nine minutes Aston Villa clawed their way back into the contest to bring things level before Fabian Delph gave his side the lead with a wonderful effort from 20 yards out. There was still time for Youssef Mulumbu to restore parity however, leaving us poised for an exhilarating second half of the Midlands Derby.
Adam Johnson's sixth goal of the season gave Sunderland a well-deserved lead at the Stadium of Light while Chelsea have predicably dominated the first half against West Ham, but have been kept at bay thanks to some resolute Hammers defending and some excellent saves from Adrian.
20:40: Wednesday evening's aren't all bad. Manchester City got off to a blistering start at White Hart Lane as Sergio Aguero gave his side the lead after 15 minutes. The league leaders (as it stands, that is) should have added a few more as they peppered Hugo Lloris's net, one of which drew a magnificent goal from the Frenchman.
Tottenham controversially had a goal chalked off after Michael Dawson clipped in a free kick from Christian Eriksen, but it was the only real chance Sherwood's side mustered all evening. The half ended on a sour note for City as Aguero pulled up holding the back of his hamstring before being taken off for Stevan Jovetic.
20:36: Half time. Quiet evening so far.
HALF TIME
Chelsea 0-0 West Ham
Aston Villa 3-3 West Brom
Sunderland 1-0 Stoke
Tottenham 0-1 Manchester City
20:34: In case you have forgotten, there's a game at Stamford Bridge this evening. Adrian keeps West Ham in it, getting down quickly to keep out a John Terry header. Minutes later Oscar can't get a shot off for once but the ball falls to Eto'o who draws another excellent save out of the Spanish shot stopper.
HALF TIME: Tottenham 0-1 Manchester City
20:32: Oh this is just getting silly at Villa Park. Six before half time as Mulumbu equalises for Pepe Mel's side. Morrison and Anichibe work the ball well to find Mulumbu who skips past his man to fire into the back of the net. This football business is all rather boring, isn't it?
20:31: Aguero off for Man City with a hamstring problem. Stevan Jovetic is on to replace him.
Goal! Aston Villa 3-3 West Brom (Mulumbu)
20:29: Aguero is down injured and it doesn't look good.
20:27: It's getting a little bit heated at the Lane. Dawson smashes into Aguero with his arm but replays suggest it was completely accidental. Adebayor looks to stamp down on Demichels after being clattered by the Argentine, but it's the defender who gets a yellow and a gashed knee for his trouble. Aguero gets his name in the referee's book moments later for protesting too much.
20:25: Tottenham may have a right to be a bit miffed after seeing a goal chalked off. Adebayor, who was in an offisde position leapt to connect with Eriksen's wicked free kick but it passed the Togolese before being knocked in by Dawson.
20:23: Delph makes up for his earlier own goal to give Villa the lead after being 2-0 down! And it's a brilliant effort from the midfielder, cutting inside past Stephen Reid before firing a vicious effort on goal from 20 yards out. Wonderful game in the midlands.
Goal! Aston Villa 3-2 West Brom (Fabian Delph)
20:21: Eriksen fires across the resulting free kick into a crowd of players that is diverted in by Dawson, but the flag is up.
Disallowed goal - Michael Dawson (Tottenham)
20:20: Rose darts down the left again and is felled by Kolarov, winning a free kick just outside the box on the left. City are not pleased.
20:19: Toure picks up a yellow card for a particularly nasty rake down the back of Dembele's leg.
20:16: Eriksen meets the resulting corner and knocks the ball into the six yard area. Bentelab stretches to get anything onto it, but can't quite reach.
20:15: For the first time all game Spurs find some space down the left through Rose who whips a hopeful ball across the six yard box that is hacked away by Kompany.
20:13: City shout for a penalty after the ball appeared to hit Bentelab's arm, but Dzeko's shot was far too close to the Frenchman.
20:12: Villa equalise! After falling 2-0 behind in nine minutes it is all square as Matthew Lowton puts in a low cross which Leandro Bacuna, from six yards out knocks goal bound. Not the prettiest effort, but who cares?
Goal! Aston Villa 2-2 West Brom (Bacuna)
20:09: Even on the rare occasion when City fail to string their passes together it ends up on an attempt on goal. This time its Zabaleta, positioned just inside the right corner of the box, picks up a loose ball and swings a delicious left footed effort that looks to looping into the far top corner of the net. Lloris is beaten, but watches gratefully as it falls behind the goal.
20:07: Tottenham are on the ropes as City pepper Lloris' goal. Another cross is swung in and only Rose positioned on the line can clear from Kompany's firm header. Only for a few seconds however as the ball falls to Aguero inside the box on the left and hits a sweet effort that rises just above the cross bar.
20:05: What a save by Lloris! City pile on the pressure as Clichy darts down the left to swing in a terrific cross. Aguero edges ahead of his marker and heads it firmly on goal, but it's palmed away by a stretching Lloris. City have started this game at a blistering pace.
20:04: It's a bit exciting this evening, isn't it! Sunderland join the goal scoring party as Adam Johnson is first onto a fumbled save from Begovic to continue his terrific goal scoring form.
Goal! Sunderland 1-0 Stoke (Adam Johnson)
20:02: City lead! It has been coming and it's no surprise who has got it. Silva is fed by Kompany who darts down the right channel before finding Aguero. The Argentine steps into the area to draw Loris of the line and dinks an exquisite effort across goal and just inside the far post.
20:00: It's all happening at Villa Park! James Morrison darts down the left for the visitors and hits a ball across goal that deflects off Delph into the back of the net. Minutes later Guzan lumps a long ball up the pitch that is knocked into the bath of Weimann who smashes it into the back of the net.
Goal! Tottenham 0-1 Manchester City (Sergio Aguero, 14)
Goal! Aston Villa 1-2 West Brom (Weimann)
19:59: Now it's Chelsea who hit the woodwork! Oscar hits a wonderful curling effort just inside the box that is tipped onto the bar by Adrian in the West Ham goal.
Goal! Aston Villa 0-2 West Brom (Delph OG)
19:55: Dzeko plays a brilliant one two with Aguero on the edge of the D and cuts in dangerous from the left. With not many options in front of him the Bosnian goes for goal but lashes it wildly over Hugo Lloris' post.
19:53: That early effort from Aguero looks to have shaken Spurs up a bit. Both Eriksen and Sigurdsson in the space of couple of minutes have the chance to look up and find Adebayor both are swamped by men in Blue immediately.
19:51: We have our first goal of the evening and it's a wonderful effort from Chris Brunt. Some neat build up play from West Brom finds the forward who looks up and lashes a wonderful effort straight into the top corner from 30 yards out.
19:48: Aguero hits the woodwork! Wonderful stuff from the Argentine as he cuts menacingly across the Spurs box from just outside the box and whips a sublime effort across goal that bounces off the bar.
Goal! Aston Villa 0-1 West Brom (Chris Brunt)
19:45: And we are underway! Tottenham already doing a hell of a lot better than they were 15 seconds into their last meeting with City, good stuff.
19:40: We are five minutes away from kick off at White Hart Lane, Stamford Bridge, Villa Park and the Stadium of Light as the teams prepare to come out onto the pitch.
19:34: Only two points separate Villa and West Brom in Pepe Me's first taste of a Midlands Derby. The Spaniard hasn't made any drastic changes to the starting XI we came to recognise under Steve Clark, but admits he is a big admirer of Villa front man Benteke.
"I actually asked Betis to buy Benteke last year in the summer, but he was very expensive.
"We played in a system with wingers and needed someone in the middle to put the ball in the back of the net. I think Benteke plays this role very well." [via BBC Sport]
19:29: A revitalised Adebayor has six goals in his last eight games since being summoned from his exile. The former Manchester City striker has been key to Tottenham's resurgence and with Roberto Soldado starting the game for the bench the onus will be on him to score and feed the likes of Christian Eriksen and Sigurdsson.
19:25: West Ham will have one eye on the visit of Swansea City at the weekend. An admittedly unlikely positive result will be enough to lift them out of the bottom three for the time being.
19:12: City's blistering form has yielded 19 straight wins where they have netted 64 goals, but Spurs are much improved under Sherwood, taking five wins from his six Premier League games in charge to breathe life into their own Champions League charge.
19:08: Jesus Navas and Sergio Aguero both grabbed a brace in their last game against Tottenham, but can City fashion another positive result against a much improved Spurs at White Hart Lane to go top? They can if Edin Dzeko has anything to do with it. Negredo has been replaced by the Bosnian, who plundered four for himself at this ground three years ago as City walked to a 5-1 win.
19:06: West Ham's new Italian duo Mario Borriello and Antonio Nocerino also settle for a spot on the West Ham bench, while Gus Poyet has also left two new arrivals on the bench in Vergini and Ustari. Peter Odemwingie however heads straight intot he first team following his arrival from Swansea.
19:04: Manuel Pellegrini reshuffles his striking pack and pairs Sergio Aguero with Edin Dzeko with Alvaro Negredo settling for a spot on the bench. David Silva also returns to the starting XI. Emmanuel Adebayor leads the line for Tottenham with Nabil Bentaleb handed another starting berth in midfield.
19:03: Just one change for Chelsea with John Obi Mikel coming into replace David Luiz in midfield, while buddies Kevin Noland and Andy Carroll are both handed starting roles for ther Hammers.
LINE UPS
Tottenham: Lloris, Walker, Chiriches, Dawson, Rose, Lennon, Bentaleb, Dembele, Sigurdsson, Eriksen, Adebayor
Subs: Friedel, Naughton, Capoue, Chadli, Holtby, Defoe, Soldado
Manchester City: Hart, Zabaleta, Kompany, Demichelis, Clichy, Navas, Fernandinho, Toure, Silva, Aguero, Dzeko
Subs: Pantilimon, Lescott, Nastasic, Kolarov, Negredo Jovetic Rodwell
Chelsea: Cech; Ivanovic, Cahill, Terry (c), Azpilicueta; Ramires, Mikel; Willian, Oscar, Hazard; Eto'o
Subs: Schwarzer, Cole, David Luiz, Matic, Lampard, Schurrle, Ba.
West Ham: Adrian, Demel, Tomkins, Collins, O'Brien, Noble, Taylor, Nolan (c), Downing, Diame, Carroll
Subs: Jaaskelainen, McCartney, Jarvis, Nocerino, Morrison, C.Cole, Borriello
Aston Villa: Guzan, Lowton, Vlaar, Clark, Bertrand, Westwood, El Ahmadi, Delph, Bacuna, Weimann, Benteke
Subs: Baker, Helenius, Albrighton, Steer, Sylla, Tonev, Holt.
West Brom: Foster, Reid, Lugano, Olsson, Ridgewell, Morrison, Yacob, Mulumbu, Anelka, Anichebe, Brunt
Subs: Myhill, Dorrans, Amalfitano, Vydra, McAuley, Billy Jones, Berahino.
Sunderland: Mannone, Bardsley, Alonso, Ki, Brown, O'Shea (C), Johnson, Colback, Larsson, Altidore, Borini.
Subs: Gardner, Fletcher, Wickham, Celustka, Giaccherini, Vergini, Ustar
Stoke: Begovic; Cameron, Shawcross, Wilson, Pieters; Odemwingie, Nzonzi, Adam, Whelan, Assaidi; Crouch.
Subs: Sorensen, Muniesa, Palacios, Arnautovic, Walters, Guidetti, Ireland
19:02: Chelsea can move level on points with Arsenal if they can collect three points against West Ham at Stamford Bridge, while a point for Sam Allardyce's side will be enough to lift them out of the relegation zone. Elsewhere we have a midlands derby at Villa Park while Sunderland will be hoping to recreate their Capital One Cup form as they host Stoke City.
19:01: Tottenham's 6-0 hammering at the Etihad Stadium last November was the beginning of the end for Andre Villas-Boas, but can his successor Tim Sherwood inflict some revenge this evening? After Arsenal's draw with Southampton Manchester City can move to the top of the league if they can pick up a win at White Hart Lane but Spurs can do their north London rivals a huge favour if they can upset Manuel Pellegrini's side tonight.
19:00: Good evening and welcome to IB Times UK's LIVE minute by minute coverage of Wednesday evening's Premier League coverage. We have four games in store this evening with kick off just 45 minutes away so stick with us for all your team news and build up.