Premier League
Full time: Hull City 0-2 Manchester City
Full time: Everton 2-1 Cardiff City
Full time: Fulham 1-0 Newcastle United
Full time: Southampton 4-2 Norwich City
Full time: Stoke City 3-1 West Ham United
Full time: Sunderland 0-0 Crystal Palace
Full time: Swansea City 1-2 West Bromwich Albion
Full time: Aston Villa 1-0 Chelsea
Six Nations 2014
Full time: Italy 11-52 England
Full time: Wales 51-3 Scotland
Full time: France 20-22 Ireland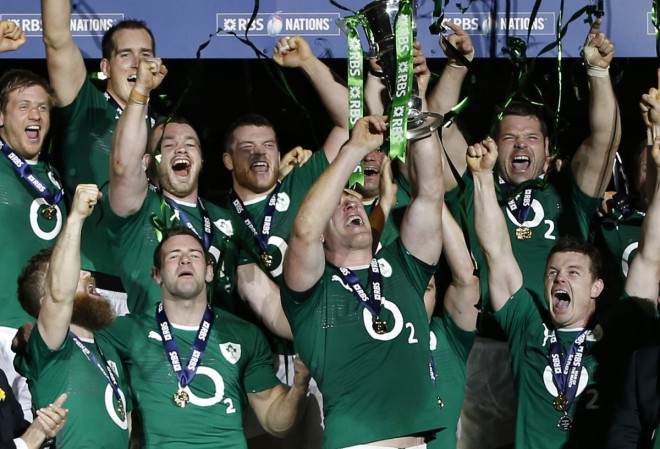 19:30: What an end to a Saturday sporting extravaganza. In the Premier League we've seen Manchester City close the gap at the top after beating Hull City and seeing Chelsea lose to Aston Villa, who are surely safe from relegation now.
In the Six Nations, Ireland have been crownd the champions after beating France for just the second time in 48 years at Paris. Wins for England over Italy and Wales over Scotland prove immeterial as Brian O'Driscoll's international career ends in euphoria.
That's all we've got time for this Saturday evening. We have two crackers in the Premier Legue tomorrow but until then, goodnight.
Full time: Aston Villa 1-0 Chelsea

19:25: Chelsea's evening goes from bad to worse as Ramires and Jose Mourinho are both sent off in the final minutes. Manchester City set to cut their lead at the top.

Red card: Ramires (Chelsea)

19:23: Villa should be two up. Delph goes through on goal but Cech turns the ball onto the crossbar. Chelsea can't get out of their own half.

19:21: Benteke goes close to making it two but Cech beats it away. Chelsea no closer to finding an equaliser as the game enters the closing stage. Four added minutes.

19:15: The league leaders are in trouble. Delph takes the ball away from a Chelsea player, spread it wide to Wiemann before the ex-Leeds midfielder flicks the ball into the corner of the net from the resulting cross. Fine finish and Villa hit the front. Just under five minutes plus stoppage time to hold out.

Goal: Aston Villa 1-0 Chelsea (Fabian Delph)

19:09: So Ireland lift the Six Nations trophy to confirm their dominance of the northern hemisphere in 2014. A fitting way for Brian O'Driscoll to end his international career at 141 caps. Now, to Villa Park for the final 12 minutes where Chelsea are strain for a goal to extend their lead at the top.

19:01: So Chelsea, like Manchester City earlier today, go down to 10-men as Willian is sent off for a second booking after tracking pack in his own half. Not been a classic this and something tells me the dismissal might not help that.

Red card: Willian (Chelsea)

18:58: Ireland win the 2014 Six Nations and Brian O'Driscoll ends his amazing international career with a flourish. England are denied as France fall short in an obsorbing test match in Paris. A thrilled tournament throughout and it's given a fitting finale.

Full time: France 20-22 Ireland - Ireland win the 2014 Six Nations Championship

18:52: France think they've done it with two minutes left but the try is chalked off for a forward pass. Amazing drama as we enter the final minute.

18:50: Ireland have possession deep in the France half but a penalty is awarded against them. A play to win the game and the Six Nations? Who knows.

18:43: France win a penalty after turning the Ireland scrum but Jean-Marc Doussain can't take advantage, missing a penalty from 30 meters. Amazing miss and how crucial could that be in around 10 minutes time?

18:40: Jonny Sexton is out cold on the Stade de France turf after a collision with Bastareaud and is being stretchered from the field. Ireland forced into a change at fly-half therefore. Some unwanted disruption for the visitors who lead by two points going into the final 12 minutes.

18:35: Second half is under way at Villa Park.

18:34: The destination of the Six Nations title could go one of two ways coming into the final 15 minutes of the championship. Thrilling stuff and you'd be a fool to call it at this stage.

18:32: A responce from France. Mountains a pressure brings a penalty but the French are again keen for more and a try is eventually awarded when Szarewski goes over under the posts. Despite advantage being played it looks like the hooker knocked on in the process of touching down by no matter and France are back in it.

Try: France 18-22 Ireland (Dimitri Szarewski)

18:20: Ireland score 10 points in the opening 12 minutes of the second half to put one hand on the Six Nations championship. Sexton finds his kicking boots with a penalty and France need a bit of inspiration from somewhere.

Half time: Aston Villa 0-0 Chelsea

Penalty: France 13-22 Ireland (Jonny Sexton)

18:16: Ball in the net at Villa Park but Chelsea are denied the lead. A corner is headed towards Nemanja Matic who is adjudged to have controlled the ball with his hand before sticking it beyond Guzan. Credit to the officials for spotting that.

18:15: Ireland turn defence into attack and after O'Driscoll is stopped five meters short, the ball is teed up for Jonny Sexton who goes over for his second try.

Try: France 13-19 Ireland (Jonny Sexton)

18:11: A rare attacking opportunity for Aston Villa as Agbonlahor and Benteke combine before the latter acrobatically volleys goalwards but the ball bounces wide.

18:07: Lovely ball round the Villa defence from Ramires towards Torres but Vlaar takes it off the Spaniard's head and the ball goes behind. Torres has been hugely ineffectual in this first half.

17:58: Bit of pressure from Villa and a corner from the right but Benteke concedes a foul. Hasn't exactly taken off this one. Thankfully, we're nearly under way in the second half in Paris.

17:53: So France lead at half time but five points have gone via the boot of Jonny Sexton. How key might those points be by full-time in Paris. Ireland have played well but trail in a game they must win to claim the Six Nations title and deny England.

Half time: France 13-12 Ireland

17:48: Chance for Chelsea. The Brazilian duo Oscar and Willian combine before the latter curls one goalwards but wide of Brad Guzan's goal.

17:43: Not much to report from Villa Park but a half-chance for the home side. Benteke gets ahead of Azpilicueta at the back post but can only direct his header wide. Torres almost gets his head on Hazard's cross at the other end.

17:41: France get a penalty from the line-out by they are intent on their first score and they get it as Machenaud kicks cross-field and when Huget knocks the ball back volleyball style, Dulin reacts first and touch-down.

Try: France 11-12 Ireland (Brice Dulin)

17:36: So, Ireland go into the lead in Paris as Trimble goes through and over but France have a line-out deep in the visitors' half....

17:34: Only a minute in and we already have a lengthy break in place as Willian recieves treatment aftr an early aerial challenge. The Brazilian is back on his feet however and we're back under way.

Try: France 6-12 Ireland (Andrew Trimble)

17:32: Jonny Sexton goes over afte a paitient attack from the Irish. How crucial missed the subsequent missed conversion be though? In the Premier League meanwhile, we're under way at Villa Park between Aston Villa and Chelsea.

Try: France 6-5 Ireland (Jonny Sexton)

17:26: The scrum is proving to be a fruitful area for Ireland in the opening 20 minutes at the Stade de France and they win another penalty and kick for a line-out inside the France 22. Chance here...

17:22: Paul O'Connell concedes a penalty for tackling in the air and France survive. There will be opportunities for Ireland but so far France are lookng up for this one.

17:20: France double their lead as a turnover sees Dave Kearney penalised for holding on. Machenaud adds the three points. Good position for Ireland though deep in the French half.

Penalty: France 6-0 Ireland (Maxime Machenaud)

17:15: Our final Premier League gets going in around 15 minutes. Here are the teams from Aston Villa v Chelsea.

Chelsea: Cech, Ivanovic, Cahill, Terry, Azpilicueta, Ramires, Matic; Willian, Oscar, Hazard, Torres
Aston Villa: Guzan, Bacuna, Vlaar, Baker, Bennett, Westwood, Delph, El Ahmadi, Weimann, Benteke, Agbonlahor
17:09: Early warning for Ireland as Bastareaud bundles through but his pass towards Fickou is wayward. The French have started well.

Penalty: France 3-0 Ireland (Maxime Machenaud)

17:04: Anthems are done and we're under way in the French capital. Remember, an Ireland win delivers the title in O'Driscoll's final game. France need a win by 70 points to claim the title.

17:00: So full time in our six 3pm kick-offs in the Premier League. Some late drama across the country. But now to Paris, where Brian O'Driscoll makes his internatinal bow as Ireland go in pursuit of the Six Nations title against France in Paris, where they have won once in 47 years. Their winner that day? BOD himself. Kick-off fast approaching.
Full time: Southampton 4-2 Norwich City
Full time: Everton 2-1 Cardiff City
Goal: Southampton 4-2 Norwich City (Jack Gallagher)

Full time: Sunderland 0-0 Crystal Palace
Full time: Swansea City 1-2 West Bromwich Albion
Goal: Everton 2-1 Cardiff City (Seamus Coleman)

Full time: Fulham 1-0 Newcastle United

Full time: Stoke City 3-1 West Ham United

16:47: Another flurry of second half goals in the Premier League. Pepe Mel is closing in on his first win as West Brom manager after a second half turnaround at Swanses. Norwich are back in it at St Mary's with two quick-fire goals at Southampton. Peter Odemwingie's second has Stoke home and dry against West Ham.

Goal: Southampton 3-2 Norwich City (Robert Snodgrass)

Goal: Swansea City 1-2 West Bromwich Albion (Youssouf Mulumbu)

Goal: Southampton 3-1 Norwich City (Johan Elmander)

Goal: Stoke City 3-1 West Ham United (Peter Odemwingie)

16:41: So Wales end their Six Nations campaign with a third home win in thrashing Scotland in Cardiff. Scotland went down to 14-men early on and never really recovered until the second half. Wales pilled on 51 unanswered points, with George North grabbing two and Liam Williams impressing in place of Leigh Halfpenny. Scott Johnson's tenure as Scotland head coach ends with a whimper. Gloomy future ahead for the Scots.

Full time: Wales 51-3 Scotland

Goal: Southampton 3-0 Norwich (Jay Rodriguez)

Goal: Everton 1-1 Cardiff City (Juan Cala)

Goal: Stoke City 2-1 West Ham United (Mauro Arnautovic)

Goal: Fulham 1-0 Newcastle United (Ashkan Dejagah)

Try: Wales 49-3 Scotland (Rhodri Williams)

16:26: Scott Johnson is moving upstairs after the Six Nations and will be replaced by Vern Cotter for the forseeable future. Has he done enough to deserve the opportunity to play a signficant role in Scotland's future? It's been an up and down campaign after losing badly to England, beating Italy, running France close and being thrashed by Wales.

16:21: In Cardiff, Scotland have done superbly well to keep Wales at bay heading into the final 10 minutes, keeping the ball in the attacking half and even mounting threatening breaks of their own. Remember, they've been down to 14-men sine the first half dismissal of Stuart Hogg.

Goal: Everton 1-0 Cardiff City (Gerard Delofeu)

16:18: To finally clairfy, it looks as though Hawk eye has won the day as replays suggest not the whole of the ball has crossed the line. Fulham within a whisker.

16:17: The plot thickens at Craven Cottage. Despite Woodrow being in an offside position when he turns home, the original effort from Heitinga appeared to have crossed the line. Has goal-line technology failed?

Goal: Southampton 2-0 Norwich City (Rickie Lambert)

16:13: Fulham again denied by the officials as Woodrow's effort which crashes off the bar and in is adjudged to be offside. Newcastle surviving.

Goal: Swansea City 1-1 West Bromwich Albion (Stephane Sessegnon)

16:06: Under way in all of the six 3pm Premier League games. Ball in the net at Craven Cottage for the hoe side as Kasami scores for Fulham but it is ruled out for offside.

16:02: Wales walk in another try. Still over a quarter of this match remaining and you really worry about the battering Scotland could yet recieve.

Try: Wales 44-3 Scotland (Toby Faletau)

15:57: Half time in the six 3pm Premier League kick-offs as Wales continue the onslaught in Cardiff....

15:55: It might be Wales against 14-man Scotland but the home side are playing some superb, clinical rugby and have two tries in the opening 10 minutes of the second half. After George North touches down, Jamie Roberts ends a flowing move as Scotland are cut to ribbons.

Try: Wales 37-3 Scotland (Jamie Roberts)

Try: Wales 32-3 Scotland (George North)

15:46: With another 40 minutes to come with only 14-men, you fear for Scotland as Wales look to finish the Six Nations in style. We're underway in the second half.

Half time: Wales 27-3 Scotland
Goal: Stoke City 1-1 West Ham United (Peter Odemwingie)

15:32: Wales have their third try now and it's another picturebook finish. Davies gets away on the left and after beating two Scotland tackles he throws inside to find Jamie Roberts who goes over with ease. Wales are heading to a record win over their Scottish counterparts. Biggar adds the extras.

Try: Wales 25-3 Scotland (Jamie Roberts)

15:29: Wales think they have a third try but there is an offside in the build-up. Scotland living dangerously.

15:26: Scott Williams takes a brilliant catch then shows brilliant pace to get past two Scotland defenders and feed Mike Phillips, who finds George North who beats the final defender to go under the posts. Superb try.

Try: Wales 18-3 Scotland (George North)

15:20: Greg Laidlaw misses his second penalty of the afternoon to add injury to insult to Cardiff. Hogg followed the injured Kelly Brown to the sidelines for the remainder of the afternoon and Scotland are sitting ducks to a Wales onslaught.

15:16: Scotland down to 14-men after a horror shoulder barge from Stuart Hogg on Dan Biggar. At first the Scottish wing was shown a yellow card but after seeing replays on the big screen, Jérôme Garces changes his decision and shows Hogg a red card. What an uphill battle for the visitors now. Biggar picks himself up and hammers over the resulting penalty.

Red card: Stuart Hogg (Scotland)

15:10: Three goals and a try with minutes of each other. Wales storm into the lead over Scotland as Leigh Halfpenny's replacement Liam Williams finishes off a nine-phase move by going over in the corner. Elsewhere, Andy Carroll has done his World Cup hopes a power of good with his first goal since April. Southampton and Swansea's early goals have added to Norwich and West Brom's relegation fears.

Goal: Southampton 1-0 Norwich City (Morgan Schneiderlin)

Goal: Stoke City 0-1 West Ham United (Andy Carroll)

Try: Wales 8-3 Scotland (Liam Williams)

Goal: Swansea City 1-0 West Bromwich Albion (Roland Lamah)

15:01: Matches across the country in the Premier League are close to getting underway. All the goals as they go in as well as updates from Wales v Scotland.
Penalty: Wales 3-3 Scotland (Dan Biggar)
14:55: Very good start from Scotland following the heart-break of last weekend against France. After Weir kicks to the corner from a penalty 50 meters out, Laidlaw goes for the posts as Wales are offside and he puts the visitors ahead.

Penalty: Wales 0-3 Scotland (Greg Laidlaw)

14:48: The penultimate match of the Six Nations in under way in Cardiff.

14:47: Try telling Wales and their supporters this afternoon's match means nothing. The Millennium Stadium is rocking ahead of kick-off where a much-changed Wales take on an injury-hit Scotland.

14:42: So attention now turns to Cardiff where Wales face Scotland in a dead-rubber on the final Six Nations weekend. We also have six Premier League games on the way with all the goals as they go in across the country.

14:40: So Manchester City bounce back from being dumped out of the FA Cup and Champions League to beat Hull City. David Silva scored the first and made the second for Edin Dzeko.

Full time: Hull City 0-2 Manchester City

14:36: Game, set and match. Silva feeds Dzeko, who draws McGregor and tucks into the back of the net. 10-man City are going to close the gap to Chelsea.

Goal: Hull City 0-2 Manchester City (Edin Dzeko)

14:31: Into the final 10 minutes at the KC Stadium and Hull are the main protagonists once again. City do break and Dzeko is denied by McGregor. This looks like an away win all over I am afraid Hull fans.

14:23: Manchester City should be out of sight. Silva works the ball back to Fernandinho who fluffs his lines from seven yards. Let off for Hull.

14:19: England end with a flourish but it's not enough to eclipse Ireland's points difference advantage. Captain Chris Robshaw scores a seventh try at the death and with Farrell adding the extras England go past 50 points but Italy's breakaway try stifled them. Ireland need only beat France in Paris, for the second time in 48 years to claim the Six Nations title.

Full time: Italy 11-52 England
Try: Italy 11-50 England (Chris Robshaw)

14:14: Hull want a penalty after Joe Hart comes out to meet George Boyd. Clear dive from the former Peterborough United man and the England goalkeeper is furious as Lee Mason is forced to come to seperate the two players.

14:10: Javi Garcia moved into centre back after Vincent Kompany's dismissal and had to be on hand to turn the ball behind from Jelavic's cross.

14:05: Time for an update from the KC Stadium where Hull are dominating possession but can't find a way through Manchester City. Shane Long headed wide early on and Jelavic has just wasted a chance after being played onside by the City back-four. Intriging last half an hour in prospect.

14:02: Manu Tuilagi marks his return with a try but disaster for England as Sarto claims an interception and goes over to leave them 15 points adrift of Ireland.

Try: Italy 11-45 England (Leonardo Sarto)

Converted try: Italy 6-45 England (Manu Tuilagi)

13:53: England come out of the other side of some Italy pressure with another try as they to within 17 points of Ireland. Twelvetress goes the long way around and when the ball is lost sideways Vunipola is on hand to touchdown from close range.

Try: Italy 6-38 England (Mako Vunipola)

13:50: We're back under way at the KC Stadium.

13:49: Very scrappy in Rome as England hunt down more points. Manu Tuilagi is on for Luther Burrell in one of two changes but Italy are staging something of a revival. Let's hope Stuart Lancaster doens't come to regret those changes.

13:44: Italy are down to 14 men after Bortolami is yellow carded for offside and England take full advantage. From the scrum, Brown feeds Nowell who goes over for his first England try after a wonderfully worked move. Farrell, as ever, adds the conversion. Five out of five for him.

Try: Italy 6-29 England (Jack Nowell)

Sin-bin: Marco Bortolami (Italy)

13:36: So despite Vincent Kompany's red card, David Silva's goal has Manchester City ahead and on course to close the gap to leaders Chelsea. Hull have huffed and puffed without possessing a real threat and arguablly have been more disrupted by the red card than the visitors.

Half time: Hull City 0-1 Manchester City

13:30: Chance for Hull. Jake Livermore recieves the ball 25 yards out and with more space in front of the City back four he hits goalwards but the ball flies wide.

13:27: Teams out for the second half in Rome. England need to pile on the points in the second half if they are to give themselves a shot of the title. Italy looked weary at the end of the first half. Second half under way.

13:23: Ball in the net for Hull but it's chalked off for offside. Jelavic heads the ball back for David Meyler who lashes the ball home into the top corner, but his Croatian team-mate was beyond the City defence when he became involved. The score stays 1-0.

13:21: It's been all go at the KC Stadium this afternoon. A red card for Vincent Kompany and a stunning goal from David Silva has contributed to a thrilling first half an hour. City could have been two up but Pablo Zabaleta's volley bounces off the bar and away from danger.

Half time: Italy 6-24 England

13:13: England reclaim the ball almost immediately and they go over for their third try of the first half. Farrel offloads to Brown on the shoulder and the Harlequins man storms over the line for this second try of the afternoon. Farrell adds the extras.

Try: Italy 6-22 England (Mike Brown)

13:11: Italy have been a real spent force in the second quarter of the first half and England have dominated. Some really nice offloading in the tackle before Chris Robshaw runs into Mike Brown and the hosts get the penalty.
13:06: Ample pressure from England in Rome and they finally break through with less than 10 minutes of the first half remaining. Owen Farrell goes over for his second international try. He adds the extras to given england an 11-point lead.
Converted try: Italy 6-17 England (Owen Farrell)
13:03: City down to ten-men for less than two minutes and they go ahead at Hull City. David Silva picks the ball up 25 yards from goal, and without looking up curls beautifully beyond Allan McGregor.

Goal: Hull City 0-1 Manchester City (David Silva)

12:59: Jelavic pick-pockets Vincent Kompany and is away on goal. The Belgian tugs him back and the Hull man is down. Referee Lee Mason shows a straight red card. The City captain is fuming.

Red card: Vincent Kompany (Manchester City)
Penalty: Italy 6-10 England (Luciano Orquera)
Italy win a penalty as England are adjudged to have collapsed the scrum. Orquera goes for goal and cuts the posts in half.

12:53: England stay ahead but it could have been so much worse. Jonny May drops Burrell's pass and Leonardo Sarto pounces and Owen Farrell is forced to make a try saving tackle five meters from the line. At the KC Stadium meanwhile, Jelavic gets in behind the City back-four but his pull-back is hacked away by Demichelis.

12:49: Under way at the KC Stadium too. City have followed victory in the League Cup final by exiting the FA Cup and the Champions League and host a Hull side bouyed by reaching the FA Cup semi-final for the first time since 1930.

12:48: England draw level through Farrell and they waste little time storming into the lead. Burrell feeds Brown, who runs round the Italian defence and touches down in the corner. Farrell adds the extras.

Try: Italy 3-8 England (Mike Brown)

Penalty: Italy 3-3 England (Owen Farrell)

12:44: So England's task is made all the more difficult as Italy hit the front. Meanwhile, the teams are out at the KC Stadium where Hull are hosting Manchester City.
Penalty: Italy 3-0 England (Luciano Orquera)

12:39: We're under way in Rome and it's Italy who are on top early on.Two Mike Brown handling errors in England's half gives Italy good field position. England are penalised at the scrum for standing up and Italy have an early penalty 40 meters from the line.
12:31: Anthems being sung in Rome. Can't help but love that Italian anthem. Glorious day in the capital.

12:24: Italy and England kick-off in Rome in 10 minutes or so and after beating Wales last weekend, Stuart Lancaster's team require a heavy win to put pressure on Ireland and France. A victory of over 50 points would put pressure on Joe Schmidt's side in Paris. Anything other than a win, and the Six Nations title is gone. Italy have honing in on the wooden spoon but welcome back captain Sergio Parisse today.

12:19: Teams:
Hull City v Manchester City
Hull City: McGregor, Chester, Davies, Figueroa, Elmohamady, Livermore, Huddlestone, Meyler, Rosenior, Long, Jelavic.
Manchester City: Hart, Zabaleta, Kompany, Demichelis, Clichy, Javi Garcia, Fernandinho, Silva, Toure, Nasri, Dzeko.
12:14: It's difficult to know where to look this Saturday afternoon. This lunchtime we'll be concentrating on goings on in Rome and Hull. First, Italy host an England side who know only victory can keep them in the hunt for the Six Nations title, while a victory of over 50 points will pile pressure on France and Ireland later. In the Premier League, Hull City host a Man City side who are in desperate need of a win to keep apace in the title race. Chelsea have a nine-point lead at the top but Manuel Pellegrini's side have three games in hand.
12:00: The weather has come out for a stunning sporting weekend. We have eight Premier League games to feast upon including Hull City v Manchester City and Aston Villa v Chelsea. Meanwhile, it's the final weekend in the Six Nations, with England, Ireland and France all going for the title. We are jam packed on this Saturday afternoon and we wouldn't have it any other way. Strap. In.