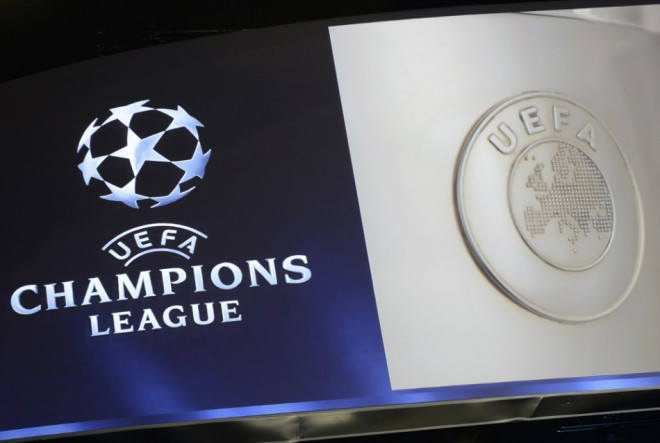 Uefa Champions League semi-final draw:
Real Madrid v Bayern Munich
Atletico Madrid v Chelsea
Semi-finals to take place on April 22 and 23 and 29 and 30 of April
Final to take place at the Estádio da Luz (Stadium of Light) May 24
Uefa Champions League semi-final draw:
Sevilla v Valencia
Benfica v Juventus
Semi-finals will take place on April 24 and May 1.
Final to take place at the Juventus Stadium on May 14.
11:45: Belgian international Thibaut Courtois will be allowed to play against Chelsea in their semi-final meeting with Atletico Madrid after Uefa waived an agreement between the two clubs which ordered the Spanish side to pay a fee in order to use their goalkeeper. Read the full story here.
11:37: And we have our semi-finals. Nine time winners Real Madrid will take on the holders and this season's favourites Bayern Munich, with the first leg taking place at the Bernabeu on April 22/23.
Chelsea will travel to the Vicente Calderon to face Atletico Madrid in the first leg of their clash. The two sides met on the European stage not too long ago in the Uefa Super Cup, where Diego Simeone's side thrashed the Blues 4-1.
Uefa Champions League semi-final draw:
Real Madrid v Bayern Munich
Atletico Madrid v Chelsea
Semi-finals to take place on 22 and 23 April and 29 and 30 of April
11:32: And we are ready to go.
11:29: Half an hour into this ceremony and we are inching ever closer to the draw at long last. Uefa's obligatory, over-dramatic montage is being played to remind us all of which four teams are on it. Just in case we have forgotten.
11:26: Luis Figo has taken the stage which is the strongest indication you can possibly get that business is about to pick up.
11:22: The winner of Sevilla/Valencia will be the home side in the Europa League final on May 14. So should Juventus come out on top against Benfica, they will have the, erm, honour, of playing as the away side at their own ground.
11:18: So we will have at least one Spanish side in Turin for this season's Europa League final. Juventus will have to overcome the challenge of Jorge Jesus' Benfica side if they want to lift the trophy in their own backyard. The Portuguese league leaders are unbeaten in this competition, but are the only side of the remaining four not to have lifted the trophy before.
11:16: The semi-finals will take place on 24 April and 1 May.
EUROPA LEAGUE SEMI FINAL DRAW
SEVILLA v VALENCIA
BENFICA v JUVENTUS
11:14: And we are ready to go...
11:08: Don't forget, we also have the semi final draw for the Europa League first with Valencia, Sevilla, Juventus and Benfica waiting to learn their fate.
11:07: Echoing the comments of Mourinho, Atletico aren't too bothered about who they draw this afternoon either. Gabi told Uefa's website:
We don't want to choose a rival. The three other sides are all very powerful and we hope to be able to continue to compete as we have been doing up until now. As always, we are full of hope."
11:00: The ceremony is underway and UEFA General Secretary Gianni Infantino is waxing lyrical in the build up. His lovely assistant is expected imminently.
10:53: With a third Champions League success with a third different club in his sights, who does Jose Mourinho fancy in today's draw?
It doesn't matter. Real Madrid, Barcelona, Atletico [Madrid], Bayern [Munich], Manchester [United]...it doesn't matter.
We are in the semi-finals. If the quarter-finals had eight fantastic teams, imagine the four that will reach the semi-finals. Anything can happen.
A big opponent is waiting for us in the semi-final but it doesn't matter who. They know we are a team with a special spirit even if we are not in the maximum of our potential."
10:47: It's also worth mentioning that Courtois played against the Blues when the two sides met in the Uefa Super Cup in 2012. The shot stopper was kept out of the limelight on that night however as all the attention landed on Radamel Falcao, who scored a hat-trick as the Blues were hammered 4-1.
10:45: But there's a twist in the tale. In rather timely fashion, Uefa have released a statement annoucing that any agreement between Chelsea and Atletico regarding Courtois' avaliability is, in their eyes, "null and void." The statement reads:
Both the UEFA Champions League and the UEFA Disciplinary Regulations contain clear provisions which strictly forbid any club to exert, or attempt to exert, any influence whatsoever over the players that another club may (or may not) field in a match.
It follows that any provision in a private contract between clubs which might function in such a way as to influence who a club fields in a match is null, void and unenforceable so far as UEFA is concerned.
Furthermore, any attempt to enforce such a provision would be a clear violation of both the UEFA Champions League and the UEFA Disciplinary Regulations and would therefore be sanctioned accordingly.
10:42: One of the major talking points of ahead of the draw concerns Atletico shot stopper Thibaut Courtois. The Belgian is enjoying his third impressive season at the Vicente Calderon but is likely to be denied the right to play against his parent club should they be paired in today's draw. Atletico club president yesterday revealed Chelsea have included a clause which will allow Courtois to play, but for a princely fee of €3m per game.
It's a number we can't afford to pay".
"The problem is whether he can play or not if we come up against Chelsea. It could be that he cannot; the contract is the contract."
10:40: Atletico remain the only side left not to have won the competition before, having reached the final in the 1973/74 season where they lost in a replay to Bayern Munich. Their win over Barcelona is the furthest point in the competition they have reached since then.
10:35: Chelsea are the Premier League's sole representation left in the competition following their dramatic 2-0 win over Paris Saint-Germain where they dismissed Laurent's Blanc's side on away goals courtesy of Demba Ba's late strike.
Real Madrid resisted a compelling fight back from Borussia Dortmund on Wednesday night to seal their place in the final four. Marco Reus inspired his side to victory at the Bernabeu but again the away goals rule proved decisive as Carlo Ancelotti's side held on.
Their city neighbours Atletico Madrid dismissed Barcelona with a win that not only sealed their place in the semi-final, but one that could also act as a telling psychological blow to the Catalans with the two set to battle for the La Liga crown on the final day of the season.
Manchester United defied expectation as they took the lead at the Allainz Arena, but it lasted just 22 seconds as the all-conquering Bayern Munich scored three in the following 17 minutes to take them one step closer to defending their European crown.
10:30: Good morning and welcome to IB Times UK's LIVE coverage of the draw for the semi-finals of the Uefa Champions League., We are scheduled to get underway at 11:00 (BST)