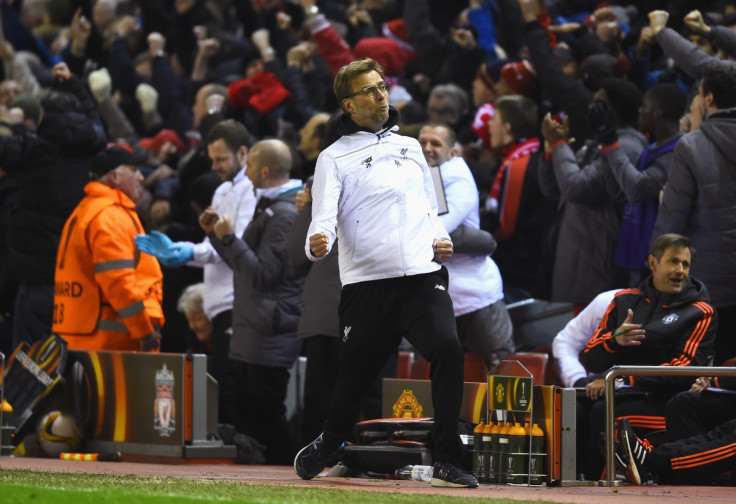 Jurgen Klopp thinks Liverpool should have scored more than two goals during their win against Manchester United in their Europa league first leg tie at Anfield. The 48-year-old German was delighted with the performance of his team, but feels they could have taken a bigger advantage into the second leg.
The Merseysiders won the game thanks to a first-half penalty from Daniel Sturridge and a second-half tap-in from Roberto Firmino. But Liverpool also squandered a number of other goal-scoring chances during the one-sided match.
"We were really good from the first second, everything was there but we could have scored more. That sounds crazy I know but we had the chances," Klopp said, according to the BBC. "In the end, 2-0, if you said this before the game of course I take it. But it's not over, we go to Manchester but it's the best thing we could do."
The Liverpool boss also admitted he revelled in the atmosphere at Anfield, saying the team's performance was their response to the support they have been given this season.
"It was a great atmosphere, I am so pleased for all of the people who have had harder times with us this season. Tonight was the first part of paying them back," the Liverpool manager explained. "We gave them no time in any situation."
Klopp said Liverpool are now in a strong position heading into the second leg at Old Trafford on 17 March. "No matter how you play against Manchester United it is always difficult to make chances. We could have scored more goals in the first half, but that's life," he reflected.
"Scoring the second goal was very important. We know it is only the first leg but we needed to win it and we did. We are in a good now, we want to go through to the next round."