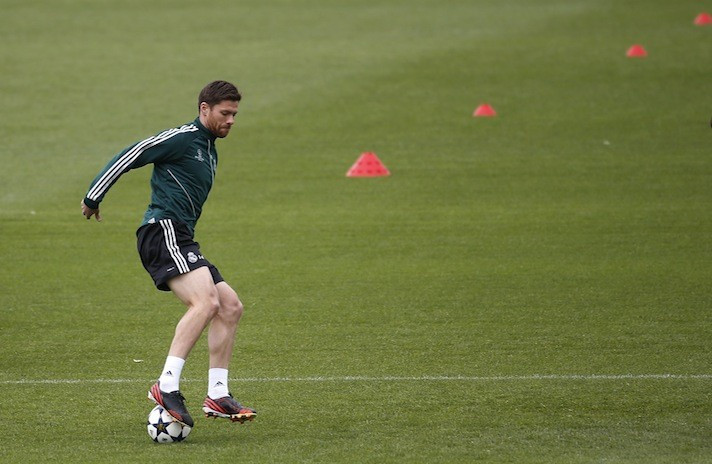 Liverpool are considering a move in re-signing their former midfielder Xabi Alonso from Real Madrid this summer, according to the Express.
The 32-year-old was part of the Spain World Cup squad as the former world champions were knocked out from the group stages of the summer tournament in Brazil. The former Reds star was in poor form during the World Cup.
Alonso has two years left on his contract and has now returned to Real for training. However, the Spaniard's fitness has been a matter of worry for the Champions League winners after the midfielder lost weight.
Real manager Carlo Ancelotti is worried about Alonso's fitness and is ready to part ways with his player in the ongoing transfer window. The former Chelsea and Paris Saint-Germain manager's decision to offload the Spanish midfielder has alerted Liverpool, who are considering to re-sign their former player.
The Spanish capital club have already strengthened their squad by adding Colombian star James Rodriguez from AS Monaco and World Cup winning midfielder Toni Kroos from Bayern Munich.
The arrival of Kroos has seen his compatriot Sami Khedira's future at Santiago Bernabeu being uncertain. The German international has been linked with a move to the Premier League, with Arsenal and Chelsea believed to be interested in the midfielder.
Real are even reportedly planning a move for Luis Gustavo from Wolfsburg as a replacement for Khedira. However, Ancelotti is planning to retain the German midfielder and allow Alonso leave the club this summer.
The Anfield favourite had earlier admitted that Liverpool are a special club after expressing his admiration for the Reds.
"Liverpool was a very important part in my football career. Especially when we played at Anfield, we achieved great things and we had great nights at Anfield," Alonso said.
"There is a passion and atmosphere that comes when you play in England in the Premier League. It's special and I had the privilege to play for five years for Liverpool, and it's a really special club," he added.
A move to Liverpool would please Alonso and Brendan Rodgers could still make an approach for the player if Real are willing to let the player leave Madrid in this summer transfer window.