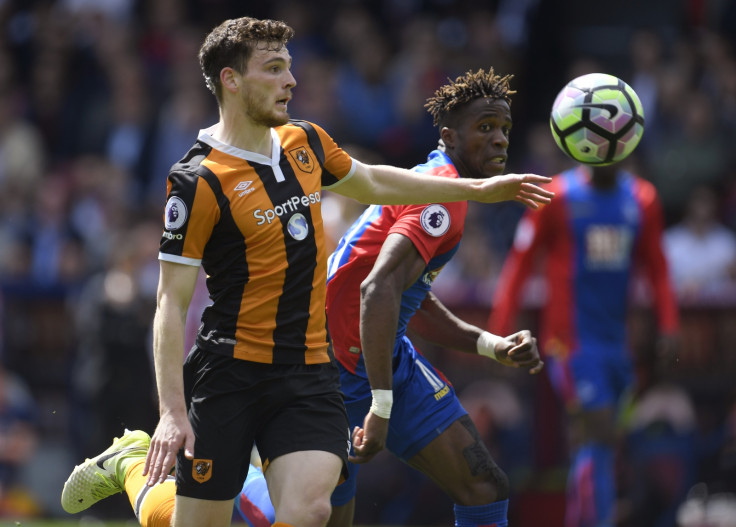 Liverpool are set to announce the signing of Hull City left-back Andrew Robertson when the transfer window opens in July. The defender is being brought in to replace James Milner, who deputised in that position for the entirety of the 2016/17 season, with Alberto Moreno falling out of favour.
The Mirror reports that the Reds have completed a deal for the defender with the Tigers going down to the Championship following their 4-0 loss to Crystal Palace. The 23-year-old spent three years at Hull following his transfer from Dundee United and wants to take the next step with Liverpool, given that he has only a year left in his contract.
Robertson is not the only player who has caught the eye of Jurgen Klopp in the Hull line-up, with defender Harry Maguire being the other player who is reportedly being looked into closely by the Reds scouts. They will face competition from Tottenham Hotspur, who are looking to bolster their squad after qualifying for the Champions League for the second year in succession.
Meanwhile, Klopp is ecstatic after the Reds dispatched West Ham United 4-0 at the Olympic Stadium and need a win against Middlesbrough to guarantee themselves a spot in the Champions League next season. A brace by Philippe Coutinho, who started in centre midfield, along with goals by Divock Origi and Daniel Sturridge sealed the deal for the Merseyside club.
"These players did so good this season that we are in the situation we are, 73 points - and nobody gives you 73 points as a present. Take it and use it, we had to work for it. The boys did it and today we saw a really convincing performance and no doubt about anything. But the first sentence the players said in the dressing room was, 'One more time, one more game' and we will stay focused, 100 per cent," Klopp told Liverpoolfc.com.
"We know about the situation, we know about the difficulty of the next game and nobody will go into this game and underestimate Middlesbrough even one per cent. They have had a hard season, it's hard in a season like this to enjoy football and I am pretty sure they want to enjoy football at Anfield. They want to try everything to play good football and that makes life difficult for us."