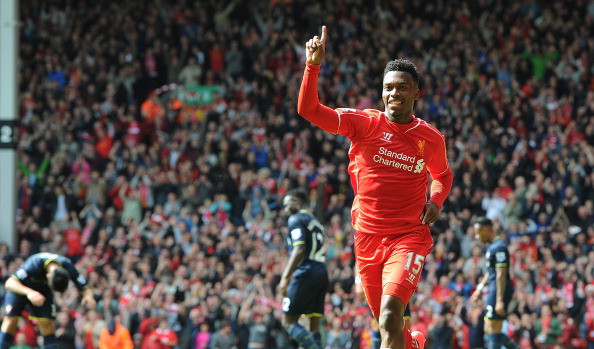 Liverpool manager Brendan Rodgers has said they will assess Daniel Sturridge in the next few days to determine whether the striker is ready to start the crucial derby against Everton on Saturday, 7 February.
Meanwhile, the manager says Jordon Ibe is expected to have many chances to play during the second part of the season following his return from loan at Derby County due to his versatility in adapting to different positions in his new formation.
Sturridge is yet to start a game since August 2014, after suffering a thigh injury at the start of September while on international duty.
Sturridge made his first appearance for the Merseysiders since that injury last weekend, coming off the bench to score a goal during the 2-0 victory over West Ham.
He played another 20 minutes in the 2-1 victory against Bolton on Wednesday night to help his side to go through to the fifth round of the FA Cup with two late goals from Raheem Sterling and Philippe Coutinho.
Rodgers has previously claimed the striker is not ready to play 90 minutes, but when asked about it during the press conference ahead of the Merseyside derby, he said: "Every player wants to play, not just Daniel. You go into each game and every player that gets paid here at the football club wants to play."
"Daniel is coming along very well. It's not that he won't start, [but] we need to analyse that over the next couple of days. We shall see."
Meanwhile Rodgers explains his decision to call back Ibe after the 19-year-old enjoyed an impressive first half of the season with Steve McClaren's side, scoring five goals in 24 appearances.
"We brought him back because with the system we're playing he can play in 4 positions, so there's a greater chance to play," he said.
At the same time the boss says Lazar Markovic, Dejan Lovren, Lucas Leiva and Mario Balotelli are doubtful, although he refused to rule out them "definitely" for the visit to Goodison Park.
"We'll see tomorrow [on Markovic]," said Rodgers.
"Dejan Lovren and Mario Balotelli were out for last night, Lucas Leiva was out as well. We'll see. There's nobody definitely ruled out, but we'll see how they are tomorrow."