Liverpool boss Jurgen Klopp confident of retaining Philippe Coutinho and Daniel Sturridge
Klopp plays down speculation linking Coutinho and Sturridge away from the club.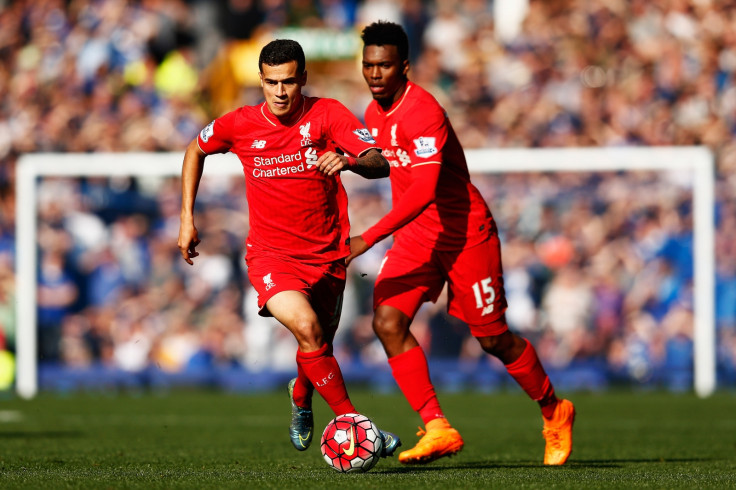 Liverpool manager Jurgen Klopp has attempted to quash speculation regarding the future of Philippe Coutinho and Daniel Sturridge. Both players have been linked with moves away from Anfield in recent days but the Reds coach does not believe either player will leave.
Coutinho has continually been linked with a move to La Liga champions Barcelona. Catalan publication Sport understand Luis Enrique is interested in bringing the Brazilian to the Nou Camp and the club hope to use forward Neymar's close relationship with his international compatriot to help clinch the deal.
The 24-year-old has been among Liverpool's star performers this term, with five goals and five assists helping take the Merseysiders to the Premier League summit. Former defender Mark Lawrenson says the club should be resigned to Coutinho's exit but Klopp believes there is no reason for alarm.
"It's about us, it's about the club," he said, according to the Liverpool Echo, when asked about Coutinho's future. "The owners are not a problem so it's about creating the perspective that nobody wants to leave. If a club can pay double what we pay who am I to say to the player not to think of their kids or grandkids, but there are not a lot of clubs who can do this.
"I'm not worried about anything. The players like to be here. It's our job to keep it likes this. Very good players you always want to keep long-term. It's about creating a perspective where nobody wants to leave.
"My opinion is that he feels very well here. We also hope and think his future is at Liverpool. He's still very young. You say now he's the player you've dreamed of. But he's now at an age where the skills and experience gives more consistently. With the team-mates he's getting better. It's only just started, it's not finished."
This week also saw speculation regarding Sturridge's future grow as he continues to be overlooked by Klopp. The England international has started just four times in the Premier League for Liverpool, with his goals restricted to the English Football League Cup.
The Daily Mirror have reported that Sturridge has told Liverpool he has accepted he does not figure in Klopp's long-term plans, with Stoke City and West Ham United both interested. Stan Collymore believes selling Sturridge would be "lunacy" and Klopp suggests the 27-year-old is happy with life despite his limited first team activity.
"My opinion is very good about Daniel," the German coach added. "It never changed. He is a wonderful football player. He came back and was happy to see us again. I could see it in his face. That's a good sign. Why should I change (my opinion) after 70 minutes. In general, yes (he could be happier by playing more)."
© Copyright IBTimes 2023. All rights reserved.