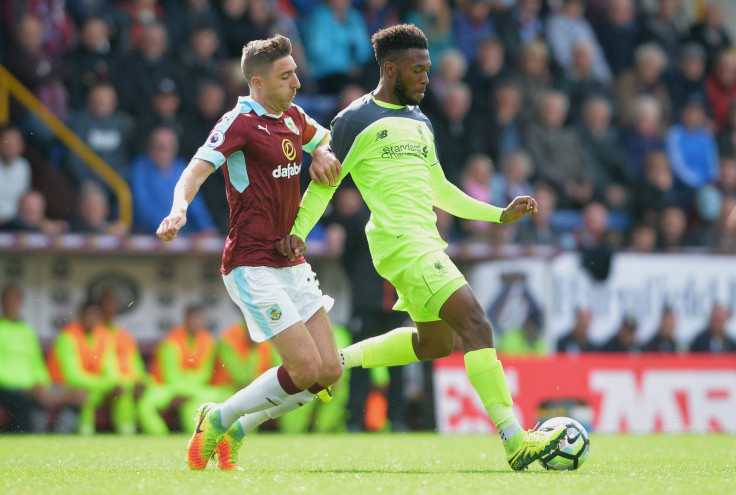 Liverpool boss Jurgen Klopp has vowed to stick with striker Daniel Sturridge, despite the player's injury problems. The 26-year-old centre-forward missed the Reds' opening game of their Premier League campaign, but returned to action for their 2-0 loss to Burnley at the weekend.
Sturridge could well feature for Liverpool in their EFL Cup match against Burton Albion on Tuesday (23 August), and Klopp has insisted he still has faith in the player.
"Daniel is still a very quick player but he's had a lot of injuries in the last few years and a few muscle issues – I have no idea how this exactly changes the mind of a player," the Liverpool boss explained, according to Sky Sports.
"He is still on the way back, but he is still an outstanding player, and even an outstanding player needs rhythm. Saturday was not the best game of football Daniel has ever played but, even in a game like this, he could have scored."
Klopp admitted Sturridge has evolved as a player since he emerged on the Premier League scene. In spite of his woeful injury record, the German has backed Sturridge to play a key role for the Reds this season.
"I don't compare him with the younger Daniel Sturridge," Klopp said of the Liverpool striker. "He is a really good player with all you need, when he is fit. Obviously there is a bit I can do to help him but you have to accept as a manager that it is really rare you can say 100% what a player wants to hear.
"What I can say, to any player, is that those who stay in the race and work really hard will get the benefit. That is how it is. Sometimes it is a little bit harder, sometimes easier, but that is the same for all of us."
Meanwhile, Klopp also insisted Liverpool are determined to win the EFL Cup, even though it is considered to be the lesser of the domestic competitions. "I know we have never shown a lack of respect to any competition and, in this moment, I am really optimistic we will find a really good line-up and then we have to perform," he said.