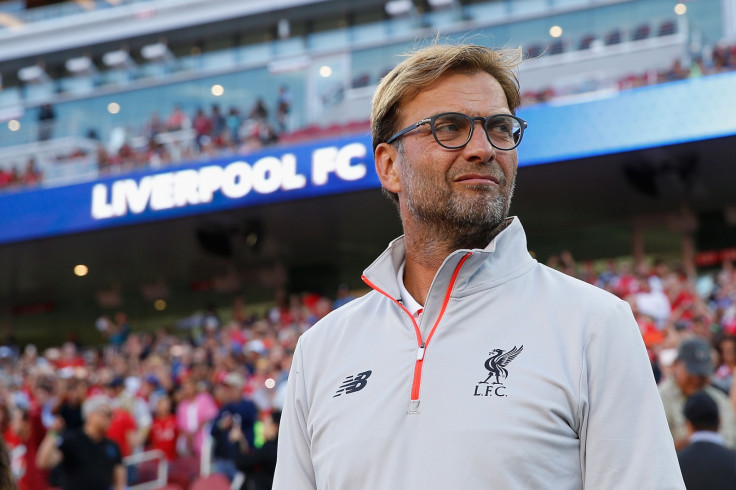 Liverpool manager Jurgen Klopp has claimed that he is looking forward to the end of the transfer window even though the German refuses to close the door to making more signings. Meanwhile, the boss has confirmed that he is not going to make wholesale changes in the line-up for the EFL Cup second round tie at Burton Albion on Tuesday night (23 August) after adding that he has no new injury concerns from the team who surprisingly lost 2-0 at Burnley at the weekend.
The Merseysiders have already made six new additions during the current transfer window in Sadio Mane, Georginio Wijnaldum, Joel Matip, Loris Karis, Ragnar Klavan and goalkeeper Alex Maninger – while Marko Grujic has also joined the ranks after spending the second part of last season on loan at Red Star Belgrade following his January signing. However, Klopp has been urged to bolster the squad with a left-back in order to fight to the Premier League title.
Following the shock 2-0 defeat at the hands of Burnley, the manager said that he will not make any panic addition only for the sake of it and has now remained coy in his intentions ahead of the game with Burton.
"I really wait for the day when finally the transfer window is closed because I can't believe how obsessed you all are with this, and that you don't believe for a second in improving things on the training pitch." he said while refusing to confirm which positions could be bolster before the end of the transfer window.
"I understand after Arsenal, it was far away from being a perfect game and everybody said we scored four, so obviously we can score goals, but we conceded three, so obviously we have a defensive problem. That's a way you can see the game.
"Then we play at Burnley and have 81% of ball possession but didn't score a goal, so now we could say we need another striker. That's what I've said always, until August 31 everything is possible because a lot of things can happen, but at the moment it's not that we have a main thing to do.
"We are very professional, very clear and always working, but there is nothing more to say about this. What will happen, we will see. I don't know in this moment 100% what will happen, but it's not that we have a preferred position where we are looking for players."
The manager did confirm that he is not going to rotate his line-up completely to face Burton despite on Saturday facing another tough Premier League test at Tottenham.
"Yes of course we'll make changes, but not every change," Klopp added. "It depends a little bit what the doctor will tell me in a few minutes, but it's not likely that we'll change seven or eight positions because I'm not sure we could. That's not the plan. It's another game, an important game, so we have to show that we can do better than last Saturday, of course."
Meanwhile, Klopp confirmed he has no new injury concerns from the defeat to Burnley, but added that the likes of Lucas Leiva are still not back in training.
"No real injuries, [you could call them] 'issues' if you want? Okay, I could now name a few names but they can still play, it's possible, and I have not made a final decision," the manager continued. "At the moment I'd say everyone who was available last week is available, plus one or two players if we need them," the boss added. "We have a few players with longer injuries, like Luke [Lucas Leiva]. They are not back in training, so if we have other players we can use we should not force it."