Liverpool manager Brendan Rodgers has heaped praise on midfielder Jordan Henderson who has forced his way back into the first team and put in a string of impressive performances.
The England Under-21 captain did come in for some criticism after a difficult first season at Anfield but has begun to show just why Liverpool were prepared to fork out £16million for the midfielder in the summer of 2011.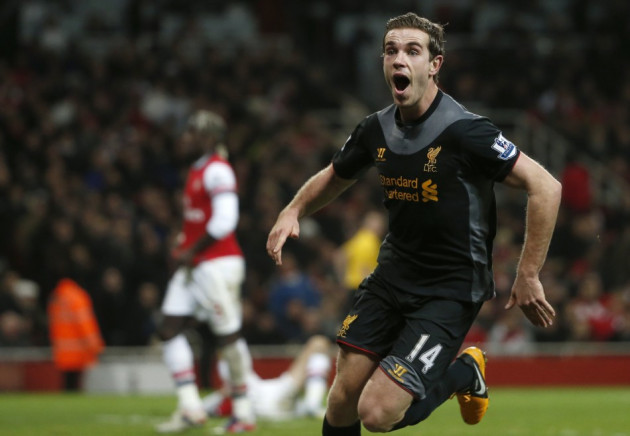 Henderson was put straight in the first team under Kenny Dalglish but failed to make his mark as he scored just two goals in 37 Premier League appearances.
This season Henderson has been forced to appear as a substitute on ten occasions in the league but he forced his way into the first team and demonstrated his ability with a superb goal against Norwich and then another in the following game against Arsenal.
With Liverpool currently in seventh place, it is a good time for Henderson to come in to form as Rodgers is still desperate to guide his side to a top four finish.
"Jordan's improving all the time," Rodgers told the Liverpool Echo. "He has a great appetite for the game. He played against Norwich from the side and came in and got a wonderful goal, then you saw him tonight (at Arsenal) in that number 10 role and I was just talking to him afterwards about producing that final ball or that final pass.
"But he's got a wonderful appetite, tactically he's getting better all the time and he's got great athleticism. I believe he's one who will be a great signing for Liverpool. It just takes time."
The 22-year-old had very little time to settle when he arrived from Sunderland and Rodgers stressed that sometimes players need to learn their trade away from the spotlight.
"You look back years at Liverpool and players used to come in and they'd be put in the reserves for two years, and then they'd come out and play," added Rodgers.
"These kids are now coming in at 19, 20 and having to go straight into the team. It takes a bit of time. But he's really shown that he's going to be a very good player."
The Liverpool boss also stressed that the club's targets are to finish in the top four and try a win the Europa League.
"We want to progress in the league and get into those top four positions," stated Rodgers. "It is going to be immensely difficult to get there this season but we are certainly going to fight in order to get there. The Cup competitions give you that opportunity to get your hands on a trophy and that's what this club is about."