Brendan Rodgers has defended the Liverpool players after a disappointing 2-0 loss to West Bromwich Albion at Anfield on Monday. The Reds hosted the Baggies hoping to make up ground on Tottenham Hotspur, Arsenal and Everton but the defeat has widened the gap, with the Merseyside outfit now falling behind West Brom.
The first goal came in the 81st minute against the run of play as poor marking from a corner allowed West Brom defender Gareth McAuley to power home a header. Substitute Romelu Lukaku added a second in injury time, sealing the game for the visitors.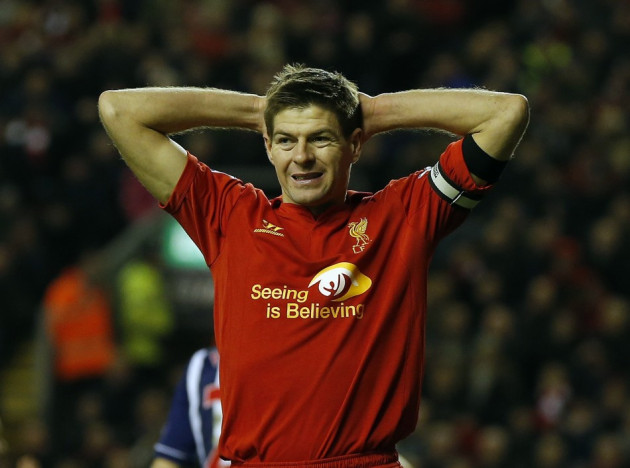 "We've been on a terrific run. I'm very disappointed with the goal. That first goal was crucial," Rodgers told Sky Sports. "I can't fault the players, though. We weren't at our best but we were on the front foot for most of the game. It's a good away performance from West Brom."
Liverpool dominated the game, both in possession and attempts at goal. The Reds enjoyed 59 per cent of the ball and 25 shots compared to West Brom's five. The Baggies, however, would be encouraged by a gutsy away performance; they defended as a unit and were committed to keeping the scores level. Goalkeeper Ben Foster was particularly outstanding, a performance noticed by Rodgers.
"If you can keep it to 0-0 you always have a chance," Rodgers pointed out, "And Ben Foster has made some fantastic saves to keep them in the game. Losing is a big disappointment but we'll be back in tomorrow and get going again."
Foster saved a 77th minute penalty with the score at 0-0. Steven Gerrard, normally reliable from the spot, stepped up but could not beat the ex-Manchester United keeper. Rodgers was keen not to criticise Gerrard for the miss.
"He's got the courage to get up and take it," Rodgers added, "There's no blame. It was a good save."
Meanwhile, Baggies manager Steve Clark found it difficult to contain his joy after the result.
"To get that kind of result and level of performance from the players," Clarke told Sky Sports, "I'm absolutely delighted. They have put in so much effort to get that reward."
The loss leaves Liverpool ninth; 12 points behind fourth place Tottenham, putting Champions League football further out of reach for the Anfield club. In fact, Liverpool could even struggle to qualify for the Europa League.