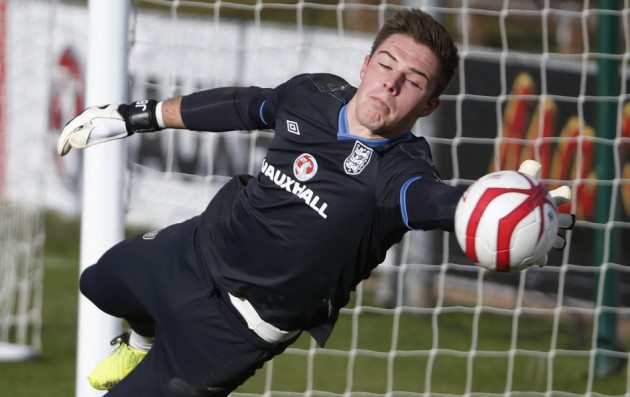 Jack Butland's agent has confirmed the young goalkeeper was aware of interest from Chelsea and Liverpool but decided to sign for Stoke in January.
Butland had become an integral member of the Birmingham side, receiving his first England cap and attracting interest from a number of top clubs in the Premier League.
Chelsea enquired about his availability, but he eventually signed for Stoke, immediately going back on loan to Birmingham for the remainder of the season.
But agent Gary Mellor has revealed that Butland was receiving concrete interest from Liverpool as well as Chelsea, with Reds captain Steven Gerrard taking a particular interest in the keeper.
"Obviously it was well documented that we turned down Chelsea," he told 6 Towns Radio. "We turned down other top-four teams; there probably wasn't any of the big six that didn't show an interest.
"I had a meeting with Liverpool about Jack, and [Liverpool's managing director] Ian Ayre said the only player Steven Gerrard has ever picked up the phone and called them to sign was Jack when he was in the England squad in Poland and Ukraine last summer.
"That shows how highly thought of he is, and I think Stoke have got an absolute steal."
Liverpool eventually signed Simon Mignolet this summer to put up competition for their number one stopper Pepe Reina, while Butland has so far failed to receive the Premier League game time he craved enough to put pen to paper for Stoke in January.
Mellor says that if current number one Asmir Begovic is still at the club at the end of the summer, he hopes his client has left the side on a loan spell with a club that can adequately develop his skills further and bring Roy Hodgson's attention.
"If Asmir does go it means Stoke have got somebody for the future," he explained. "It might not be this season, it could be the season after.
"When I was in Barcelona a couple of Spanish clubs wanted to talk to me about taking Jack.
"We have to weigh up all possibilities and I have to keep him playing so if Asmir is still here on September 2nd I'm hopeful that Jack isn't. I don't see him sitting on the bench at Stoke City.
"Mark Hughes might see that differently and that's when Stoke and I do have issues. I have to keep Jack playing so that his international ambitions are on track and he continues to develop. There's nothing like actual games to help you develop, especially as a young goalkeeper."
Butland is looking to be included in the 2014 World Cup squad - should England qualify - and if he can get regular game time in the top flight of either the Premier League or La Liga, he will be a long way to convincing Hodgson he is worthy of a place in Brazil.