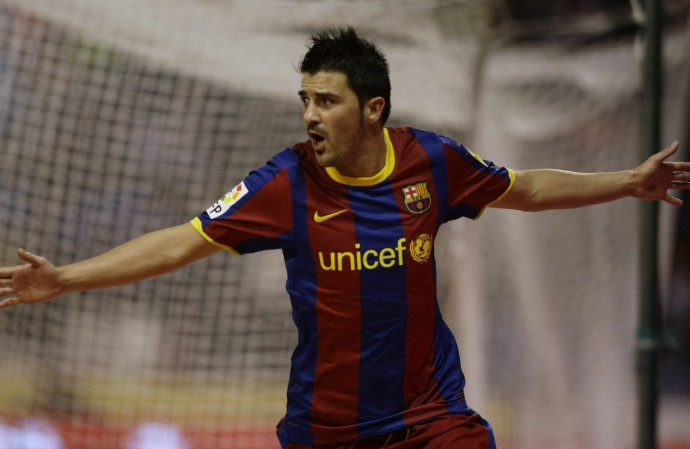 David Villa has injured his left tibia in Barcelona's FIFA Club World Cup match-up with Al Sadd, putting an end to speculation that the striker is set for a move to Liverpool.
Transfer rumours seemed to go into overdrive surrounding Villa's future yesterday, to the point where Pep Guardiola had to come out and quash reports of a move for the star.
Spanish paper Marca, which is known to be a supporter of Real Madrid, appears to be the source for the Liverpool link, and Guardiola went so far as to call the news source 'liars' for their reports connecting Villa to a move.
"Marca lie. I have not spoken to David after the last match in Madrid, but all of the players are in my plans," he said.
"I am the one who comes up with 25 different line-ups during the season because I feel that is the best thing to do.
"Most of the players that are here now will continue for the rest of this season and the next."
The link to Liverpool was tenuous anyway, and with Villa reportedly holding a €40 million price tag, the sale seemed very unlikely as January rolls closer.
But now that Villa has broken his shin bone, and could be out for at least two months, the transfer appears more unlikely than ever, with the Spain international's chances of being a part of the Euros threatened as well.
Villa was carried off on a stretcher in the 39th minute after landing on his leg today, and Barcelona confirmed the injury shortly after on their official website.
Liverpool will continue to be linked to a wide range of players in preparation for the January transfer window, with Kenny Dalglish revealing today that the side have the option to purchase more players if they feel they will improve the squad.
"We have the option to add if we want to, but we also have another option that we don't have to," he said.
But Dalglish wouldn't speculate on which players he is chasing, telling reporters: "It doesn't matter what we say, there is going to be speculation in the newspapers - but we won't be here to answer every question that's in newspapers.
"We'll do our business the way we've been brought up to do our business, and that's privately behind closed doors."